Helleborus niger 'Advent Star' | Christmas Rose
Helleborus niger 'Advent Star' is a striking variety of 'Christmas Rose'. It has deep green, glossy foliage which provides the perfect foil for the pure white flowers with yellow centres which are produced from early December through into the late winter. 
It's an excellent variety for a festive display, either on its own in a decorative pot or mixed with other winter varieties such as Cyclamen, Heuchera, Grasses, Gaultheria. Place it in a spot where you can enjoy the bright flowers in the darkest depths of winter. It prefers to grow in dappled shade in a neutral to alkaline, moist but free draining soil.
---
Helleborus niger 'Advent Star' Factfile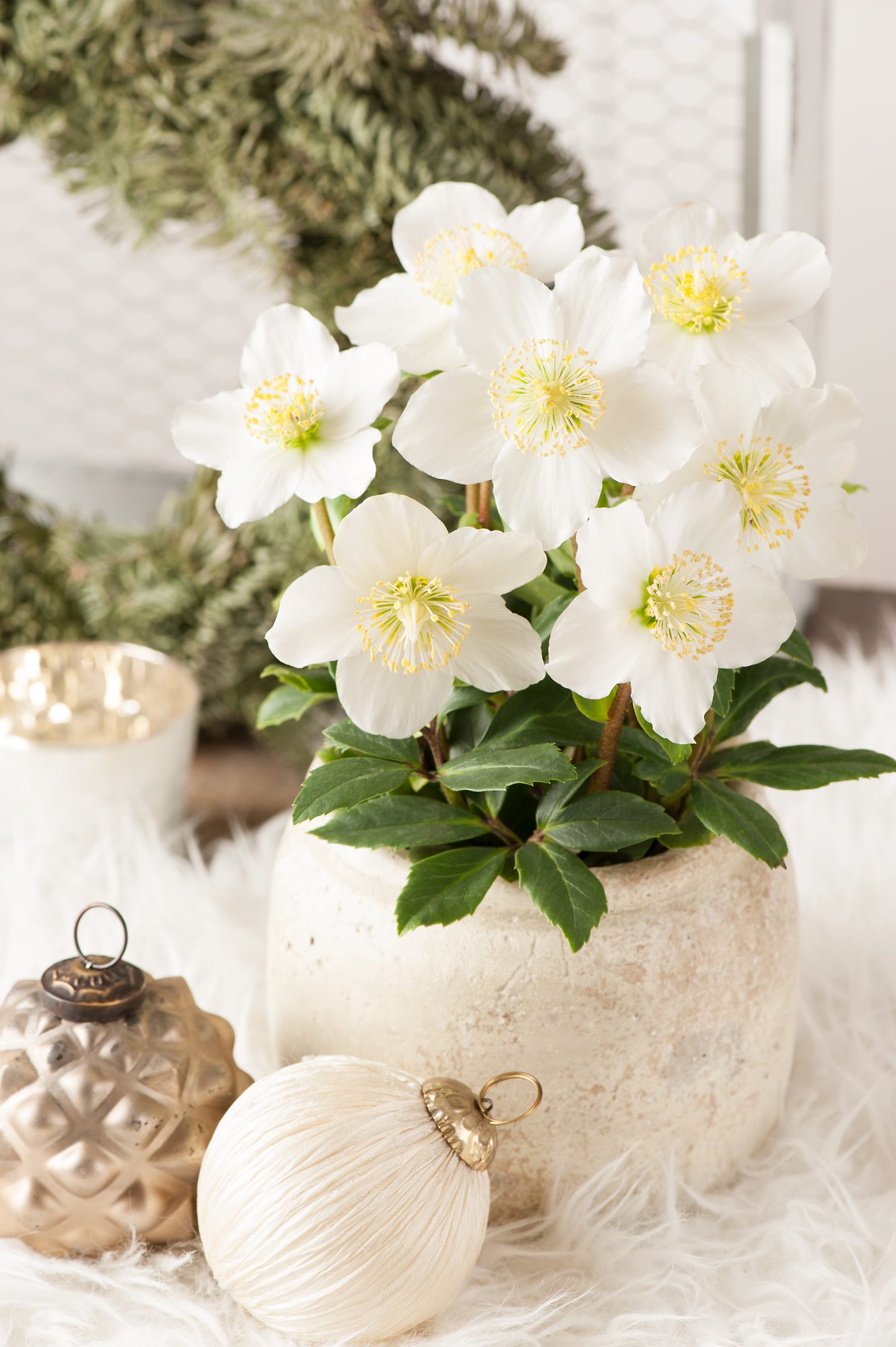 Sun Requirements: Best grown in dappled shade
Soil: Thrives in neutral to alkaline soils that are moist, fertile and humus-rich
Hardiness: Fully hardy in all regions in the UK, will survive to -15 and below
Size: Grows to approx. 40cm height x 50cm spread
Potentially Harmful: Ingestion may cause severe discomfort, skin irritant.  Wear gloves when handling.
---
Helleborus niger 'Advent Star' Growing Guide
An easy plant to grow – excellent planted in a decorative patio container for the first winter, either as a stand alone plant on a doorstep or in a cool porch, alternatively its pure white flowers can be used to brighten up a winter mixed container with other plants such as Heuchera, Grasses, Bulbs and Cyclamen.  It can then be planted in a border after flowering has finished.
This variety has been selected for its large pure crystal white flowers which are carried on strong, upright stems and borne above the foliage.  It is a particular early flowering form and most will produce flowers from mid-December (dependant on weather conditions).
Planting
Dig a hole at least twice the size of the rootball and loosen the sides, mix the soil with some soil improver such as compost, plant the rootball taking care to lightly cover all the compost without burying the crown, firm well and water thoroughly.  For the first year ensure the rootball doesn't dry out whilst the plant establishes.
Protection
Best grown in a site which is protected from cold winds.  Fully hardy in the UK.
---
Helleborus niger 'Advent Star' Fact
Also known as Christmas Rose the Hellebore is a member of the Buttercup family,  H. niger originates in the mountainous areas of Switzerland, southern Germany, Austria, Slovenia, Croatia and Northern Italy where it can be found growing on the slopes of the mountains.