With more of us embracing modern design within our houses, how can we translate this style to our outdoor spaces? A more contemporary style of gardening is suited to smaller plots and courtyard gardens and can be lower maintenance than traditional planting. Hard landscaping is typically prominent, but that doesn't mean a garden without plants. Choosing the right plants is even more important when you have limited space.
View our collection of plants
---
Materials for a Contemporary Garden
Smooth concrete is often used in contemporary settings but can be 'cold' in tone. A slight colour additive can take the cold grey to a warmer stone colour which can then tie in with warmer tones from other materials such as Corten steel and timber. The hard, clean lines of these materials can be accentuated or softened by your planting choices. Strong, architectural plants such as yucca, phormium, acanthus and bamboo add striking form but can harden the tone.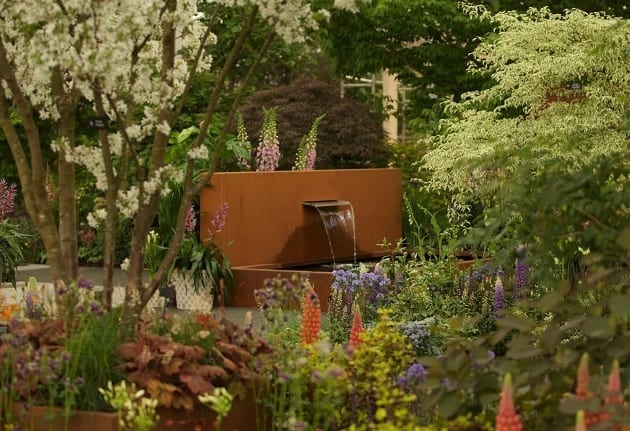 ---
Designers today often soften hard landscapes by combining with a more natural planting style, including perennials to soften corners and grasses to add movement and a gentle texture.
---
Use of Shape
Shaped topiary is a major constituent of many modern gardens, whether buxus (box), taxus (yew), conifers or other plants. Clipping and shaping plants allows further architectural aspects alongside the hard landscaping. Square-clipped topiary can continue a straight edge from the hard into the soft landscaping, while spheres and domes can give a softer look while maintaining a modern aesthetic.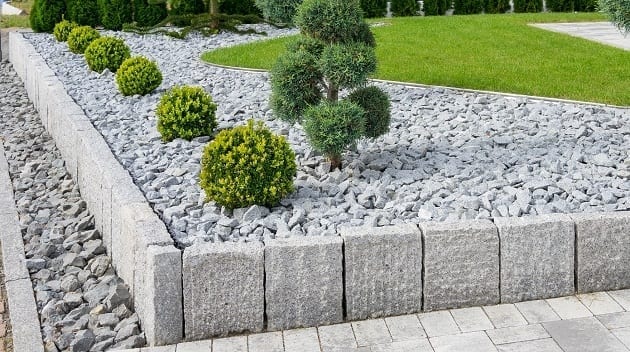 ---
In the contemporary garden, it is also important to think about the shapes the plants create together. Classical gardening used symmetry to great effect and modern elements of symmetry can still be very effective in a contemporary garden. The modern parterre planting of the 2017 Hillier Chelsea Garden is a great example, using clipped yew in different sizes interspersed with Ilex crenata topiary spheres and softer planting of perennials such as iris, geum, hosta and grasses.
---
Contemporary Planting
The plant palette available to the contemporary gardener is no different to that available to more traditional gardeners, but it is how we use our plant selection that makes all the difference in a contemporary garden. Mono-planting is an extremely effective way to create bold colours or shapes: using a single plant type, or a group of similar plants in a geometric pattern forms a great focal point. In the 2018 Hillier Garden Makeover in partnership with Wessex Cancer Trust, an area of the garden was planted in this way using ornamental grasses for a striking, modern look.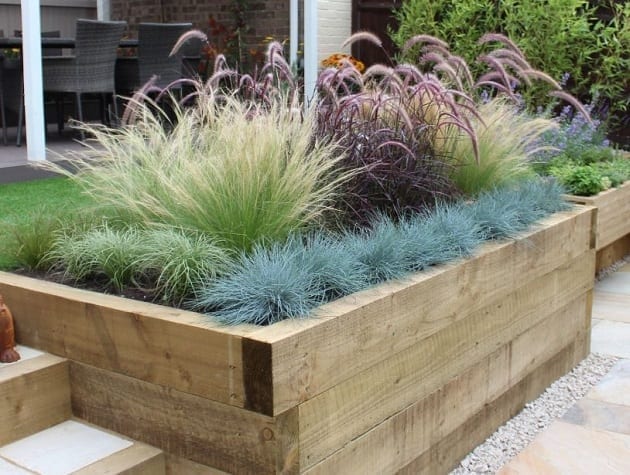 Geometric planting of the ornamental grasses section in our Garden Makeover project in 2018
---
Linear planting is used a lot in modern designs but needs care as a single plant out of place can spoil the effect. Bamboos are often employed in this way to form screening or divide a space, ornamental grasses are particularly effective, offering a range of colours and textures with little maintenance. Ferns are also popular for their range of colour and form. Varieties such as Athyrium nipponicum 'Metallicum' and Cheilanthes lanosa in shades of steel grey and blue are a stylish choice. Planting in containers is an important part of the contemporary garden, especially in a courtyard or smaller garden. Choose containers that complement the materials used in the garden and then plants to complement the containers. Mono-planting containers is very effective, or using two complementary plants to underplant a tree or larger specimen shrub. This style of planting was used to great effect in the Corten steel planters of the 2018 Hillier exhibit.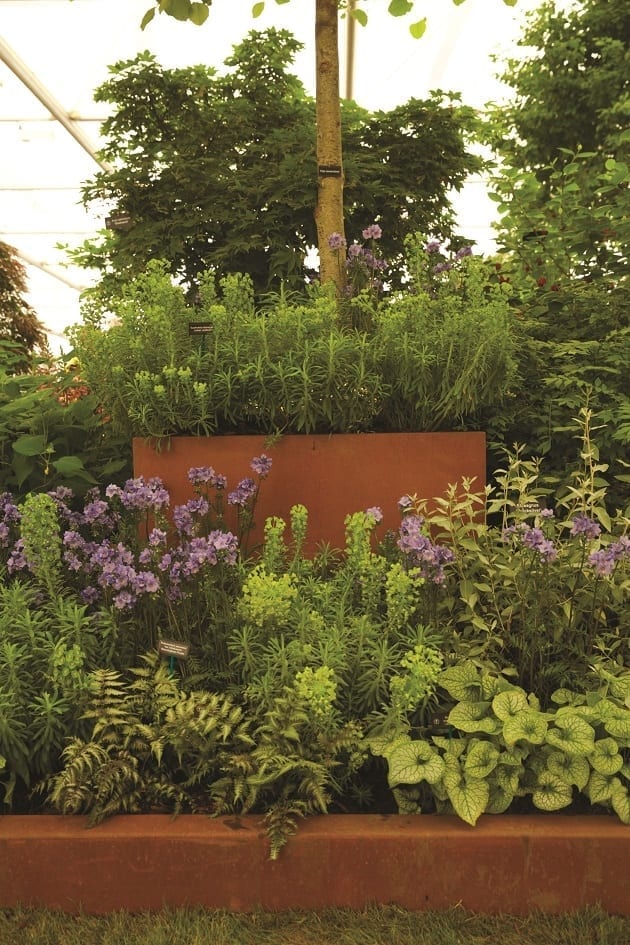 Mono-planting with euphorbia under trees in our 2018 Chelsea garden
---
Living Spaces
Movement, sound, light and shade are important considerations to create enjoyable living spaces. Plants themselves can provide much by way of movement to catch the eye and sound to delight the ear, grasses in a gentle breeze give the gardener both of these important aspects. With more minimalistic planting, some of this can be lost and the addition of a contemporary water feature or firepit can add a much needed focal point.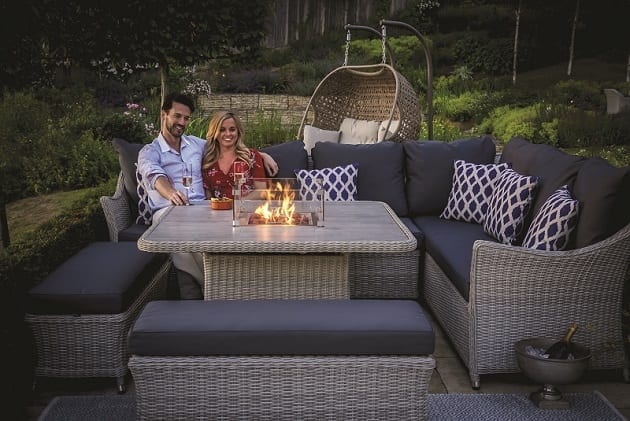 ---
Areas of shade can be achieved with a building – a pergola or similar – or with planting using trees. Trees with architectural stems or interesting bark can work well – Betula utilis 'Jacquemonti' has impressive bright white bark. Underplanted with the black grass Ophiopogon planiscapus 'Nigrescens' it makes quite a statement. Bamboos will also provide shade and if planted in containers can feasibly be moved around as the sun moves through the day.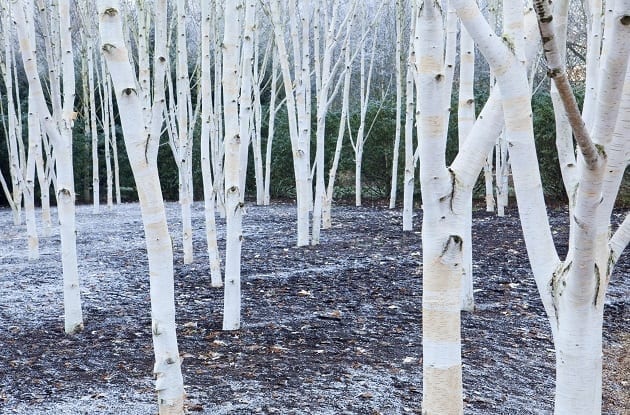 ---
Into the evening, lighting is an essential part of extending time outdoors. Choose warm lighting tones and consider up-lighting vertical features as well as trees and larger shrubs with warm white lights, creating a welcoming ambience for your evening enjoyment.