Hillier has always strived to be a pioneer within horticulture, pursuing policies and taking actions that are environmentally beneficial. From reducing our carbon footprint to water use reduction and sound growing practices, find out what we are doing across the business. We know there is always more that can be done, and we have also made a number of pledges for the future.
At Hillier, we aim to work innovatively, sustainably and with integrity, to secure our position as an industry leader and a leader of good environmental practice.
The horticultural industry naturally brings benefits to the environment by increasing the prevalence of flowers and trees around us. But we also know there is more the industry and Hillier as a business can do and we continually look at how we can make improvements.
Find out about our environmental actions and commitments below.
---
Plastic Reduction
We are all incredibly aware of the need to reduce plastic use and particularly single-use plastic. We strive to keep plastic use to a minimum and are introducing recyclable options wherever possible.
Our nurseries were one of the first to introduce kerbside recyclable non-black plant pots in spring 2019. You can now find these in wide use at our garden centres
Across our nurseries, all waste plastic pots are recycled. The wraps around delivery trollies are recycled. The plastic skins from polytunnels are recycled at the end of their lifespan (5-10 years). All compost bags are recycled
In our Restaurants, we have changed our disposable plastics to compostable materials; this includes our disposable cups, lids, and straws. All of these are made from plant-based materials, such as trees, corn and sugar cane
Our entire range of adult soft drinks are purchased for sale in glass bottles, which we recycle at each of our centres.
Our new Hillier Brand Bird Food is produced in fully recyclable plastic packaging
We have worked with our greeting card supplier to remove plastic packaging from our range, including 100% of Christmas cards now not being plastic packaged. Calendars will also not be plastic packaged from 2021
Read More
---
Waste Management
We aim to keep waste to a minimum throughout our supply chain, reducing the volume that goes to landfill.
On our nurseries, wooden pallets are sold for re-use. Scrap metal is recycled locally. Cardboard is baled on site and recycled, while paper is collected by a commercial company and shredded in line with GDPR requirements.
Heating is only used to keep glasshouses frost free in winter. Heat levels are controlled by an environmental computer that automatically controls vents to minimise heat loss and energy consumption.
Across our Garden Centres, Nurseries and at Head Office, since 2018 we have greatly increased our recycling volume through a contract with BIFFA. We introduced additional recycling streams, so we now separate and recycle food (including from our restaurants), glass, wood, mixed (paper, card and plastic) and green waste in line with our commitment to reducing waste to landfill. Through the BIFFA customer portal, we can see exactly how much waste we are sending to recycling each year, which we report to The Planet Mark (see below)
We are increasingly moving to 'digital first' for our Gardening Club communications to minimise paper wastage
Read More
---
Peat
We are committed to removing peat across all areas of the business; however, we must be careful to ensure peat is replaced with a sustainable alternative and not simply replaced with a product that is further damaging to the environment.
As the largest UK grower of semi-mature trees, our tree production has been 100% peat-free for a number of years.
Production of all other plants across our nurseries has moved from 75% peat-free in 2020 to over 90% peat-free for 2021. Our goal is to move to 100% peat-free production. Ensuring a sufficient supply of peat-free growing media is available is one part of achieving this.
We have introduced an expanded peat-free range in our Garden Centres including in spring 2020 our Hillier Peat-Free Multipurpose Compost to give the customer a clear choice.
We will be further expanding our range of peat-free options for 2022 as well as continuing to reduce the peat content of existing products with our suppliers.
Based on sales from 1st September 2020 to 30th June 2021 (i.e. 9 months sales data), within the 'growing media' category in our Garden Centres, which includes composts, grow bags, topsoil and more, 44% of sales volume was of 100% peat-free products. The remaining 56% had some level of peat, varying from 25% to 90% volume. This means as a total volume of peat vs non-peat, again in our growing media category 68% of total product volume was peat-free, with 32% peat-based.
Challenges with global supply in 2021 of both coir and wood fibre – the main alternatives to peat – have hindered peat-free sales volume. As supply increases, we fully hope and expect volume sales of peat-free to continue to increase.
Read More
---
Neonicotinoids & Use of Chemicals
On our nurseries, any use of chemicals is kept to a minimum and in our garden centres organic alternatives will always be available. We advocate a natural-first approach to gardening.
On our nurseries, we do not use neonicotinoids as part of crop management
We have a system of Integrated Crop Management (ICM), which has greatly reduced any use of chemicals to control pests and diseases. ICM uses environmental and biological controls wherever possible –making use of natural predators and parasites as pest control and using chemicals with a low environmental impact
On our tree nurseries, artificial fertilisers are reduced by using a natural approach. We spread farmyard manure and use cover crops on fallow lands such as grass, clover, mustard, and marigolds. The latter has proved to be most beneficial as nematodes, living symbiotically on the roots, avoid the need for chemical soil sterilisation
In our garden centres, we do not sell any products containing neonicotinoids and have not done since 2018
We offer a large range of natural gardening products at all Hillier Garden Centres, including certified organic options, giving our customers choice about the way they want to care for their garden. These include natural methods for pest control and lawn care, biodegradable propagation lines, and organic fertilisers
All of our UK plant suppliers have committed to not using neo-nicotinoids
Read More
---
Water Use
We are pioneers in water use and, on our nurseries, have been dominantly water self-sufficient for more than 30 years.
In the late 1980s, it became apparent that mains water was not an environmentally sound way to water crops, so we constructed our own reservoir. There is a drainage system through which rainwater and irrigation runoff are collected in the reservoir and used to irrigate crops. We also have our own reservoir at our Broadmead container tree nursery, capturing rainwater from the nursery at a nearby housing estate. As a result, our nurseries are 85% water self-sufficient. This water is filtered, cleaned, and treated on-site at a water treatment plant so it is the correct quality for plant growth.
Irrigation is carefully managed by trained staff and modern wireless sensors assessing compost moisture levels, transpiration and linking that to weather forecasts to make accurate and informed irrigation applications
We are planning to trial harvesting rainwater from Hillier Garden Centre Newbury and Three Legged Cross, looking at how we can move to greater water self-sufficiency, reducing the reliance on mains water usage
---
Carbon Footprint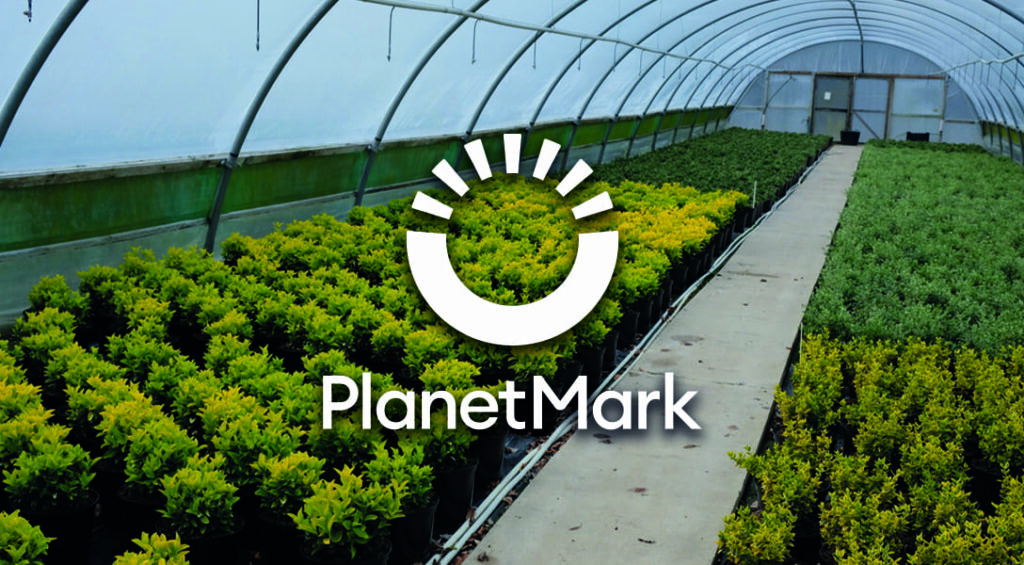 In order to better measure our environmental performance, in 2018, Hillier Nurseries joined The Planet Mark. This is a certification programme that recognises companies committing to continuous improvements in sustainability allowing companies to measure and find opportunities to reduce carbon emissions, energy and water consumption, waste, and more.
We are pleased to have received our second year of certification in 2021, showing that we have gone beyond our pledged target of a 5% annual reduction.
OUR PLEDGE: A 5% reduction in our carbon footprint every year.
As a grower of plants and trees, with their carbon-sequestering ability, we are naturally creating and providing assets that benefit the environment in terms of CO2 reduction.
On our field tree nursery sites, we keep paths and headlands to grass to increase the CO2 lock up (a carbon sink), as well as improving soil stability.
Across our business, we are adding hybrid and fully electric cars to our fleet and have installed electric vehicle charging points at Head Office and are looking to gradually add electric charging points at our Garden Centres
We are adding additional recycling streams to reduce waste that goes to landfill (see waste management above )
We are in the process of adding solar panels at Hillier Garden Centre Newbury and Three Legged Cross, aiming to generate as much solar power as we can to offset our electricity usage. At these locations, we will also upgrade lighting to LED bulbs throughout. These will act as 'templates' for further development across our Garden Centre estate
We will also trial harvesting rainwater from Hillier Garden Centre Newbury and Three Legged Cross, looking at how we can move to greater water self-sufficiency, reducing reliance on mains water usage
We replaced the oil-fired boiler with reverse recycle electric heating and cooling at Hillier Garden Centre Newbury. The addition of solar panels will allow this to be powered by renewable energy
We are upgrading 90% of the roofing at Hillier Garden Centre Three Legged Cross with 100mm thick insulated panels, which will vastly improve the amount of energy required to heat or cool the space
Around 92% of outdoor plants sold in our Garden Centres are British grown, meaning lower transport mileage required to reach our centres
Our electric, which was the single biggest contributor to our carbon emissions, is now green. We have signed a 3-year contract for renewably sourced electric across our entire business.
We have held engagement sessions with people working across all areas of Hillier business to discuss our results and share ideas for all the ways we can further reduce our footprint
Read More
---
Biosecurity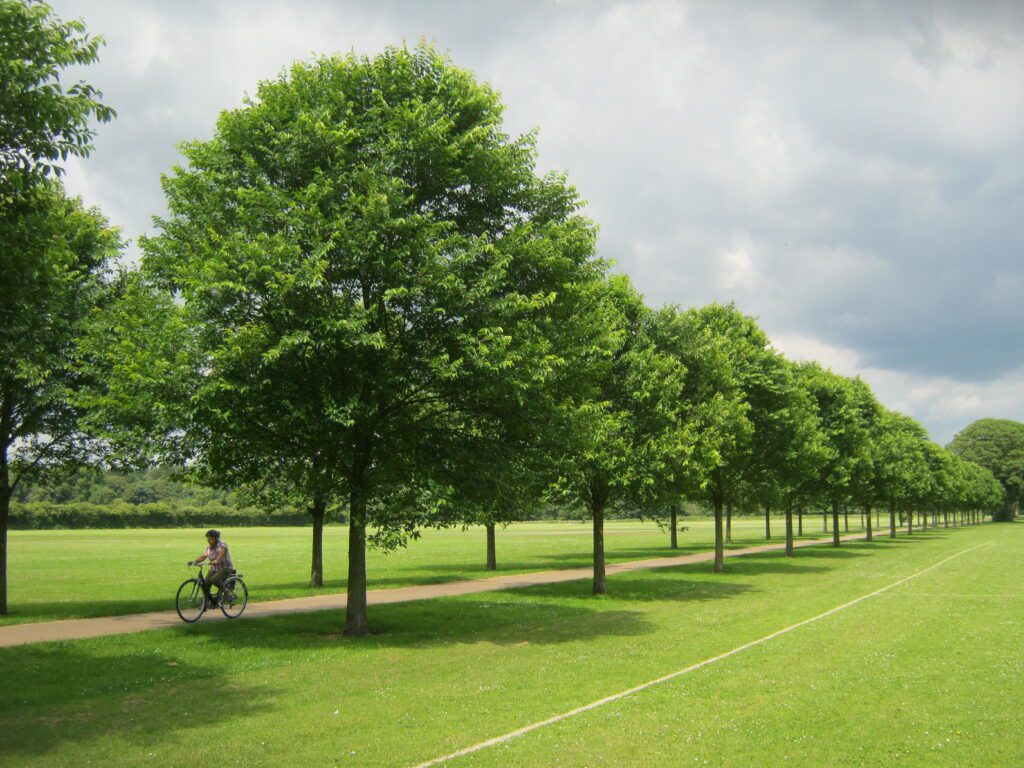 Hillier Nurseries recognises the risk posed to UK horticulture, gardens and the environment from imported plant pests and diseases.
We have in place a clear biosecurity policy to minimise risk, which includes zero tolerance for notifiable pests, diseases and weeds on all imported stock.
We advocate for increased biosecurity controls and focus
In the event where prevention does not come in time, we look to introduce disease-resistant trees to restore species that have been severely affected, such as Ulmus 'New Horizon' following the devastating impact of Dutch Elm Disease. This is a very lengthy process that necessitates global partnerships over a period of decades
Read More
---
Ecosystem & Wildlife Preservation
We recognise the importance of our entire ecosystem and that many species of wildlife – in particular, the likes of bees, butterflies and native mammals such as hedgehogs – are under threat. We encourage approaches that can benefit the ecosystem and are likely to increase wildlife numbers.
In our Garden Centres, we have an extensive range of plants for pollinators, clearly signposted with our plants for purpose signs
In the wildlife sections of our Garden Centres, we offer an array of wildlife feeds and habitats
We frequently share advice and inspiration on creating wildlife-friendly gardens, including input from recognised external experts
We advocate a natural approach to pest control first, explaining the importance of creating a functioning ecosystem
We have a system of Integrated Crop Management (ICM) on our nurseries which has greatly reduced any use of chemicals to control pests and diseases, with significant increases in monitoring and biological controls
We grow 750,000 trees across our field and container tree nurseries, some of which remain in our fields for 25 years+ bringing great benefits to local wildlife
Our tree range includes a wide variety of native trees, all of which sustain an incredible ecosystem. A mature English oak for example can support over 4,000 different species of insects and animals
We take orchard trees, such as apples and pears, from orchards about to be grubbed out. These are potted at our container tree nursery, often going on to be used to form community orchards
Read More
---
Suppliers
As well as taking environmental steps with our own business, we also work with our suppliers to try and create improvements across the entire value chain:
We are working with growers to get plants potted in recyclable pots rather than black plastic wherever possible
We have worked with our greeting card supplier to remove plastic packaging from our range, including 100% of Christmas cards now not being plastic-packaged. Calendars will also be non-plastic packaged from 2021
We are working with suppliers to drive the development of peat-free compost mixes for our bagged composts.
All of our UK plant suppliers have committed to not using neo-nicotinoids
---
Green Infrastructure
Green infrastructure, as defined by the Landscape Institute, encompasses the complete network of natural and semi-natural features that intersperse and connect villages, towns and cities. It includes parks, woodlands, rivers, allotments, street trees and more. This natural infrastructure is often more resilient and able to meet environmental objectives than 'grey' infrastructure.
Trees are a key part of green infrastructure. Through our amenity trees division, for many decades we have grown and delivered a vast number of trees to support urban projects across Great Britain
Street trees provide benefits that promote sustainability and help alleviate environmental problems. These benefits include offering shade to combat the urban heat island effect, controlling stormwater runoff, improving air quality, absorbing carbon dioxide, creating habitats for native fauna, noise reduction and aesthetic value
Hillier has frequently worked in collaboration with Trees and Design Action Group (TDAG), an organisation that brings together wide-ranging disciplines in the public and private sectors to support the role of urban trees through better collaboration in the planning, design, construction and management and maintenance of our urban places
Read more:
---
External Standards & Certifications
To better measure our efforts, we work with a number of external partners and have joined a number of accreditation schemes.
In 2019, we joined The Planet Mark. This is a certification programme that recognises companies committing to continuous improvements in sustainability. Through it, companies can measure and find opportunities to reduce carbon emissions, energy and water consumption, waste and more
In 2019, Hillier Nurseries was awarded ISO 14001 accreditation. This is a globally recognised standard, providing an agreed framework to follow regarding Environmental Management Systems. It indicates that a company is having less of an impact on the environment and has strong systems in place
We became the first UK ornamental tree nursery to be accredited with the Woodland Trusts UK Sourced and Grown Assurance Scheme (UKSG) in 2019. This is a scheme operated by the Woodland Trust to audit nurseries based on their environmental and biosecurity credentials. The accreditation is in large part due to a very high percentage of Hillier stock being raised from seed or bud to saleable tree on our nurseries
Read More