We grow and sell our plants in a variety of pot sizes. While you can of course grow yourself from seed, or bulb, whenever you purchase a plant that has already been lovingly nurtured by us it will be available in either a 1-litre, 1.5-litre, 2-litre, 3-litre or 5-litre pot.
Plants at these sizes are small enough to establish quickly once planted in your garden, while at the same time being big enough to provide an impact from year one.
The size of pot the plant is in always matches its requirements, particularly in terms of root space. So, naturally, bigger plants are delivered in bigger pots!
1-litre pots
Herbs grown by Hillier are available in the smallest 1-litre pot size, perfect for the requirements of these fragrant plants.
1.5-litre pots
A few of the smallest perennials we grow, such as rhodohypoxis, are available in 1.5-litre pots.
2-litre pots
A wide range of perennials are available in 2-litre pots, particularly when you buy them earlier in the season before they have put on growth.
3-litre pots
The majority of our shrubs are available in 3-litre pots as their roots tend to be a little larger than the perennials. Later in the season, more of our perennials will be moved into 3-litre pots.
5-litre pots
We offer a range of 'feature size' plants in 5-litre pots. These bigger plants are fantastic for providing immediate high impact colour in your garden, or placed in a pot on the patio as an instant feature plant.
This image gives an indication of the difference between a 2, 3 and 5-litre pot.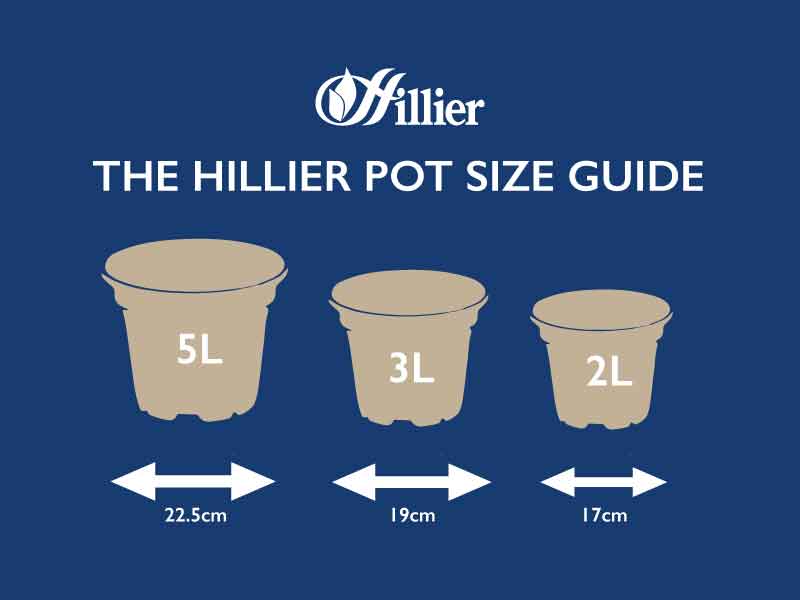 You can easily see what size you will be purchasing when you browse online, as every plant will have the size at the end of its name – e.g. 2L, 3L or 5L.