Nandina from the Berberidaceae family is commonly referred to as heavenly or sacred bamboo and is a versatile and visually striking plant that has gained popularity for both landscaping and gardeners in recent years with the introduction of some dramatic and colourful new varieties. Known for its, it's vibrant evergreen foliage, panicles of white flowers and colourful berries and adaptability to various environments Nandina is an attractive addition to many outdoor spaces in both borders and patio pots..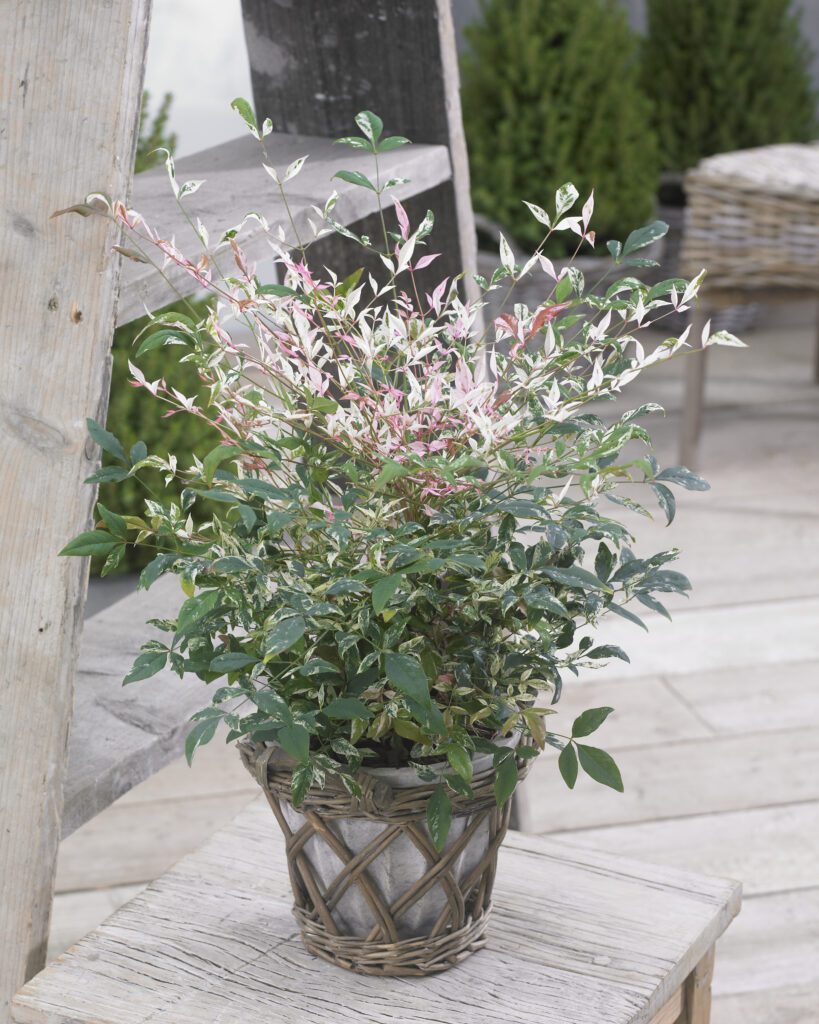 Characteristics of Nandina
Nandina plants (Nandina domestica) are characterised by their bamboo like appearance; however they are not true bamboo. The foliage will undergo some stunning colour changes throughout the year transitioning from vibrant green in spring and summer to fiery red, orange or burgundy in the autumn and winter. These transformations make it an eye catching plant that will add interest to landscapes and gardens in every season.
Planting Nandina
Nandina plants are relatively easy to cultivate and can thrive in a range of conditions, making them a popular choice for both novice and expert gardeners. It's best to choose a location with well draining soil in partial to full sun, that is sheltered from the winds. Make sure you dig a generous hole when planting this shrub and add some well rotted compost with a handful of grit or small stones for drainage.
These plants do prefer slightly acidic soil and to retain moisture mulch with bark chippings after planting.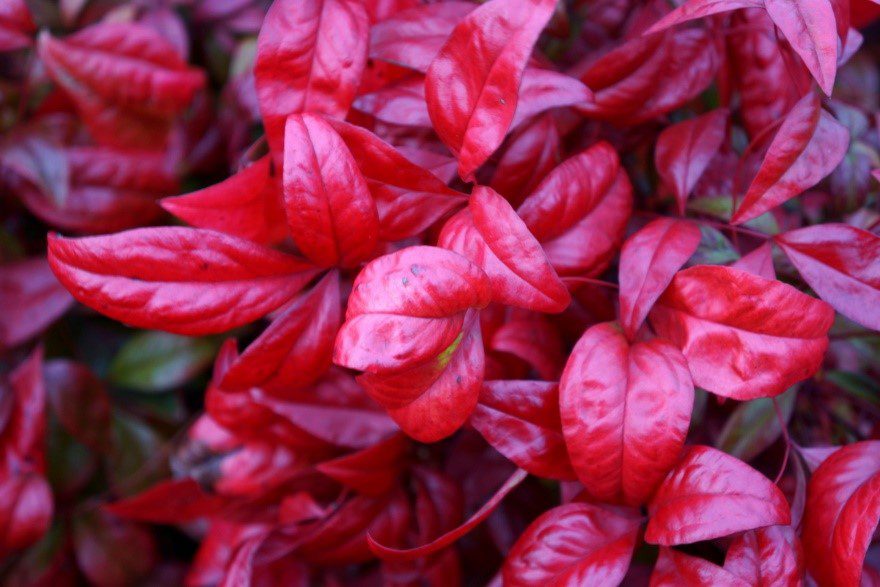 How to care for Nandina
Nandina's low maintenance requirements are one of its standout features. Once established this shrub requires minimal care to thrive. Regular watering is essential during the first growing season to help the plant establish its root system, mature Nandina plants are drought tolerant and can withstand periods of reduced water availability.
While the plant doesn't require any heavy pruning, the occasional removal of dead or overcrowded branches can help maintain its shape and overall health. Wearing gloves while pruning is important and keeping it away from pets and children is strongly advised because if ingested this is poisonous.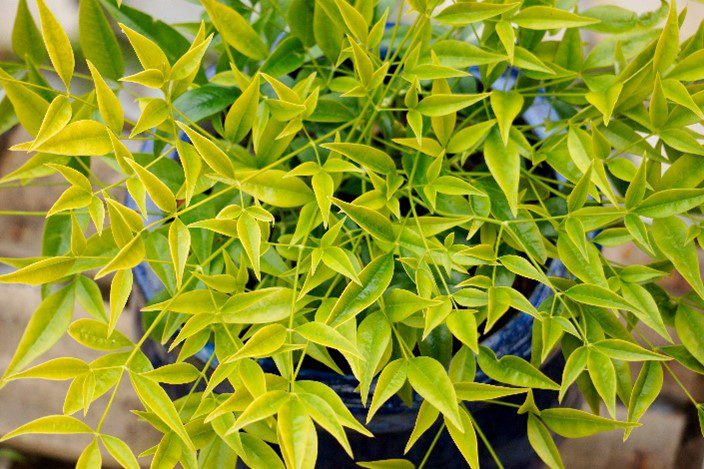 Varieties of Nandina
Several Nandina cultivars offer a range of sizes and colours, allowing gardeners to select the perfect fit for their specific landscape design.
Some popular varieties include:
'Obsessed': Perfect for a sunny spot in your garden which emerges deep fiery red in the summer and again in the autumn providing a spectacular display throughout the colder months, excellent in a mixed winter planter.
'Gulf Stream': Known for its compact growth and rich green foliage that turns orangey red in colder months.
'Twilight': All year round interest with it's speckled foliage patterns of white, pink and bronze. A striking form with bright golden foliage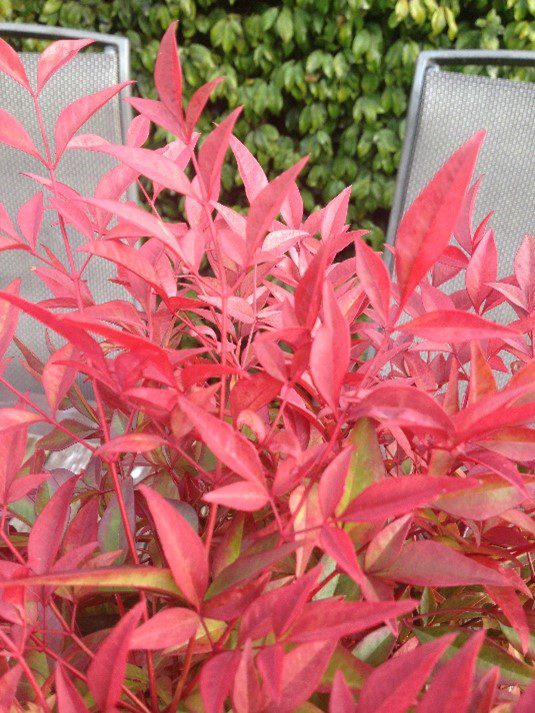 Designing
Nandina are incredibly versatile, they can be used as striking focal points, vibrant hedges or elegant border plants. Their multi seasonal appeal adds texture and colour variation to any outdoor space. Nandinas adaptability to both container and ground planting, also make it a fantastic choice for patios, balconies and small gardens.
Incorporating Nandina into your garden design requires careful consideration of its growth habits and colour changes. Here are some tips:
Colour Play: Use Nandinas colour changing foliage to your advantage. Plant them strategically to create captivating colour contrasts in different seasons.
Layered Planting: Combine Nandina with other plants of varying heights and textures to create visually appealing layers in your landscape.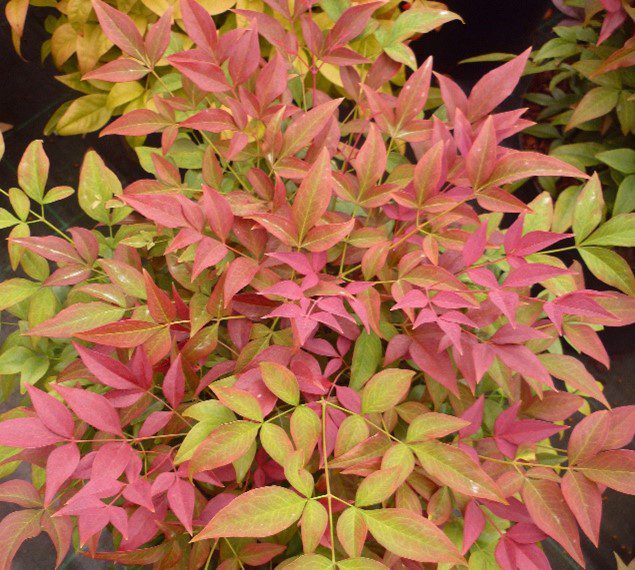 Nandina 'Obsessed'
Nandina's distinctive features, adaptability and low maintenance requirements make it an ideal choice for gardeners seeking an elegant and eye catching addition to their outdoor spaces. Whether used as a focal point, hedge or container plant the Nandina plant's beauty shines all year round.