Prunus incisa 'Kojo-no-mai' | Cherry 'Kojo-no-mai'
Prunus 'Kojo-no-mai' is a fantastic deciduous shrub with elegant, layered branches and zig-zag twigs. Pink buds open to delicate single flowers with white petals in early spring that hang in attractive bunches all along the branches and become deeper pink in the centre. This is a fantastic plant for spring interest, and in autumn you will get extra enjoyment as the serrated leaves turn a rich orange.
---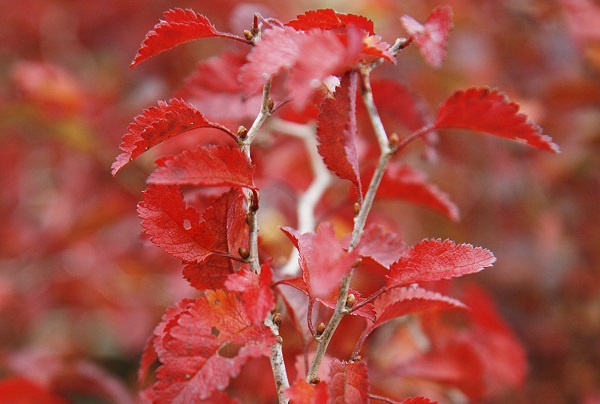 Prunus 'kojo-no-mai' brings amazing colour to the garden in autumn as well as spring
---
Prunus incisa 'Kojo-no-mai' Factfile
Flowering time: Beautiful white flowers from early spring, orange leaf foliage in the autumn
Sun Requirements: Full sun
Soil: Any moist, well-drained soil
Hardiness: Fully hardy in all of the UK, often down to -20°C
Size: Grows to 2.5m height x 2.5m spread
---
Prunus incisa 'Kojo-no-mai' Growing Guide
Planting
If planting directly in the ground, incorporate plenty of garden compost or well-rotted manure in the hole when planting.
Hillier tip: For detailed planting advice see our guide to planting large shrubs and trees
If growing in a container, the most typical size of pot when your first purchase the plant is 17cm (although larger, more mature plants are also often available). Over time, this is a plant that can grow to around 4 feet high and wide if the container is big enough (it would naturally reach this size grown directly in the ground). A pot around 35cm-40cm in diameter will support a good-sized P. 'Kojo-no-mai' so long as the plant is well watered and fed. When re-potting, always put some crocks or stones in the bottom of the pot to help with drainage.
Hillier tip: We recommend moving up pot size in stages, re-potting every couple of years as the plant grows – jumping straight from a 17cm to 35-40cm pot may look a little strange until the plant grows to fill it. This approach also allows for the addition of some new compost for the roots to grow into. Potting from a 17cm to a 25cm-27cm pot is a good first step.
Pruning
Prune lightly in summer after flowering, removing dead, diseased or crossing branches and shaping as desired. Prunus incisa 'Kojo-no-mai' will tolerate a harder prune, allowing you to keep its shape small and compact if desired.
Watering
Water well for the first few months after planting – particularly during any dry spells.
---
Prunus incisa 'Kojo-no-mai' Planting Ideas
This brilliant specimen tree suits even small gardens. Plant near to a patio or terrace, or perhaps within a rock garden.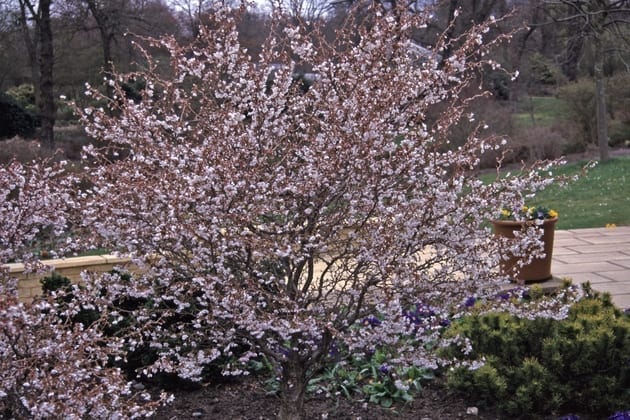 ---
Prunus incisa 'Kojo-no-mai' Fact
Also known as the 'Fuji cherry', Prunus incisa 'Kojo-no-mai' is a very popular plant in its native Japan, where it is frequently grown as a bonsai in very small gardens.