May 2018 – Hillier is once again celebrating extending its world-record for having received the most consecutive gold medals in the history of the RHS Chelsea Flower Show.
The company, which is the most successful exhibitor that Chelsea has ever had, has increased its winning run to 73 gold medals.
This year's medal was awarded to the Hillier team, for its "Stihl Inspiration" by Hillier garden, designed by Sarah Eberle.  The gold was made all the more special as, not only did Hillier create its award-winning main garden, but the team also took on a second creation with its "A Royal Celebration by Hillier" installation.
---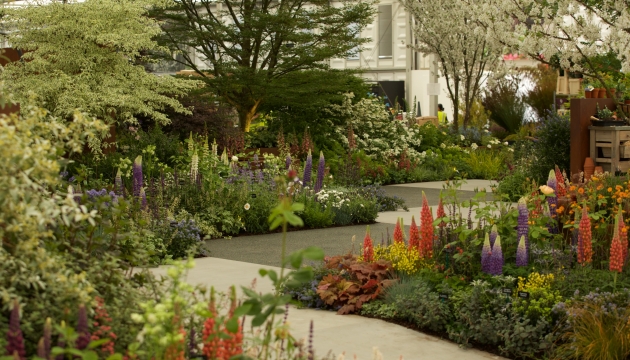 'Stihl Inspiration' By Hillier
---
A beaming George Hillier enthused: "We are absolutely thrilled to have received this gold. We get asked if we get complacent about getting gold, if anything it's the opposite. Each year nerves and anticipation seem to run higher than ever as we have the increased pressure of not letting the title slip away. Thankfully we have a fantastic team, and are incredibly fortunate to be working with Sarah, a very talented designer. Everyone at Hillier works so hard all year round to make Chelsea happen and this is a truly wonderful recognition of that."
The garden was sponsored, for the first time, by world-famous garden tool manufacturer STIHL, as part of a wider partnership that has also seen the tools being sold in Hillier garden centres.
The garden, which features striking corten-steel from The Pot Company, displays a variety of orange and blue flowering plants alongside the traditional feature of Hillier mature trees. The Hillier garden invites visitors inside the exhibit to be truly submerged in the design and planting with a walkway that has been designed to create a pathway of inspiration. With over 150 years of experience of growing the best quality plants, a passion for making horticultural discoveries, and having exhibited at the RHS Chelsea Flower Show since its forming years, Hillier knows the extreme levels of perfection that the judges expect, as well as how to meet these expectations.
Because of this expertise, visitors to the show each year head for the Hillier exhibit eagerly anticipating the new plants that the company will unveil.
One of these plants, Eryngium 'Blue Waves', has taken second place in the prestigious RHS Chelsea Plant of the Year awards.
---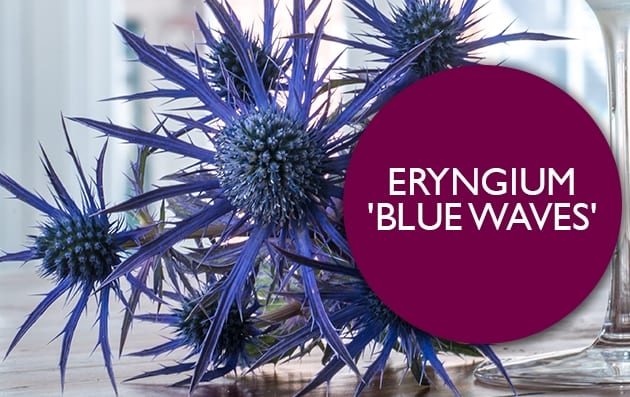 Eryngium 'Blue Waves'
---
It is a hybrid developed solely by Hillier Nurseries in the UK and is a unique blend of Eryngium bourgatii and Eryngium alpinum. It was first cultivated in 2002 when the two plants, growing close to each other resulted in the production of 11 hybrid seedlings. One of these was then selected due to its strong, upright stems and large bracted cone-like flower head, which is surrounded by a number of smaller bracted flowers.
The intricate thistle-like blooms of the Eryngium are in a vibrant shade of amethyst and create a 'blue wave' sitting on top of a stout, inky blue stem. E. 'Blue Waves' emerges from an overwintered crown producing ornate leaves with silver-white veins, then in June the cone-like heads appear, each surrounded by a prominent spiky bract on stems between 35cm and 50cm high. As the plant matures, the flower cones, bracts and stems all turn to the shade of vivid blue from which it takes its name. Once established, the new Eryngium is very drought tolerant, and even thrives in poor soil.
Hillier also introduced a second variety to accompany 'Blue Waves' at this year's show. Hydrangea aspera 'Gold Rush' is exclusively grown by Hillier in the UK and produces a stunning display of foliage in gold and flame orange, before turning to a rich golden yellow and green in the height of summer.
The new plants were introduced by the Hillier Research and Development team which has a wealth of horticultural experience and a passion for making horticultural discoveries.
Charles Carr, head of wholesale nurseries, commented "We are thrilled to have taken the impressive accolade of second place for the RHS Chelsea Plant of the Year.
"Unveiling new plants is one of our favourite aspects of the Chelsea Flower Show. Our R&D team is constantly working, alongside our international partners, to deliver exciting new innovations to the market and these new plant varieties are an example of that."