Hillier Nurseries has unveiled plans for its 'greatest ever' RHS Chelsea Flower Show exhibit in 2020.
The Stihl Hillier Garden will be a momentous celebration of the company's 155-year history and achievements, as it aims for a landmark 75th consecutive gold medal. Hillier holds the world record for the most consecutive gold medals at the show.
The company will be taking centre stage with its vast exhibit in the Grand Pavilion. It will be an immersive walkthrough, winding around the famous central monument bursting with planting inspiration throughout. The stunning display will cover a phenomenal 387.5m2, a staggering 85% increase on the 2019 garden.
Visitors will first approach an historic shopfront replica of one of the earliest Hilliers shop in Winchester. This instantly transports visitors back to the humble beginnings of the company, which started from a single florist shop and small patch of nursery land in 1864. Following a path past the shop, visitors will discover a large garden with a stone-walled walkway taking them on a journey filled with semi-mature trees, large shrubs and colourful herbaceous planting schemes. The finale of the garden's winding walkway will be a water feature– a place to reflect on 155 years of history.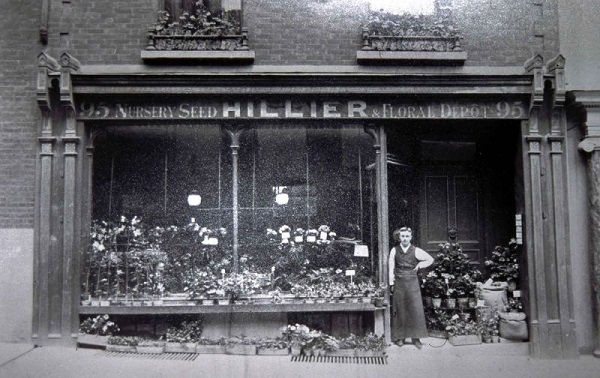 One of the earliest Hillier shops in Winchester, where the company originated from
---
Lilly Gomm will join the team as designer for the second year running. Lilly made her Chelsea debut with Hillier in 2019, winning gold. Discussing this year's design Lilly said: "It is an absolute honour to be working with Hillier again, particularly this year as the company celebrates its history with its exhibit. The design this year is intended to capture the essence of Hillier, stand out and be memorable, at the same time as featuring the detailed stunning planting and variety that Hillier is known for."
Already famed for creating one of the largest floral displays at the show, Hillier will be taking its design to new heights as the garden will feature a staggering 21 Hillier mature trees.  Among the trees there will be pockets of planting and splashes of colour. The garden will highlight the extensive variety of plants grown on the Hampshire nursery and available in all 17 Hillier Garden Centres, offering inspiration for every type of garden.
Chris Francis, director of retail and wholesale commented: "This garden recognises and celebrates something incredibly special so it's only fitting that we have our greatest exhibit ever! We are thrilled to be working with Lilly again. She is immensely talented and created a stunning garden for us last year. This year's design is incredible; the idea of recreating the original shopfront is certainly going to be remarkable and I know real attention is being paid to historic detail. We can't wait to see it all come to life!"
The Hillier exhibition is once again sponsored by world-famous power tool manufacturer, STIHL. Simon Hewitt, Head of Marketing for STIHL GB, said: "The Hillier designs wow us every year, yet each time they seem to create something even more spectacular and breathtaking. With the huge space and shopfront recreation, not to mention the planting and horticultural expertise, we have no doubts that this year's garden will be the best ever. We are thrilled to sponsor it and to be working with Hillier to once again create one of the biggest talking points of the show."
To be among the first to find out further details and updates about plans, follow Hillier on social media for updates and exclusive behind the scenes sneak peeks. Find Hillier Garden Centres on Facebook, or @HillierGarden on Twitter and Instagram.