The front door gives the very first impression of the home, viewed by visitors and passers-by alike. Wreaths and evergreen branches have been used for a long time to create a festive welcome. Along with colourful and creative wreath ideas, there are plenty of other ways to make your front door part of your Christmas display.
---
Unique Wreaths
Every year at our wreath workshops, we are amazed by how unique each of the finished creations is. Wreath making really is an opportunity to have fun.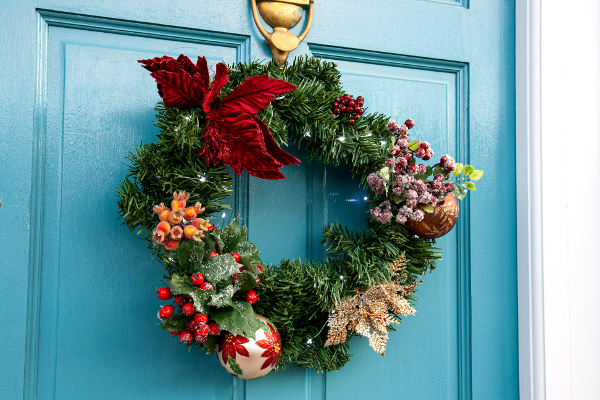 For a front door display that blends classical tradition with some flamboyance, wire a number of Christmas decorations with a complementary theme – such as brown, cream and red baubles, statement glittering leaves, and berry-shaped picks – into your wreath base. Carefully wrap a set of battery-powered lights around and tuck the battery pack behind the wreath to create a front door display that twinkles after dark. That will certainly catch the eye of all who walk past!
---
Hanging Your Christmas Wreath
Use an attractive length of ribbon to hang your wreath, so the hanging element becomes a feature of the display.
If you don't want to make a hole in your door – or it's not possible to make one – attach an adhesive hook upside down on the inside of the door near the top. You can then have the ribbon going up and over the door, held in place by this adhesive hook.
---
Hillier tip: Wreaths don't have to be hung from the front door at all. They are also a beautiful addition to your Christmas table, with a battery-powered candle placed in the centre creating a flickering glow.
---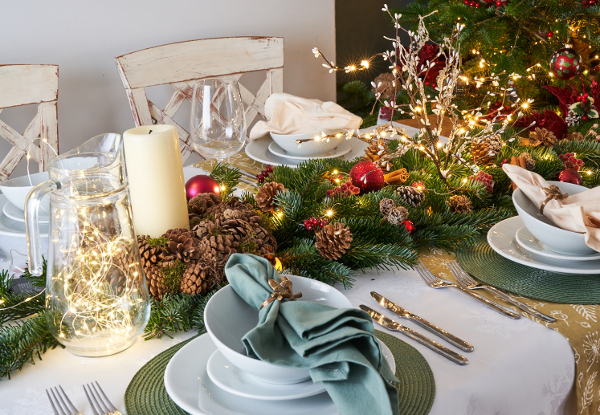 ---
Front Door Framing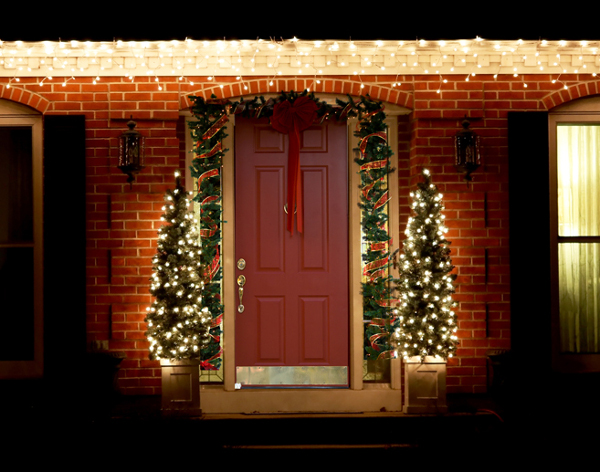 ---
If a wreath doesn't suit your front door, or you fancy trying something different, try framing your front door with a combination of outdoor pot grown Christmas trees and garlands. Much in the way bay trees are positioned either side of a front door, two Christmas trees give a slight sense of formality and grandeur tempered with the joy of twinkling lights. The garland could incorporate some statement decorations, bows, or the bounty of nature; pine cones and evergreen foliage.
After Christmas, the trees can be grown on in your garden, maintaining the happy spirit of the season!
---