Christmas trees growing across one of the UK farms of specialist Christmas grower Needlefresh
---
One of our favourite times of the year at Hillier Garden Centres is mid-end November when thousands of real Christmas trees arrive at our Centres and we set up our magical tree 'forests'! All our premium quality, UK grown trees are hand-picked by horticultural experts from our dedicated UK Christmas tree growers.
Our plant experts will be on hand to help you select your tree when you visit. Once you've chosen your tree, we will then net it and keep it safe until you've finished your shopping. Stay a little longer and hunt out the many other botanical treasures in our atmospheric Christmas tree forests, from natural wreaths to containers bursting with winter colour.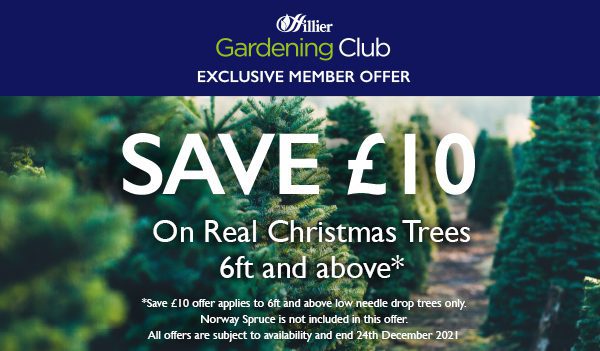 ---
"Excellent, compact tree with very good advice. Will buy next year" – Gardening Club member feedback 
---
Cut Christmas Tree Varieties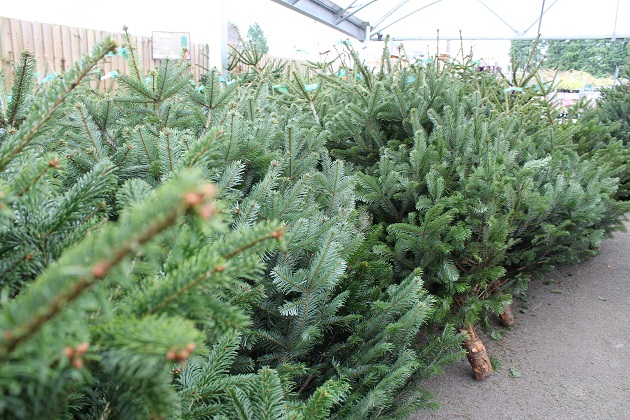 Our Christmas tree forests include a great range of classic cut tree varieties, ideal for indoor use, or pot-grown trees for continued or outdoor use.
Cut Nordmann Fir (Abies nordmanniana)
Sizes from 4ft – 8ft | Also available as a pot grown Christmas tree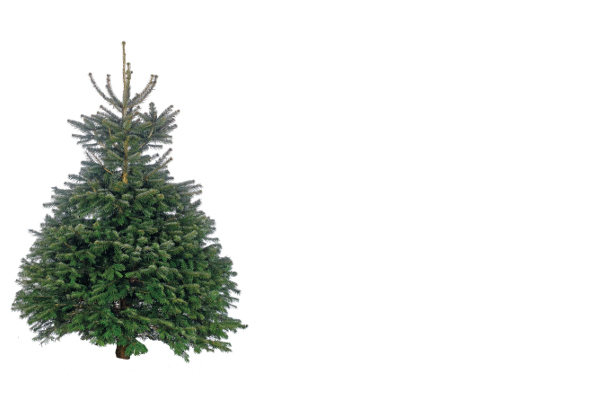 The Nordmann Fir is the most popular variety of real Christmas tree in the UK and for good reason. This variety is best known for its fantastic needle-holding ability. Its impressive, glossy rich green foliage on tiered branches makes this tree perfect for displaying large and decorative baubles. The soft, family-friendly needles mean family members of every age can be involved with decorating.
---
Cut Slim Nordmann Fir
Sizes from 6ft – 7ft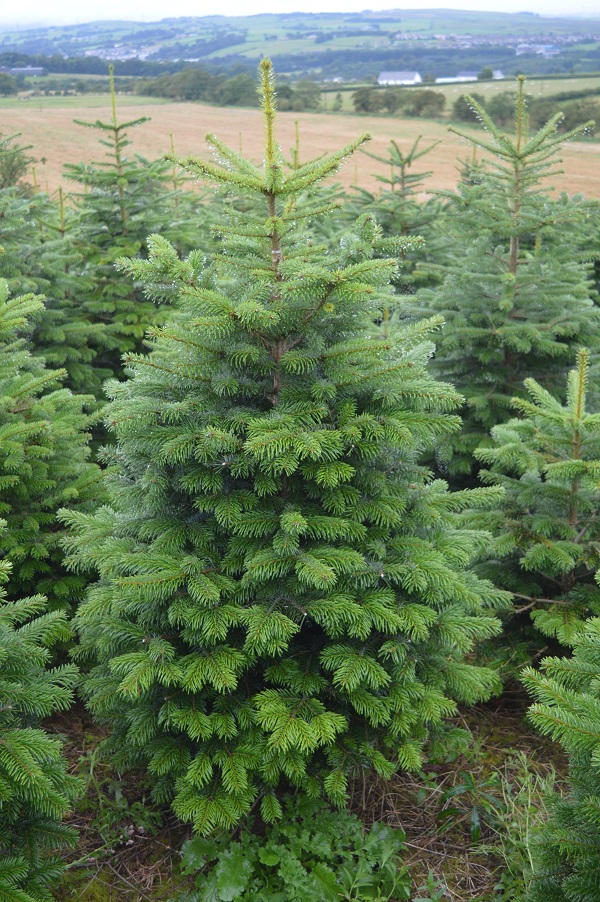 Demand has been increasing for a narrower Christmas tree suitable for more modern homes with limited space. Nordmann Fir 'Slimline', which has rapidly become one of the most popular Christmas trees for Hillier customers, differs from the traditional Nordmann as it is hand pruned by specialists using secateurs to create a narrower tree. This results in a magnificent six- or seven-foot tree that occupies a smaller footprint in your home compared to a traditionally shaped tree. As with the Nordmann Fir, it has soft needles with great needle retention.
---
Cut Norway Spruce (Picea abies)
6ft only | Also available as a pot grown Christmas tree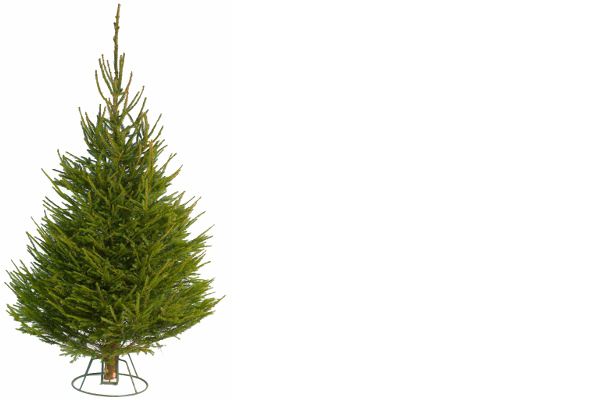 For the Christmas traditionalists, the Norway Spruce is the classic tree. It offers the citrus-pine fragrance that is synonymous with Christmas, along with a pleasing bushy shape and short light green needles. This is a tree that needs  extra vigilance with watering to keep needle drop to a minimum and it also has sharper needles than other Christmas trees.
---
Cut Fraser Fir (Abies fraseri)
Sizes from 6ft – 7ft | Also available as a pot grown Christmas tree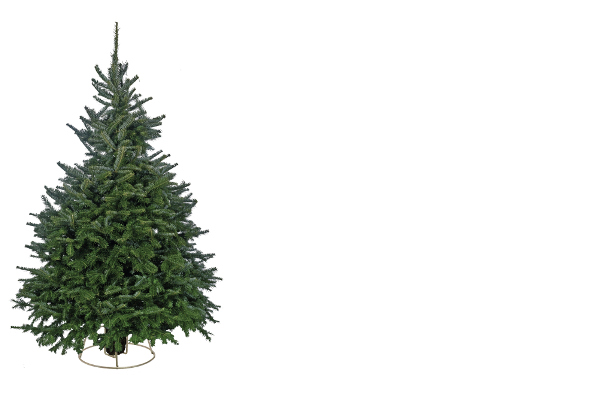 This narrow, fragrant, bushy variety has a slim, conical shape making it a good choice for smaller spaces. The dense branches hold soft, silver-green needles which are retained well. Another big plus for this variety is the delicious  balsam scent that fills the room for the entire festive period.
---
Noble Fir (Abies nobilis)
6ft only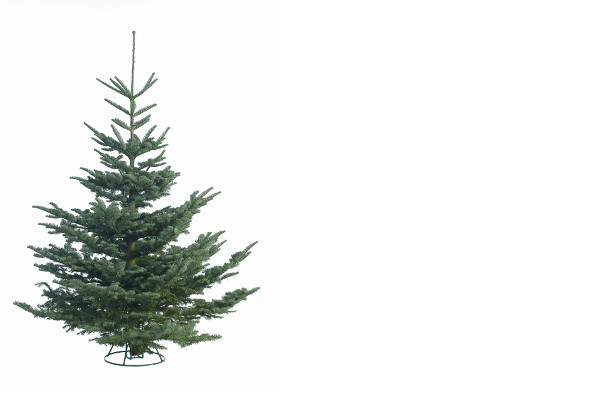 Considered to be one of the most handsome trees, with its lovely blue-green foliage and pleasant fragrance, Noble Fir has good needle holding properties. It is a popular choice because of the more open branching and great shape, which makes it ideal for showing off larger decorations. It can display all the characteristics of the perfect Christmas tree but is, however, notoriously difficult to grow.
---
Blue Spruce (Picea pungens)
6ft only | Also available as a pot grown Christmas tree.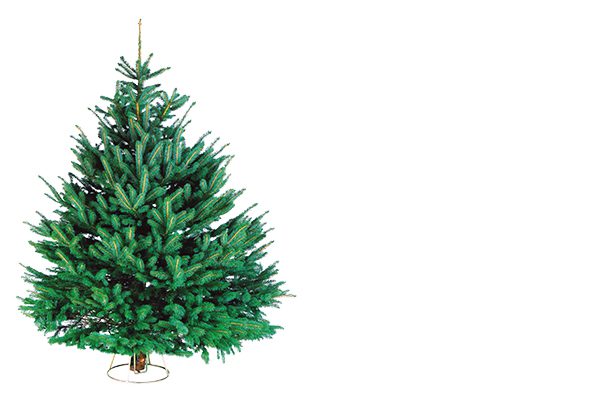 The Blue Spruce has a classic shape and a beautiful hue, making it a great centrepiece to any Christmas. The colour can vary from silvery-green to a stunning steel blue. This is a pretty and symmetrical variety with dense branches. It holds its needles slightly better than the Norway Spruce if watered regularly, but you may need to wear gloves when handling as the needles can be sharper than other species.
---
"We always buy a Hillier tree as assured good quality" – Gardening Club member feedback
---
Plant Based Christmas Tree Netting
We are especially pleased to update that this year we are introducing fully biodegradable netting for our cut Christmas  trees, as we continue to work towards removing plastic from our business.
---
Pot Grown Trees
Cut trees have traditionally been the more popular Christmas tree choice. In recent years, though, we have seen a growing interest in pot-grown trees. These are often chosen as a second tree, given a prominent spot by the front door or home. After Christmas, they can either be re-potted and used for future Christmases or planted out in the garden.
Explore our range of pot grown Christmas trees here.
---
How to Pick the Perfect Tree
Whatever size and style of tree you opt for, follow our tips and choose the perfect one for you:
Check the tree thoroughly before purchasing. Don't buy a tree that is already wrapped
Know the height and width of the space you will put it in. Many people are conscious of height but less aware of the available width. Don't forget to allow room for your tree topper!
Look for nicely layered branches without damage (not that you will find damaged branches on a Hillier tree!)
Glossy colour indicates the tree has not dried out
Download our guide to choosing your Christmas tree >>
---
"Beautiful tree, thick and lush. Very happy with it" – Gardening Club member feedback
---
The Story of Our Christmas Trees
Would you like to know more about where our Christmas trees come from and how they are grown? Read the story of our Christmas trees – a decade in the making.
---
Caring for your Christmas Tree at Home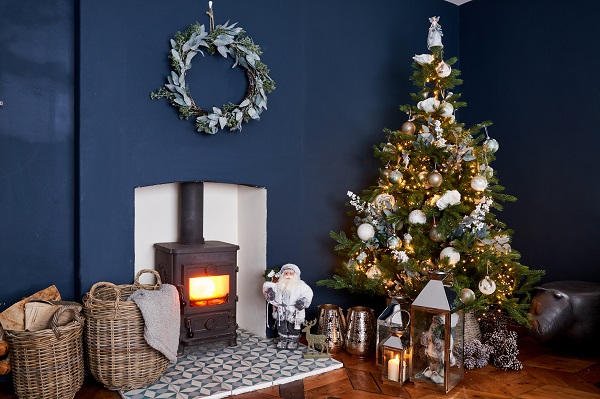 As with all living things, you need to give your tree a little love at home to keep it at its best.
Essential tips
Water your tree regularly
Keep your tree away from open flames and heat sources
Placing your tree in a corner keeps it safer from knocks and bumps
Place the tree close to an electric socket if you are using lights as part of your decorations
Cover the floor or table where the tree will be placed to help protect from water spillages
Wear gardening gloves when handling your tree. Some sensitive skins can get a mild allergic reaction or rash.
Caring for Cut Trees
Cut trees will naturally lose a few needles, but some simple steps should stop them losing too many.
When you first get your Christmas tree home, keep it outside in a sheltered area, preferably standing in water, until you are ready to bring it indoors
Prepare the base of your tree using a handsaw. Cut about half an inch to an inch (1.3-2.5cm) off the bottom to aid water absorption
Keeping your tree outside in water for as long as possible before bringing in to decorate will help reduce drooping and needle drop
In your home, place your tree in a container of water that is regularly replenished. You can buy special tree stands which provide watering space
Once Christmas is over, don't forget to check the dates for the Christmas tree recycling scheme from your local council (if they offer one).
---