The traditional Christmas tree choice is usually a cut tree, but in recent years pot grown Christmas trees have experienced a surge in popularity.
Pot grown trees have the convenience of coming sat in their pot, plus the benefit of being a living tree that can last for many years. After Christmas, they can either be re-potted and used again for subsequent Christmases or planted out in the garden. Pot grown trees are frequently chosen as a second Christmas tree, given a prominent spot by the front door or around the home.
---
Pot Grown Christmas Tree Varieties
Our Christmas tree forests include a range of pot-grown trees for continued or outdoor use at heights starting from 40cm up to 150cm.
Pot Grown Nordmann Fir (Abies nordmanniana)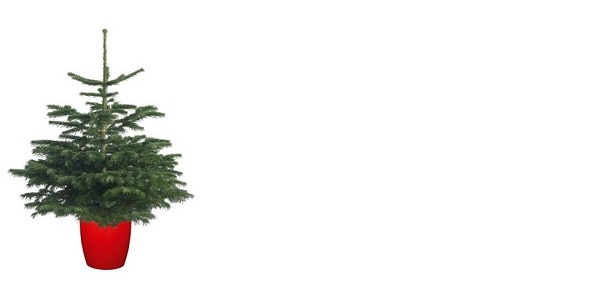 Available Height: 60-80cm, 100-125cm
Nordmann Fir is the most popular variety of real Christmas tree in the UK. Rich and dark-green in colour, it has soft needles that are renowned for not dropping.
---
Pot Grown Norway Spruce (Picea abies)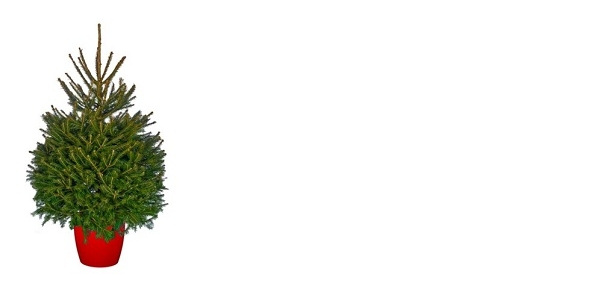 Available Height: 150cm
Norway Spruce is a traditional, compact Christmas tree. It has an excellent green colour of foliage and reddish bark. To ensure good needle retention, it must be well-watered at home.
---
Pot Grown Blue Spruce (Picea pungens)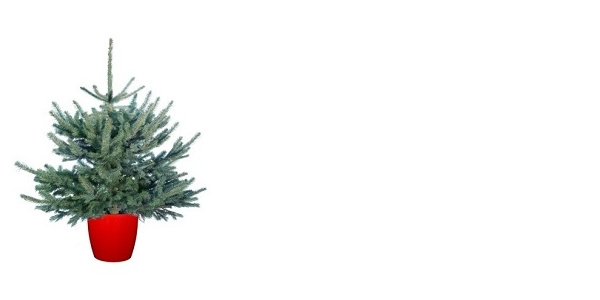 Available Height: 60-80cm
Renowned for its lovely silvery blue-green colour. Like the Norway Spruce, must be well-watered at home.
---
Pot Grown Serbian Spruce (Picea omorika)
Available Height: 40-60cm and 80-100cm
A small and great value Christmas tree. A delightful, decorative tree with dense green branches. Ideal for positioning in smaller spots around the home.
---
Pot Grown Fraser Fir (Abies fraseri)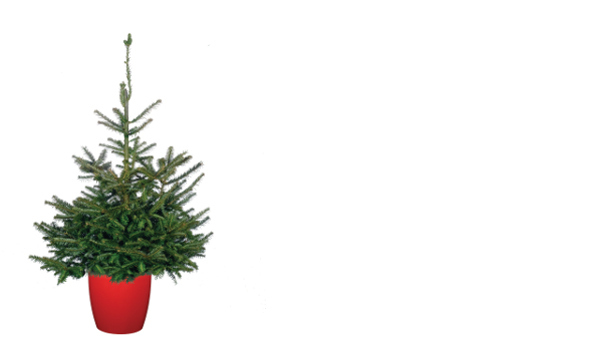 Available Height: 80-100cm
A narrow, attractively-scented and bushy Christmas tree variety with a slim shape, making it a good choice for smaller spaces. Fraser Firs have good needle retention and pretty, soft green-silver needles.
---
Pot Grown Turkish Fir (Abies bornmuelleriana)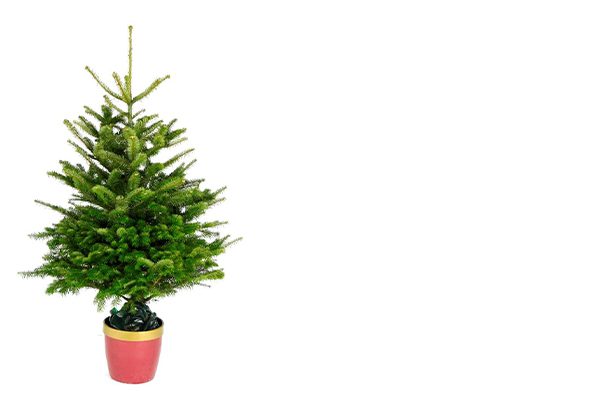 Available Height: 80-100cm
This unusual fir variety exhibits some similarities to the renowned Nordmann Fir, which it is likely related to. It offers two-tone foliage; glossy green with a silvery underside. Combine that with strong branches, good needle retention and a pleasing scent, for a new tree variety in the Hillier range, it is likely to prove very popular! .
---
Caring for Pot Grown Christmas Trees
As pot grown trees are designed to be planted outside after use, they have slightly different care requirements from cut trees.
• As with a cut tree, once you get your pot grown Christmas tree home, keep it outside in a sheltered area until you are ready to bring it inside to decorate
• Pot grown trees are still in their original growing pots, wrapped in a special Climate Bag. Water the tree, then open the climate bag and water. There are drainage holes in the bottom so the water can drain freely
• When you bring the tree indoors, remove the climate bag and place the tree into the decorative cover pot
• Position the tree on a protective cloth or mat to help protect surfaces from any scratching or water damage
• Water frequently, but be careful not to overwater
---
Check your local Hillier Garden Centre for range and availability of all pot grown trees