---
The front door gives the very first impression of the home, viewed by visitors and passers by alike. Usually adorned with wreaths and evergreen branches, we'll look into how to make your front door or festive welcoming display inside your house beam with your personal style.
Wreath making is also a fantastic opportunity to have fun. For a display that blends classical tradition with some flamboyance, wire Christmas decorations with a complementary theme of brown, cream and red baubles, glittering leaves and berry shaped picks into your wreath base. Carefully wrap a set of battery powered lights around and tuck the battery pack behind the wreath to create a front door display that twinkles after dark.
Wreaths don't only have to be hung from the front door. They are also a beautiful centre piece for your Christmas table, with a battery powered candle placed in the middle creating a flickering glow.
Along with colourful and creative wreath ideas, there are plenty of other inspiring ways to make your front door, entrance hall or staircase part of your Christmas display to welcome your guests.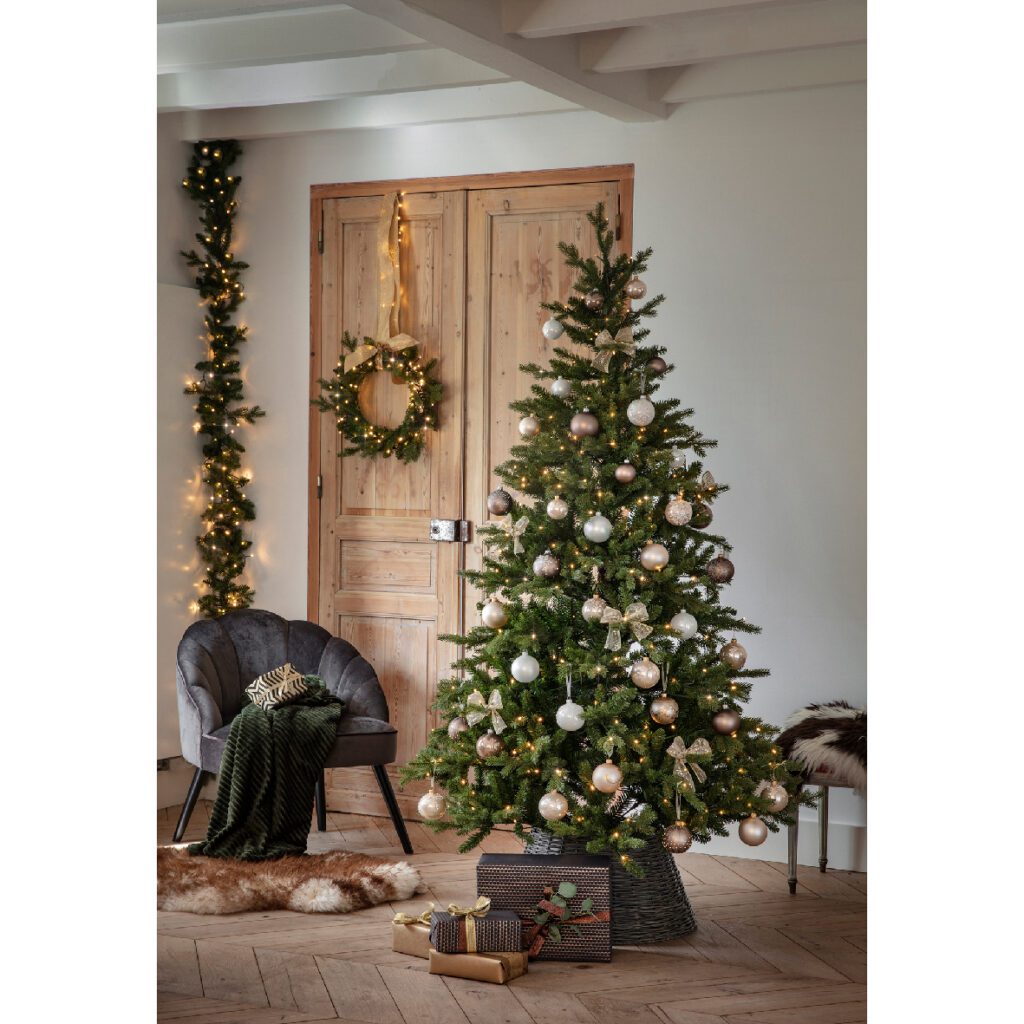 ---
Natural Wreaths
Wreaths and evergreen branches have been used for a long time to create a festive welcome. There are a multitude of different ways you can display your wreaths, one of our favourites is the more naturalistic approach. We have an extensive range of wreaths with different themes to choose from to suit your style. Or why not get hands on at our award winning wreath making workshops and make your own? Held in early December, you can have festive fun and get creative, making something personal for your home.
Dressy Garlands
The art of Christmas tree decorating has certainly expanded and many people don't just stop there! Be exuberant with your shelf, mantelpiece or staircase display. Mix coloured decorations, including bold statement pieces and candles into your garland or get creative and make some paper baubles and hang them for a more impactful display!
Make a Statement
If you are looking for something more spectacular to dress your house this Christmas, indoors and out try framing your door with a doorway arch or a combination of garlands and pot grown Christmas trees. The archway could incorporate some statement decorations, bows, or the bounty of nature, such as pinecones and evergreen foliage.
---