In the second year of carbon footprint reporting and certification to The Planet Mark, we are pleased to have seen a carbon footprint decrease of 15.1% across our business. From 1st September 2019 to 31st August 2020, the total carbon footprint of Hillier has been calculated to be 2,042.0 tCO2e and the relative carbon footprint 4.9 tCO2e per employee.
---
In order to better measure our environmental performance, in 2018, Hillier Nurseries joined The Planet Mark. This is a certification programme that recognises companies committing to continuous improvements in sustainability allowing companies to measure and find opportunities to reduce carbon emissions, energy and water consumption, waste, and more.
We have now received our year two certification and reporting figures. In calculating the carbon footprint of the company, we have included all 26 sites, which include Head Office, all nurseries and garden centres.The carbon footprint calculation figure includes emissions from electricity, transmission and distribution losses, natural gas, fuel (propane, gas and oil), water, waste, fleet and business travel. Paper use has also been added for the first time in 2020.
We have set a target to reduce emissions across our business by 5% annually.
---
Total Carbon Emissions

On a like for like basis, we achieved the following overall results:
Carbon footprint (tCO2e) reduction of 15.1% to 1,463.2 tCO2e
Carbon footprint (tCO2e) per employee reduction of 0.8%
With a goal of reducing our carbon footprint by 5% every year, we are pleased with these results. We are also aware that the last 12 months including the extraordinary circumstances connected to COVID-19. In some cases, for example when centres and restaurants were shut, this will have had a significant influence on emission reduction.
This comparison excludes emissions from the five new garden centres acquired by Hillier within the last 12 month reporting period: Cheddar, Dorking, Lechlade, Marlow and Three Legged Cross. This means that in absolute numbers our total emissions have gone up to 2,042.0 tCO2e total. We hope in the third year of reporting when these centres can be included for year-on-year comparison purposes, they too will show a year-on-year reduction in emissions.

---
UN Sustainable Development Goals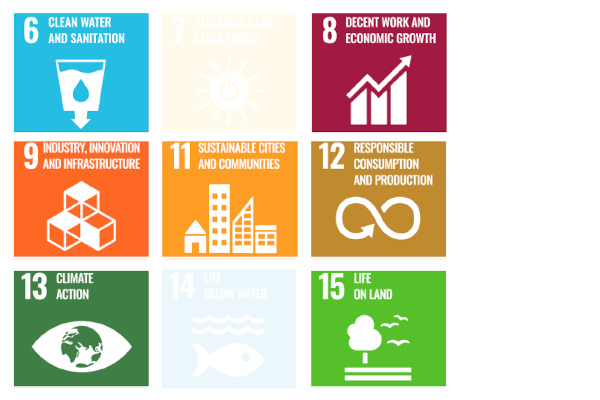 The Sustainable Development Goals (SDGs) set by the United Nations are a collection of 17 goals covering a broad spectrum of social and economic development issues.
We are pleased that measuring and reducing our carbon footprint with The Planet Mark allows us to contribute to a number of these, including sustainable communities and life on land.
---
Targets for Year Three
In line with our commitment to reduce our carbon footprint by 5% each year, we are aiming for a 5% reduction in the next reporting year.
We have held engagement sessions with people working across all areas of Hillier business to discuss our results and share ideas for all the ways we can further reduce our footprint.
Some of the actions we have introduced include:
Adding hybrid and fully electric cars to our fleet
Additional recycling streams for our garden centres to reduce waste to landfill
"We are pleased that in the second year of carbon footprint reporting and certification via The Planet Mark that the carbon footprint of our business has decreased 15%, in line with our commitment to continuous improvement," comments George Hillier, Director of Property at Hillier Nurseries. "We know some of this can be attributed to COVID-19 and lockdown, but it is also a testament to actions we have put in place to reduce our emissions.
"We are also aware this is an ongoing journey and there is more we can do. We have held productive kick-starter sessions across the business, developing more ideas on ways to reduce our carbon emissions moving forwards. The environment and its protection has always been at the core of Hillier business and our partnership with The Planet Mark continues to give us robust support towards our environmental goals."
---
Visit the environment page of this website to find out more about our environmental policies and approach, from water use and waste management to biosecurity and plastic reduction.
---