Clematis are stunning, versatile, long-lasting climbing plants that can brighten up any garden, whether positioned in a container, growing up a wall or fence or any other garden structure.
The beauty of Raymond Evison Clematis is in their keenness to perform with plentiful blooms along with their simplicity of care with most varieties needing only to be pruned hard back in late winter. While they are happy grown in the ground, they also perform particularly well in containers, making them suitable for the smallest of spaces or gardens with limited beds and borders.
We take a look at the history behind the award-winning Raymond Evison Clematis and offer advice on some best-loved varieties along with how to grow and care for your clematis.
---
Raymond Evison Clematis History & Expertise
Raymond Evison, born in 1944, started his horticultural career at the age of 15 in Shropshire and soon became Director of his first company, Treasures of Tenbury Ltd. A third of his stock was wiped out by a brutal winter, prompting him to move clematis operations to Guernsey where the climate is milder. He established The Guernsey Clematis Nursery in 1985.
For six decades, Raymond Evison has been searching for, breeding, and developing the world's best clematis. More than 100 Clematis varieties and cultivars have been developed and introduced by Raymond Evison, often seen at the company's gold-medal-winning RHS Chelsea Flower Show stands.
Breeding a new clematis is a long process, taking 10 years of crossing, selection, assessment and multiplication followed by continuous assessment for over 7 years before they are released to the market. New varieties are judged on their distinctive flowers, colour, growth, disease resistance, flowers per plant, and, of course, beauty.
---
Raymond Evison Clematis Varieties
There are an array of fantastic Raymond Evison Clematis varieties to choose from, but some of these are particularly versatile and perfect for growing in containers as well as in the ground.
Clematis Nubia™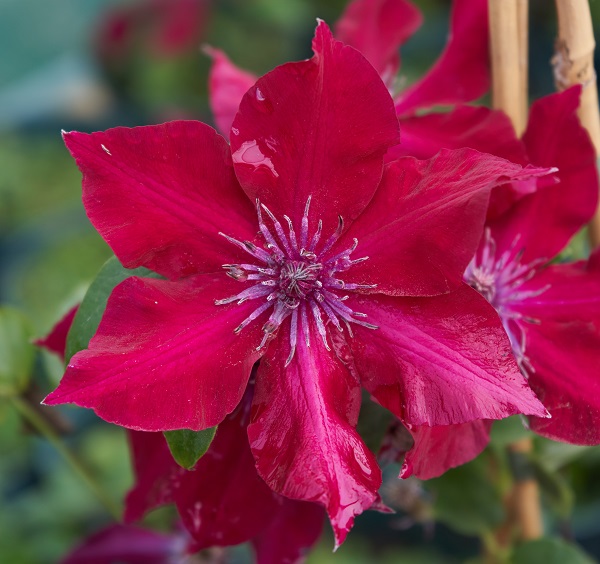 Clematis Nubia™ Evipo079 was launched at the 2018 Chelsea flower show, a wonderful deep burgundy red flower with a dark centre. One of or if not the best container clematis varieties available.
Flowering Time: June to July / Repeat flowering from August to September
Sun requirements: Full sun, but will also grow well in partial shade
Soil: Any fertile, free-draining soil
Hardiness: Fully hardy
Size: Grows to 90cm-120cm height
---
Clematis Ooh La La ™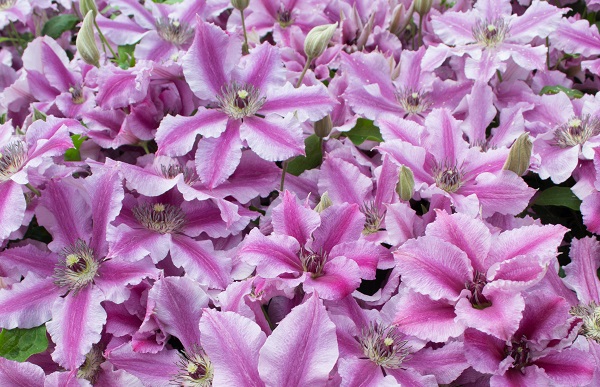 Clematis Ooh La La ™ Evipo041 is a very compact and extremely free-flowering variety. It is best grown in shade where its brightly coloured flowers will lighten up a dark area. Equally at home either as a plant grown in a garden location or grown in a container on the deck garden, patio or outdoor dining area.
Flowering Time: May to August
Sun requirements: Partial shade
Soil: Any fertile, free-draining soil
Hardiness: Fully hardy
Size: Grows to 90cm-120cm height
---
Clematis Cezanne ™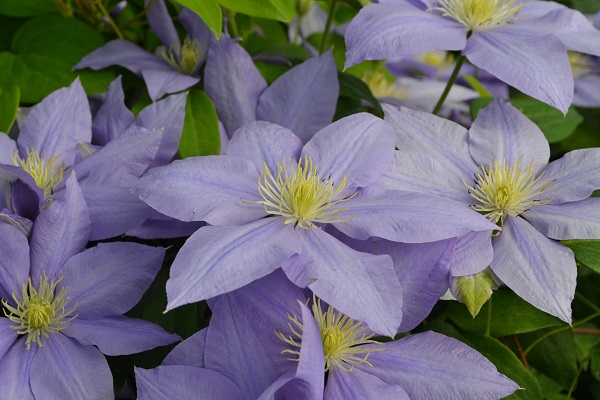 Cezanne ™ Evipo023(n) is perhaps the most vigorous in the compact patio range with a superb repeat-flowering habit. It is well suited for growing in a small garden as it only grows to about 3-4 ft. (90-120cm) in height. It produces early-season flowers then extension growth that soon produces multiple flowers, giving Cezanne a long flowering season. This variety is equally at home in a border or container on the patio or outdoor dining area where it flowers for a very long time. Its repeat-flowering habit is to be admired.
Flowering Time: April to October (repeat flowering)
Sun requirements: Partial shade
Soil: Any fertile, free-draining soil
Hardiness: Fully hardy
Size: Grows to 90cm-120cm height
---
Raymond Evison Clematis Growing Guide
Planting 
Raymond Evison Clematis can be happily grown in the ground, but they are also excellent grown in containers. In this case, select a container with a recommended minimum size of 45cm (18") width and depth. This will provide room sufficient room for many years. When planting in a container, use a good multi-purpose planting compost such as John Innes No.3 that can offer enough nutrients for the first year.
Feeding
Clematis do benefit from the nutrients gained with a good feed. After the first year, it is recommended to feed your clematis once a month in the growing season to promote healthy, strong plants which will bloom and bloom.
Pruning
Some people can be intimidated by what seems to be the complexity of pruning clematis. One of the additional brilliant aspects of Raymond Evison Clematis is their simplicity of care. All varieties, bar the double flowering forms, simply need to be pruned back hard in mid to late February to 15cm (6") and just above a good pair of buds. From here the plants will grow away and produce a compact plant with foliage from base to tip.
Double-flowering forms only require to be pruned back by 1/3rd, leaving a good structure for the plants to grow from.
Protection

Over winter, if you are growing in a container, move this to a sheltered spot in the garden, such as under the house eaves or in a corner. This is not for frost protection, but to keep the clematis on the drier side during the wetter colder months.
---
Raymond Evison Clematis Planting Ideas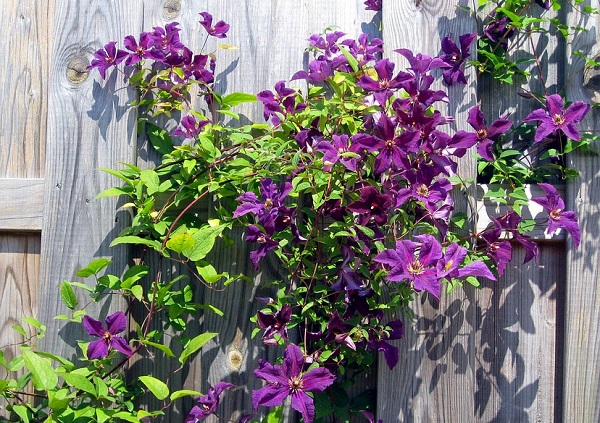 Clematis love to climb, making them extremely versatile in the garden. A single variety grown alone in a large container can soon become a superb specimen brightening up a patio.
Equally, clematis trained across an uninspiring fence can transform it into a profusion of flowers throughout spring and summer.
Many people choose to grow several climbing plants together – either by combining clematis varieties or planting in combination with climbing roses, lonicera (honeysuckle), passiflora (passion flower) and more.
Clematis are superb grown up and over arches. Choose more vigorously growing cultivars and position one either side of the arch to be trained over.
---
Raymond Evison Clematis Facts
1. Raymond Evison has won an impressive 30 gold medals at RHS Chelsea Flower Show
2. The Guernsey Clematis Nursery produces 2-3 million young plants per year
3. Raymond Evison founded the International Clematis Society in 1984. He has been an Honorary Fellow since 2004.
4. In 2000, Raymond Evison was honoured with the OBE by Her Majesty Queen Elizabeth II for his services to Horticulture on Guernsey.