We are delighted to have designer Lilly Gomm in the Hillier team for 2019, making her RHS Chelsea Flower Show design debut. Ahead of the show, we found out more about her love of garden design, sources of inspiration and Chelsea experience to date, including a number of questions from Hillier Gardening Club members.
Where did your passion for garden design come from?
It really began when working in garden maintenance in Central London. The company I worked for built for some incredibly talented designers and I got to spend my days in these beautifully designed spaces or planting up new ones. It was at that time I'd began visiting the RHS shows and public gardens on my weekends off, and that urge to create a garden myself crept in.
What is your creative process from first receiving a brief to turning that into a design?
I tend to look at two elements that need to be considered side by side: the site and all its constraints and opportunity, and what the client is looking to achieve. Whether the brief is very detailed or gives you free rein, I always begin with numerous sketches. I'll then develop on the most appropriate ideas, building up the design with plants and materials until it is well rounded.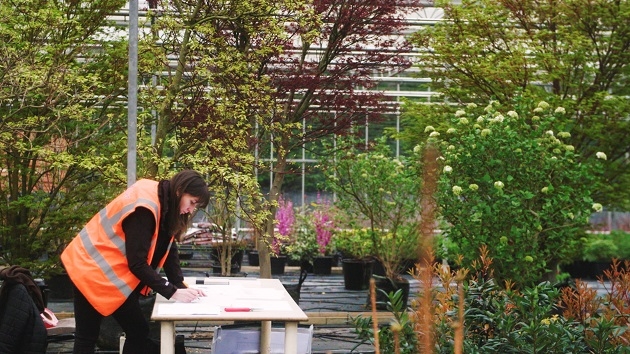 What excites you most about designing a new garden?
I think it's the potential of what that space could mean for an individual or group that is the exciting prospect, especially if it can improve their everyday lives or their relationship with nature. There are also new opportunities to use different palettes of plants, mixing new with the existing. That's one of the reasons it so great to be working with Hillier, for a plant lover the sheer variety to choose from to create the Chelsea garden is amazing.
What went through your mind when you were first asked to design for Hillier?
To be honest, I was completely shocked. I had had a great time planting with the team on last year's garden and said goodbye thinking I wouldn't see most of them again. To think only a few months later, I'd be playing such a pivotal role in the exhibit still feels unreal. That first night after being asked, I woke up at 2.30am with the streak of gold medals as my first thought.
How has your Chelsea experience been so far?
It has been brilliant. The whole team are so passionate and driven when it comes to the Chelsea Flower Show that it's a been pleasure to be involved. Everything is progressing well, we are now eagerly waiting to see which plants will be looking their best, ready for the show.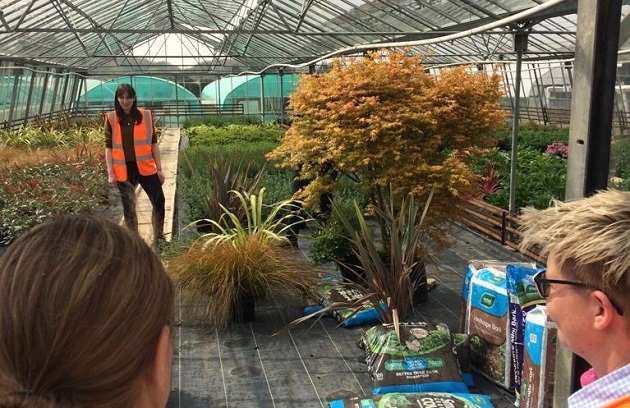 One of many Chelsea team meetings at Hillier Nurseries in Hampshire
---
Sarah Eberle, who designed for Hillier for the last three years, has been acting as mentor this year. What is the most important advice she has given you about creating Chelsea exhibits?
I think it would be, during the planting on site, to take the time before and after the team arrives and leaves, to stand back and scrutinise the planting by yourself. Building a show garden can be a bit of a whirlwind so it's important to have the breathing space to be able to make constructive changes, if necessary. It's something you can easily forget to do when there are time pressures involved.
How do you hope people react when they see the garden at the show?
I hope people are intrigued and excited by the garden. Overall our aim is to provide take home ideas for your gardens at home so hopefully it will provide some great planting inspiration. Our bespoke water feature aims to bring a relaxing moment for visitors as we all know Chelsea can be a whirlwind of a day!
What or who inspires your work?
I think inspiration can be found all around you, not just in gardens and magazines; in natural patterns to the work of fashion designers. I am particularly fond of Impressionist painters and the way they use colour, texture, and light. They can inform ideas of composition, and illuminate and celebrate aspects of gardens and landscapes in their paintings, all of which we can learn from when creating gardens.
What is your own garden like?
I currently don't have a garden of mine own, I am eagerly waiting for that day and building ideas. I occasionally potter in my Mum's garden, the garden I grew up in. It has seen many changes of the years, from my Dad's unbroken love of dahlias, roses, lobelia, and sweet peas to when I stripped it to grow vegetables, and now to a phase of lawn and perennials. No doubt I'll be inspired change it again soon.
Do you have a favourite / go-to plant?
Thalictrum and Epimediums are a particular favourite of mine, especially Thalictrum for the sheer variety of sizes they grow to, along with the delicate flowers and the way bees hang off them, weighing them down, when collecting nectar. As a strong plant of my childhood, Dahlias of any kind are a winner for me. I think I will be joining the National Dahlia Society very soon.
What are your top tips for individuals looking to update their own garden?
Take your time to look at what is and isn't working in your garden. There are then many glorious hours you could spend flicking through plant books and catalogues to find the perfect plants that will bring your garden to life. I'd begin by looking at your soil type and aspect and choose accordingly from there. It's all too easy to fall in love with a plant when we know we haven't the right conditions for it.
Visiting plant fairs and gardens are always a worthwhile experience, in particular the rare plant fairs for something special.
An exercise that can be useful is printing a photo of your garden, or the section you would like to change, and drawing all over it. This way you can work through ideas before putting your gardening gloves on.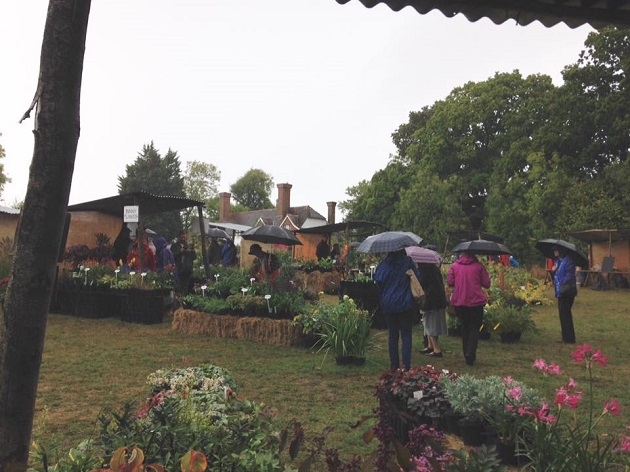 The plant fair at Great Dixter. A source of inspiration.
---
What design aspects do you hope to achieve in addition to plants you select to complement each other?
All the traditional Hillier plants we know and love will be the stars of the show, but we've looked towards a clean, contemporary theme with regards to the landscaping materials and layout. With simple geometry, two room sets will be built to show a formal dining area, and a smaller intimate space, perfect for your morning coffee. These areas will be surrounded by plants and set against our falling water features, providing a soothing gentle sound.
Do you prefer hard landscapes over plant architecture?
I much prefer plant architecture, and often look at spaces, mainly in the public realm, and wonder how more plants could be used or think why they have chosen so much hard landscaping. Looking at our cities disconnection with nature, alongside the rate we are urbanising, I think planting and green infrastructure needs to be at the forefront of design processes moving forward.
What gardeners and designers do you most admire?
Designers such as Sarah Price and James Basson really inspire me; they have brought great energy to Chelsea Main Avenue over the past couple of years with the ability to delicately merge bold ideas with beautiful, well thought out planting.
I also spend as much time as possible visiting gardens, which always open your eyes to the work of different gardeners and their outlooks on planting. Great Dixter and the work of Fergus Garrett and his team is a constant source of creativity and particular favourite of mine. That teamed with reading books by great gardeners such as Beth Chatto and Christopher Lloyd always gives me inspiration.