The classic image of the summer garden is one full of bright blooms, with everything in full growth mode. There are so many wonderful plants to choose from to bring life to the summer garden. Our plant area managers nominate some of their favourites.
---
1. Evergreen magnolias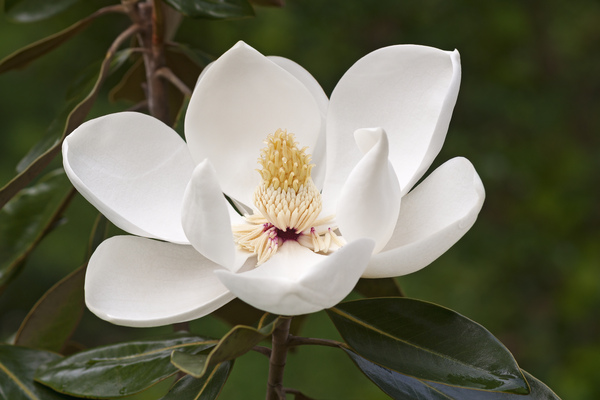 Nominated by our Plant Area Manager at Hillier Garden Centre Liss
"I have been nurturing my evergreen magnolia for seven years now and she has grown from 3ft to 8.5ft – she is still living in a pot until I find my forever garden to plant her in. The redeeming features for me are the beautiful, large shiny leaves all year round, the bowl-sized flowers in the summer that have the richest citrus fragrance and the growing habit is so perpendicular they stand so proud and prominent.
"Evergreen magnolias are quite thirsty being a tree at heart, so a shady spot for the roots works best. A good feed with a specialist evergreen plant feed in the autumn and spring works wonders to keep those leaves shiny! Pruning requirements are minimal. I have shaped mine into a standard, so now there are no branches on the lower part of the trunk I am happy to just pinch out the odd leaf. They can also be left to grow into more of a shrub or a very luxurious-looking hedge. Patience and love is required for these beautiful plants, but it is well worth the effort."
---
2. Lavendula angustifolia (English Lavender)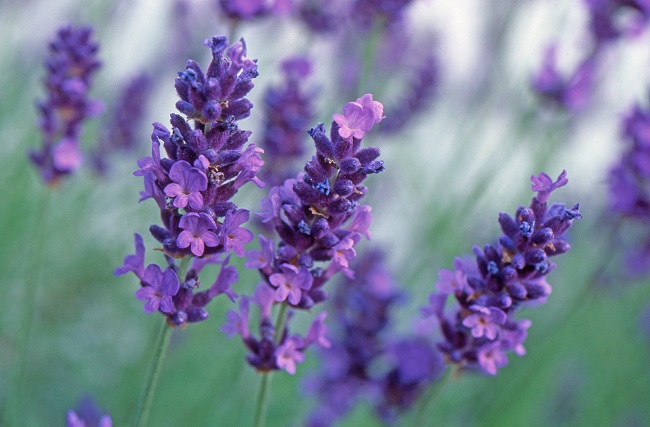 Nomatinated by our Plant Area Manager at Hillier Garden Centre Hemel Hempstead
"English lavender may have been a little overdone over the years, but that is because it's such a good plant. It is ideal for sunny dry sites, good for bees and butterflies, has lovely silvery foliage and is easy to keep tidy with a quick prune. It can also be used in cooking and dried – and the dried flower buds even work well in gin.
"This is a plant that brings memories for many people – for me, it reminds me of my nan's country cottage, as she had mounds of them. It will also be the main flower used for the arrangements, buttonholes, and table décor at my summer wedding."
---
3. Hibiscus syriacus 'Blue Bird' or 'Oiseau Bleu'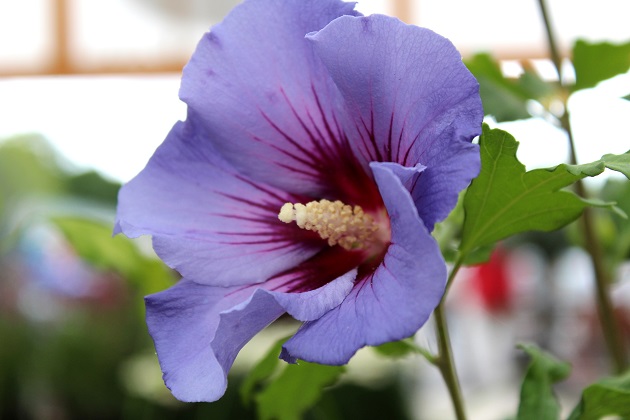 Nominated by our Plant Area Manager at Hillier Garden Centre Braishfield
"This plant makes a magnificent, hardy, erect 'tree hollyhock' shrub with bright green leaves. It is very easy to grow and low maintenance, requiring absolutely no attention and to top it all, it is one of the most prolific flowering shrubs from mid-late summer into autumn. It comes into its own when many other shrubs are looking tired, so is perfect to continue displays from mid-summer with its large, trumpet-shaped, bright blue flowers – each up to 10cms (3 inches) across.
"This deciduous shrub is fully hardy, yet has an exotic feel to it. It reminds me of being on holiday on the continent. It will be equally at home in the herbaceous border as it is in a tropical-style garden or large patio planter. It will thrive in a well-drained sunny spot, but is very tolerant of virtually all garden positions except deep shade and waterlogged soils."
---
4. Salvia 'Hot Lips'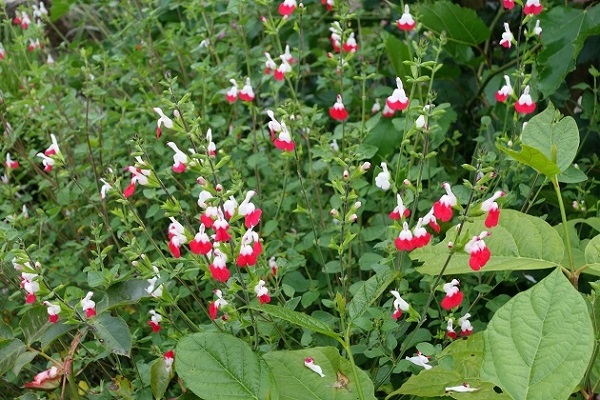 Nominated by our Plant Area Manager at Hillier Garden Centre Winchester
"This is a great summer plant because it flowers all summer and the bees love it. My particular favourite form of wildlife that loves this plant is the Hummingbird Hawk Moth, which we see in the south every now and again. It is brilliant when see I see it on my salvias and I make sure I always have a plant growing in a pot on my sunny patio.
"Salvia 'Hot Lips' will grow in full sun in either borders or pots – mine have successfully overwintered in their pots on the patio."
---
5. Acer palmatum 'Sango-kaku'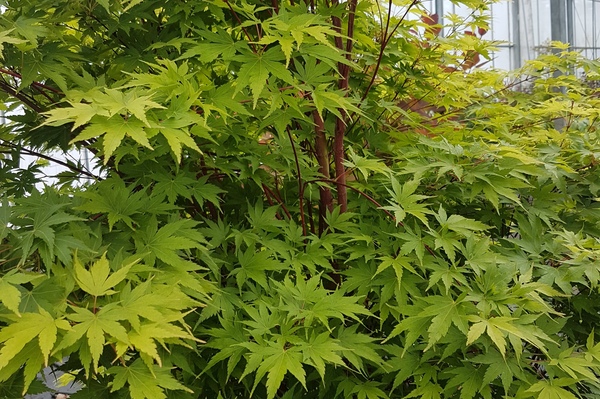 Nominated by our Plant Area Manager at Hillier Garden Centre Newbury
"This is a most versatile Acer that loves languishing in the shade with its green stems and lime leaves. But, allow it to bask in the sun and it transforms from lime leaves to striking yellow with its juvenile leaves a stunning orange. These are underpinned with coral red stems shining through that have great movement in the breeze. In winter, you are left with the coral stems which glow in the low winter sun.
"This is a great plant for pots – it's best to use ericaceous compost so it doesn't dry out if basking in the sun – or is just as happy grown in borders. It is no surprised that it's one of the best-selling acers at Newbury!"
---
6. Choisya ternata 'White Dazzler'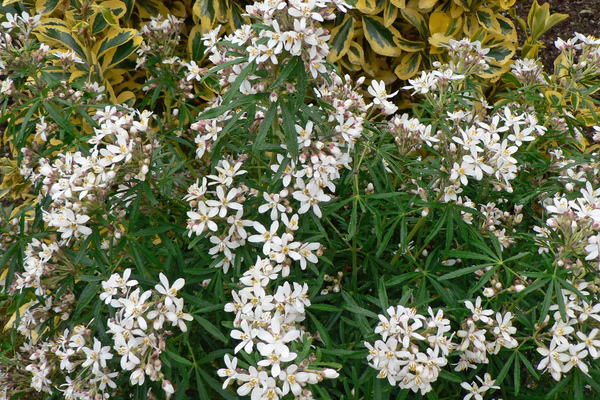 Nomatinated by our Plant Area Manager at Hillier Garden Centre Cheddar
"One of my favourite summer flowering plants is Choisya ternata 'White Dazzler'. Although this plant flowers in late spring, it also flowers in late summer as well – a double whammy!
"It is compact, so is a great choice for a small garden. It will tolerate full sun or partial shade and is evergreen, with a distinctive dissected leaf. It requires little or no pruning, has a great scent and will tolerate most soils except clay."
---
7. Cistus 'Thrive'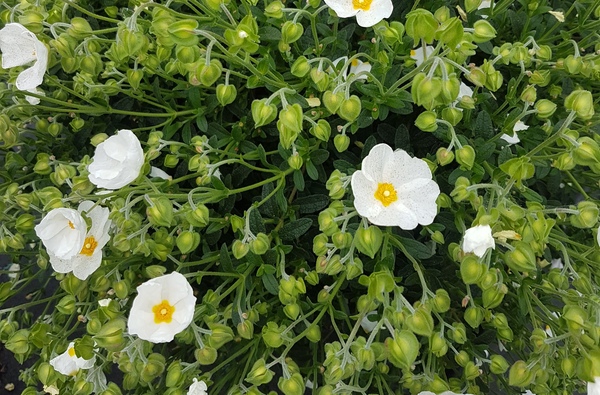 Nomatinated by our Plant Area Manager at Hillier Garden Centre Banbury
"My favourite summer plant is a Cistus called 'Thrive'. It is evergreen and does not get too tall, growing to around 3 foot with a similar width. It has white cup-shaped flowers through the summer and early autumn – other varieties of Cistus only flower once. It thrives in a sunny position and can also be grown in containers.
"Plant it close to your garden seating area and you can enjoy its colour at the same time as enjoying a summer tipple!"
---
8. Cranesbill / Hardy Geraniums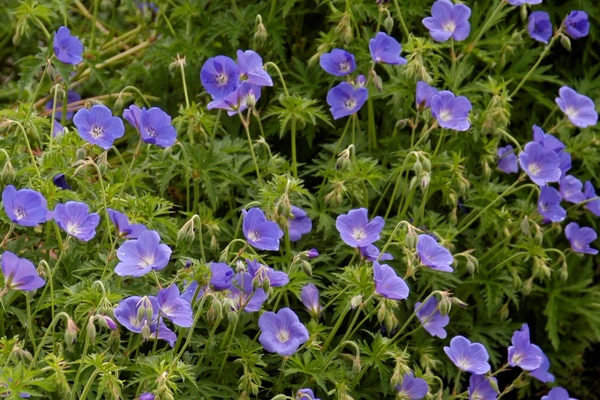 Nomatinated by our Plant Area Manager at Hillier Garden Centre Chichester
"My favourite plant for summer colour is cranesbill or hardy geraniums. They are unforgiving and will flower all summer until the first frosts. They will flower their little hearts out and if they get a bit straggly, just give them the 'Chelsea chop' for a second flush of foliage and flower.
"Hardy geraniums are available in many colours and are loved by bees and other beneficial insects. My all-time favourite is Geranium 'Johnson's Blue' – it's easy to look after and to propagate from."
---
9. Eryngium (Sea Holly)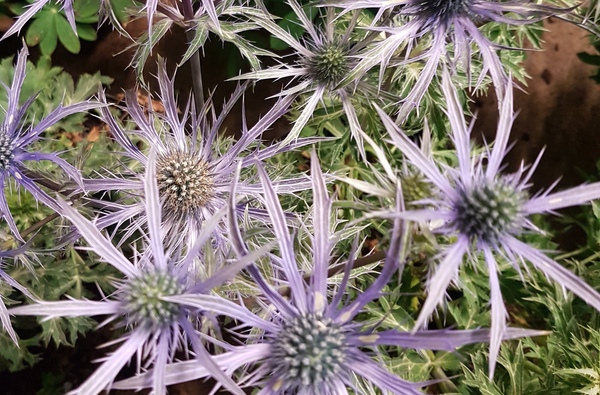 Nominated by our Plant Area Manager at Hillier Garden Centre Hemel Hempstead
"This might not be a very conventional choice for a favourite summer plant. But, I like it as it's a good tough-looking plant that is great for wildlife – especially bees and butterflies – despite the not so delicate appearance."
---
10. Wisteria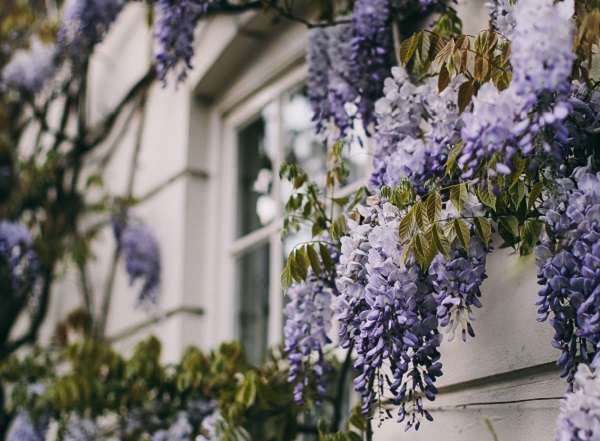 Nominated by our Plant Area Manager at Hillier Garden Centre Three Legged Cross
"My summertime favourite is Wisteria; the perfect accompaniment to a cottage garden with its elegant flowers. It looks great on the front of a house or over a pergola.
"Plant it in sun or part shade in well-drained moist soil, or in a large pot. Prune it in February and again in August to help keep its shape and control all the long stems in the summer. To make a standard out of a Wisteria, buy one with a straight stem and trim the lower leaves to form a standard. This is a great way to enjoy a wisteria if space is tight.
"I would recommend buying a wisteria in bloom, this will guarantee you blooms the following year. If you are not so lucky and have bought a young plant without blooms don't worry, feed it tomato feed or top rose which is high potash and this will encourage blooms."
---
11. Dianthus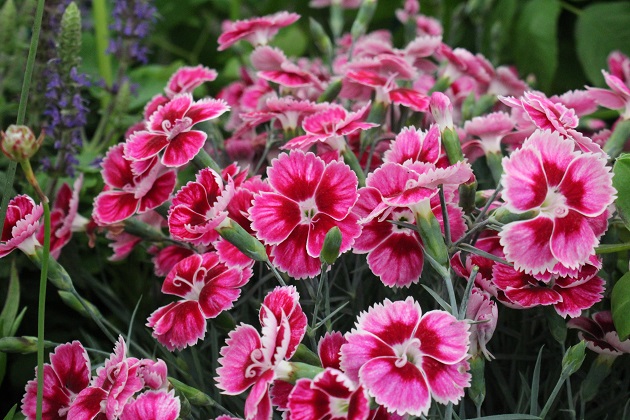 Nominated by our Plant Area Manager at Hillier Garden Centre Sunningdale
"In summer it's hard to beat good old fashioned garden pinks. These are ideal for cottage garden planting along the front of a border or along a path edge. The flowers have long stems, making them great as cut flowers indoors, where their perfume can really be appreciated.
"They prefer slightly alkaline soil. If grown elsewhere, they are best grown as an annual or replaced after a couple of years."