Autumn is the prime season for bulb planting to ensure a riot of colour in your garden in the spring. In our guide to autumn bulbs planting, we look at how to plant in beds, borders and containers and how to care for your spring bulbs to get the very best from them.
---
Autumn Bulb Planting: When to Plant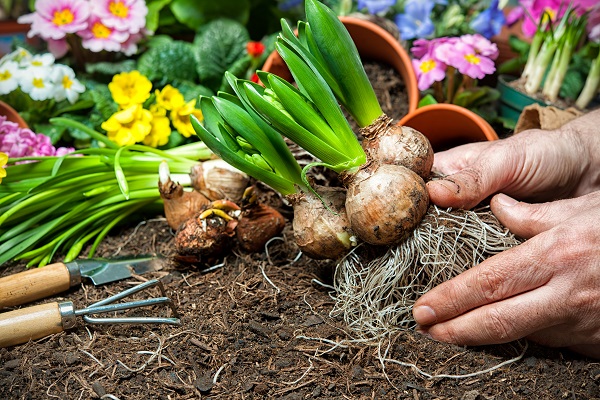 Many of the most loved spring-flowering bulb varieties are best planted from September to October, when the soil is still warm and workable. When planting tulips, however, you should wait until late October or November. This is because they are prone to the disease tulip fire, which can distort the leaves and give the impression they have been scorched by fire. The colder, later weather is more likely to destroy any disease lurking in the soil.
The table below indicates the planting and flowering time of some of the most loved bulb varieties. Flowering time will of course vary based on the climate each year and variety planted.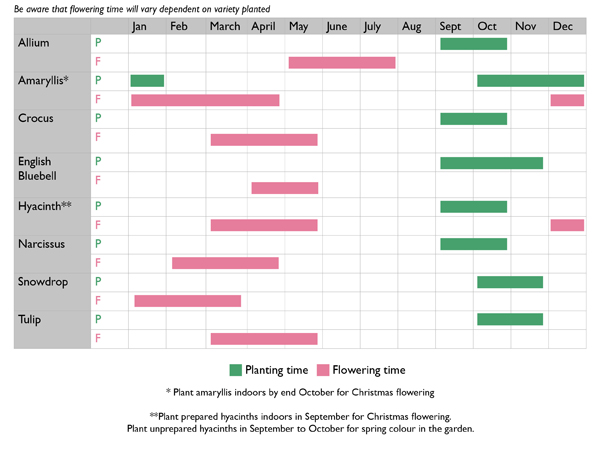 ---
Choosing Bulbs
As soon as bulbs become available in store, it's a good time to buy so you can ensure you get the best selection. Select your spring bulbs to suit your theme and style and be aware of the correct planting time (see above). To extend the flowering season, pick varieties carefully based on their flowering time – this information can easily be found on the bulb packets. This way, your bulbs can flower in succession from late winter all the way into summer.
If you are planning on planting bulbs in a big pot, or in a decent width bed or border, you may want to select bulbs of different eventual flowering heights. It is best visually to plant taller varieties in the middle of the pot, or towards the back of the border and shorter ones towards the edge of the pot or front of the border.
To encourage children to grow bulbs, amaryllis are fun and exciting. They grow rapidly, forcing flower buds up and children will enjoy the suspense of waiting for the day they open.
Complementary Planting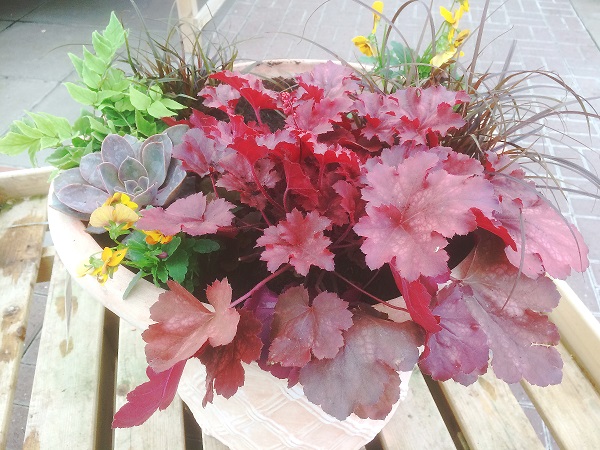 When planting in pots, mangers or window troughs, consider complementary plants that will add foliage and flower interest through to spring. This avoids your pot looking sadly dormant through the winter months.
For example; for a classic terracotta theme of rich reds, combine Tulipa 'Princess Irene' and 'Lambada' with Heuchera 'Cherry Cola', Uncinia rubra (Red Hook Sedge), Dryopteris erythrosora, Succulents and Violas.
Storage at Home
Take your bulbs home and store them somewhere dry and cool until you're ready to plant them. Smaller bulbs, like Galanthus (snowdrops), dry out quickly so plant them as soon as you can after purchase.
---
Preparation for Planting Bulbs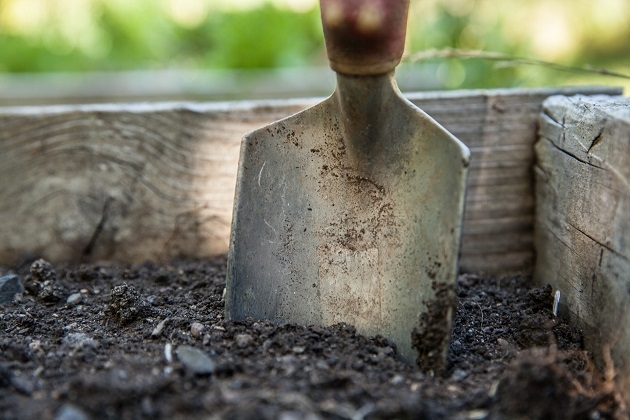 You may choose to plant your bulbs directly into the ground, or you may prefer to create container displays that will burst with colour. Or you may want to do a bit of both. The key to successful planting is always good preparation.
Preparing Beds and Borders
First, clear the area you want to plant in.
Turn the soil over, incorporating plenty of organic matter, such as stable manure. As you do so this will improve the soil's structure and aid plant growth.
Preparing Containers
Select your pots for planting. When deciding on a pot, you will want to consider the size of your space to place it in along with the style or colour scheme of your bulb planting. For example, if you are anticipating a display of white tulips you may like to set this off against a grey pot for a monochrome look.
Before you begin planting, carefully fill the bottom of the container with pieces of broken pot (many gardeners tend to have old broken pots around for just this purpose!) to allow for better drainage. Avoid having your pot sitting directly on the ground where it can get waterlogging; raise by standing it on pot feet or by resting on pieces of timber if necessary.
If you are using pots that have been used before, remember to clean them thoroughly first. A solution of Jey's Fluid is good for this purpose.
---
Autumn Bulb Planting: How to Plant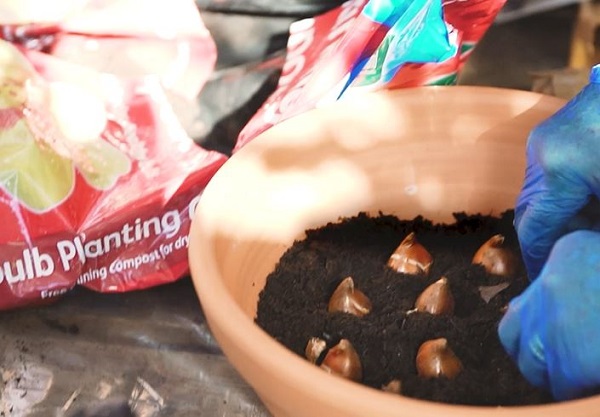 When planting your bulbs, be aware different bulbs need to be planted at different depths to get the best from their flowers. Always check the depth indicated on the bulb packet. The graphic below indicates the typical planting depth for some of the most-loved bulb varieties.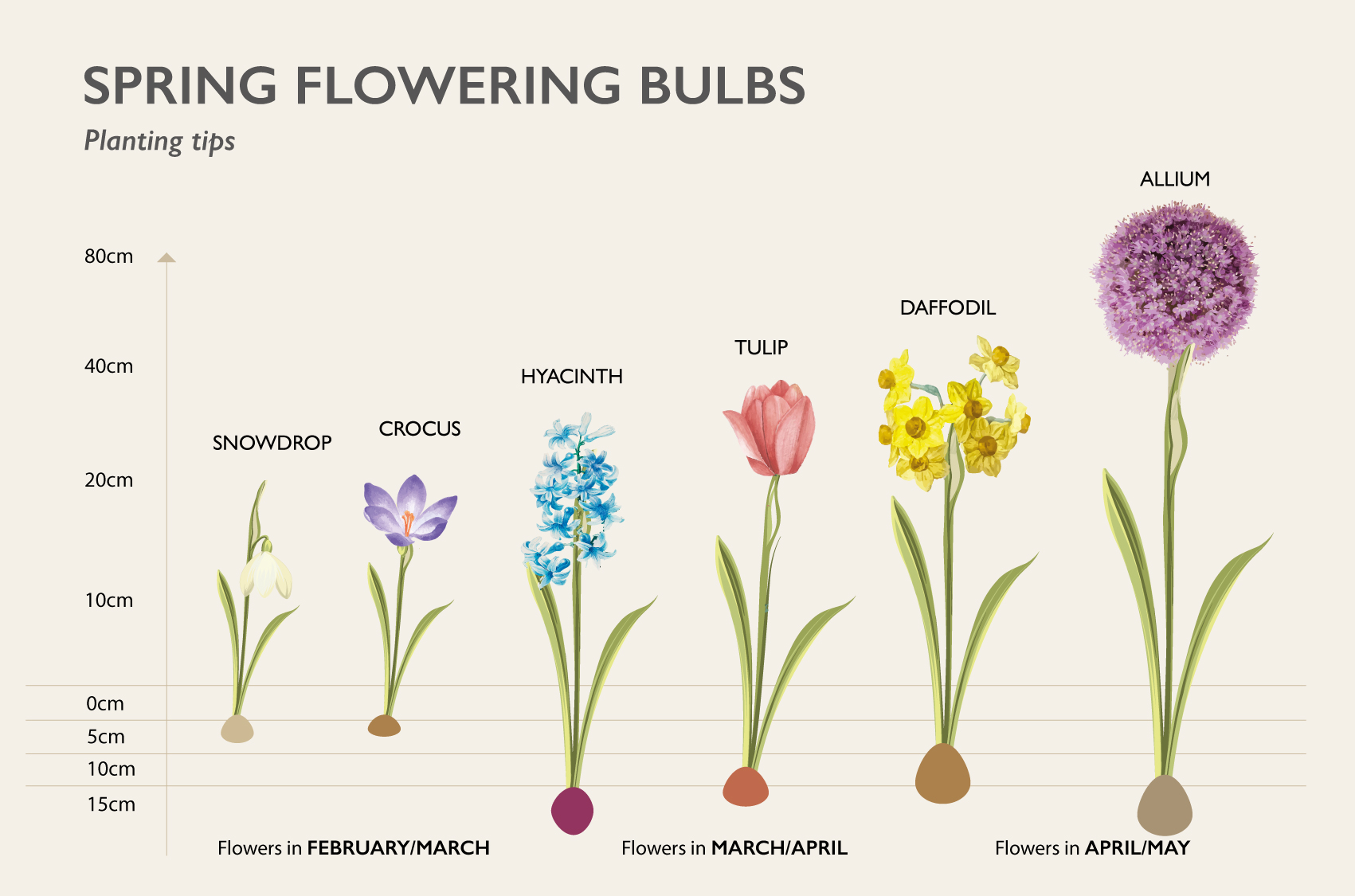 When planting bulbs in pots, use a good quality compost, such as Hillier peat free Multi-Purpose Compost. This is an open-structured compost that will encourage strong root development. If you are planting bulbs for indoors, Bulb Fibre compost is ideal. It is also important to incorporate fertiliser at the time of planting and we recommend the controlled release fertiliser Osmocote, which delivers feed as the plants need it. To encourage regeneration of bulbs for future years, we also recommend adding Bulb Starter during planting (see below).
You may also wish to consider some form of pot-topping, i.e. potting grit. Lay this around the plants to enhance the foliage and retain moisture.
If planting bulbs in borders, add Fish, Blood & Bone to the prepared soil at the time of planting. Be aware that it is sometimes difficult to remember precisely where you planted your bulbs! Marking with a wooden stick and/or listing on a border plan can be helpful to avoid any spring surprises.
Autumn Bulb: Lasagne Planting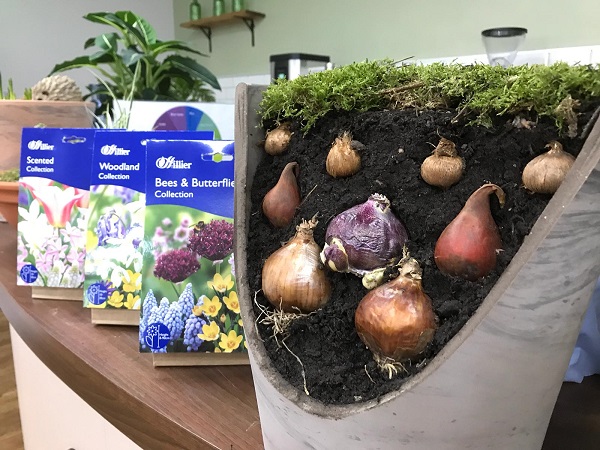 When planting bulbs in pots, lasagne planting is one popular approach to really get the most from your bulbs. Much like the popular Italian dish, this approach involves creating distinct layers of bulbs. This makes it essential that a mix of bulb varieties with different planting depths are selected – for example, tulips on the bottom, with muscari and crocuses above.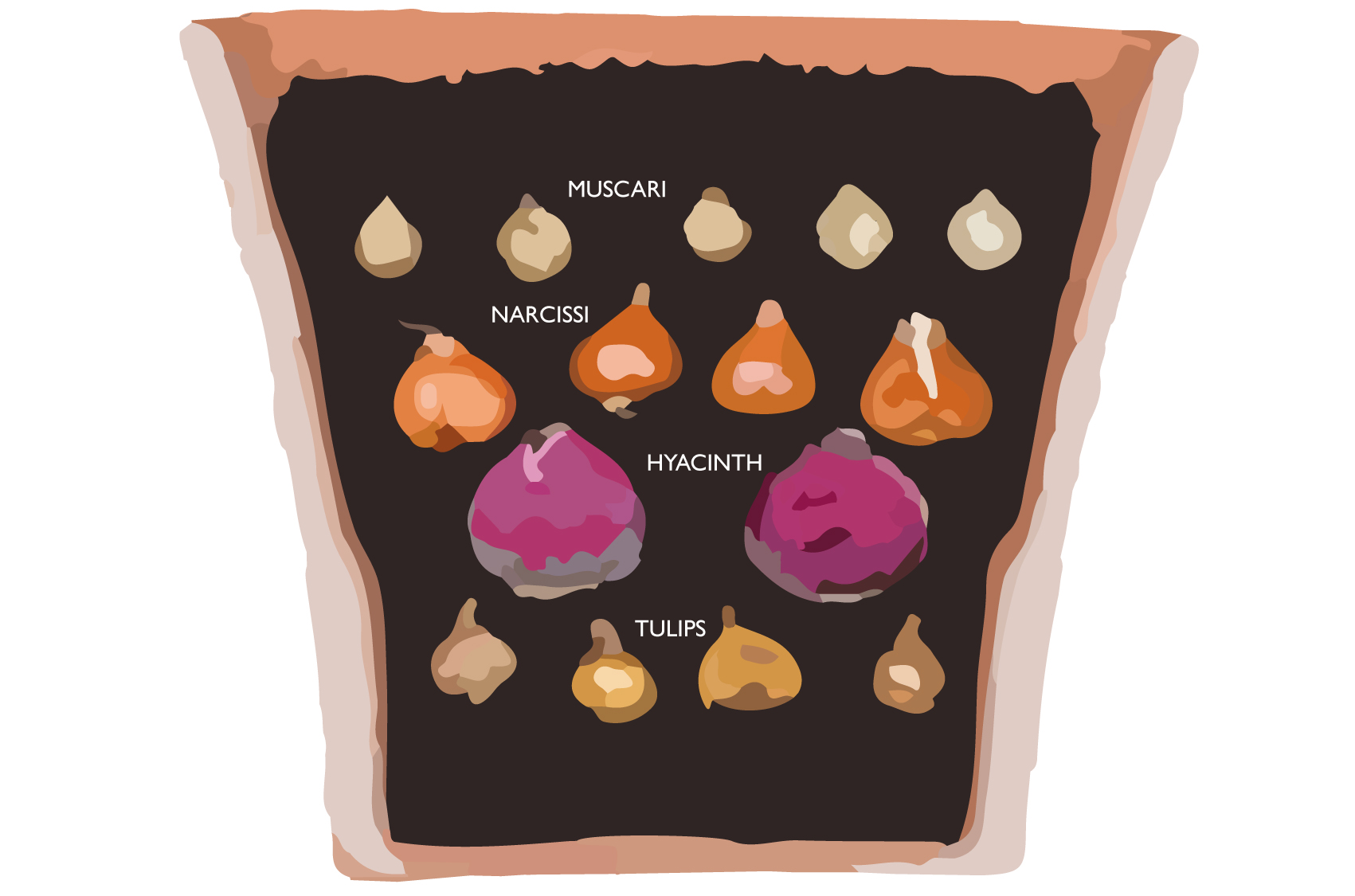 ---
Autumn Bulb Watering
Water containers regularly, even in autumn-winter months, as sufficient rainwater may not reach below the leaves of your plants.
---
Encouraging Bulb Regeneration
People often say their bulbs are at their best the first year and less successful in subsequent years.
To encourage growth and regeneration, add Bulb Starter during planting. Sprinkle an amount under the bulbs, so they take develop a secondary root system, enabling them to take up more feed and regenerate the next year.
As the bulbs start to die down and the leaves begin to fade, apply a feed of Fish, Blood & Bone. Doing this will feed the bulbs in readiness for the following year. This will be of benefit to all bulbs, whether in pots, containers, borders or lawns.
Don't be tempted to mow over or cut off untidy leaves. These should be left to die down naturally.