Leycesteria formosa 'Little Lanterns' | Himalayan Honeysuckle
Leycesteria formosa 'Little Lanterns' is a striking new compact variety of Leycesteria, originally intended to make its debut at RHS Chelsea Flower Show 2020. It is perfect for the smaller garden and earns its space thanks to the bright foliage colours which leap out at you and a long season of interest, covering almost 10 months of the year. In spring it offers lime-coloured growth and red shoots, in mid-summer bright golden yellow foliage and pendant racemes of white flowers then in autumn deep purple almost black ornamental berries.
This new variety was selected as a seedling by Hillier Head of Wholesale Nurseries, Charles Carr, five years ago. This seedling stood out as being more freely branching than other varieties of Leycesteria, with deep golden foliage with a strong red colouration to the growing tips producing a particularly attractive, dense shrub which stood up well in garden and container trials.
This easy to grow plant thrives in most soils in full sun to light shade (although the colour is strongest in full sun), positioned in a border or a large patio pot.
---
Leycesteria formosa 'Little Lanterns' Factfile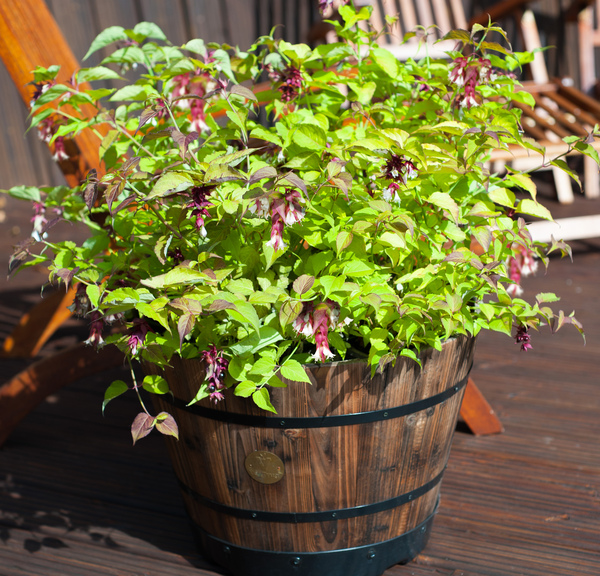 Flowering time: June to September
Sun Requirements: Full sun to light shade (the deeper the shade, the more lime the colouration of the foliage)
Soil: Well-drained soil
Hardiness: Fully hardy in the UK
Size: Grows to approx. 1.25m height x 1.25m spread
---
Leycesteria formosa 'Little Lanterns' Growing Guide
Planting
Position in a sunny or lightly shaded spot in the border, or in a large pot in any well-drained soil – avoid planting in soil that gets very wet. Add plenty of organic matter and water well after planting.
Pruning
If you would like to create a more compact shrub, cut it back to 30cm in March (known as 'stooling'). This will delay flowering by about four weeks, but also means the plant will produce very strong bright new shoots.
Protection
Leycesteria formosa 'Little Lanterns' is fully hardy in the UK. It may be damaged by cold winter winds, but will then re-shoot from the base.
---
Leycesteria formosa 'Little Lanterns' Planting Ideas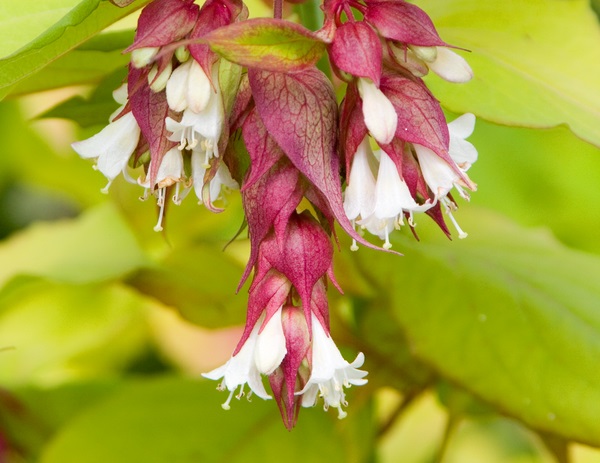 Grow Leycesteria 'Little Lanterns' in a mixed border, as a stand alone feature shrub or in a large patio container.
---
Leycesteria formosa 'Little Lanterns' Fact
The Leycesteria genus is made up of a number of deciduous shrubs. Leycesteria formosa, also known as Himalayan honeysuckle, was named in the 1830s by the director of the Calcutta Botanic Garden on honour of his friend, William Leycester.