Many of the flowers that burst into life in our garden from late February onwards, like daffodils, tulips and crocuses, should be planted into the soil or in containers from bulb during autumn. If you have missed this window and are longing for some garden colour – or simply want to bolster your display – potted bulbs are the ideal solution.
Potted bulbs, which are available in garden centres from mid to late December, have already been carefully grown through the first stages of development. Plant them directly into the ground, or into pots and containers, and enjoy wonderful colour as the weather warms.
Many varieties of potted bulb, including narcissus, tulip, scilla, crocus and hyacinth will be just as happy as part of a beautiful indoor display.
---
Potted Bulb Varieties and Flowering Times
February Narcissus 'Tête-à-tête', Iris reticulata, snowdrops
March Narcissi, scilla, winter aconites, muscari, Fritillaria meleagris, hyacinths, crocuses
April Narcissi, tulips, bluebells, iris, crocuses
May Tulips, leucojum, Allium atropurpureum, camassia
June Lilies, alliums, camassia
---
Potted Bulb Plant Care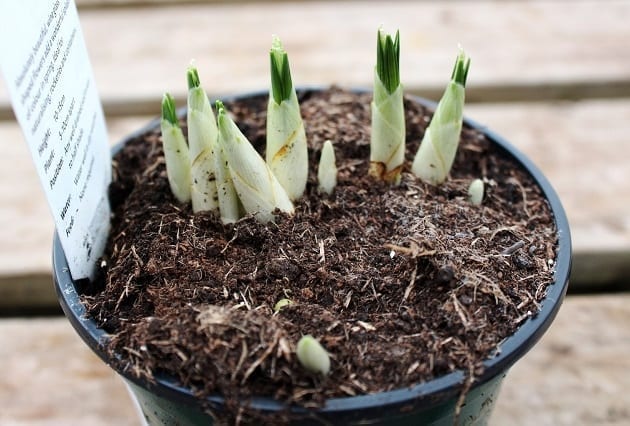 Planting
Water your potted bulbs well before planting, whether into a container or in the ground. Before planting, add a layer of good quality compost to your container or into the ground. Lay the bulbs root down on the potting compost. Cover with another layer of potting compost and press in firmly.
Watering
Once in the ground – or container – keep watering regularly until well established.
---
Find a wide range of potted bulbs available now from all Hillier Garden Centres. 
---