Convolvulus cneorum | Silverbush
This stunning plant is a Mediterranean native, but also does really well in the UK given the right planting situation.
Sometimes called Silverbush, this evergreen shrubs offers beautiful soft, silvery foliage all year around. This perfectly sets off pink buds that open to white trumpet-shaped flowers with a yellow throat in spring. Its pollen-filled flowers are fantastic for attracting bees.
---
Convolvulus cneorum Factfile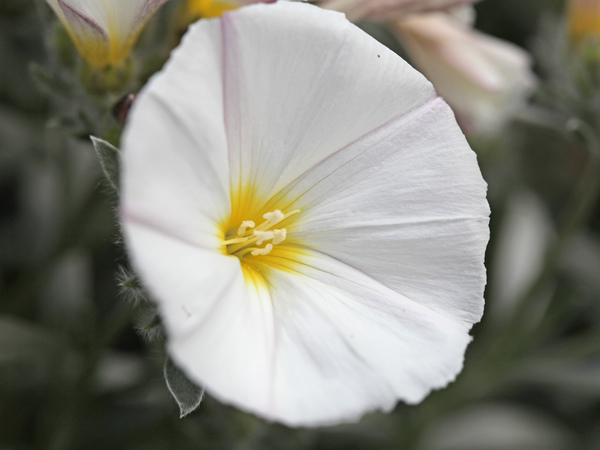 Flowering time: May to July
Sun Requirements: Full sun, ideally in a south or west-facing aspect
Soil: Well-drained soil
Hardiness: Hardy to -10 °C
Size: Grows to approx. 60cm height x 60cm spread
---
Convolvulus cneorum Growing Guide
Planting
Position a sunny spot and plant in well-drained soil.
Pruning
Convolvus cneorum will grow slowly to a mound of about 60cm, but keep it to around 30-40cm with a hard prune in the summer after flowering and it will remain beautifully compact and bushy.
---
Convolvulus cneorum Planting Ideas
This is a perfect plant for a rockery or alpine garden, or it is equally at home alongside lavenders, roses and perennials.
---
Convolvulus cneorum Fact
Has the RHS Award of Garden Merit, which is given to plants that perform reliably in gardens