A first look at part of the spring structure at Fordingbridge
---
How a tonne of metal is transformed to be a Chelsea Flower Show centrepiece
April 2017 – Running through the spine of the Hillier Chelsea Flower Show garden will be a phenomenal structure that encapsulates the theme for its 2017 garden: 'Hillier's Spring'.
A four-metre-high metallic spring will coil its way through the Hillier exhibit, the rings of which weigh over one tonne and will span the length of the entire garden. The spring structure will contain fresh water that will flow into a water feature and pond at the end of the garden that weighs a staggering 350kg!
Construction of such an unusual spring has been complex. To ensure the seamless creation of such a vital player in the show garden, Hillier called upon a company it has enjoyed a fruitful partnership with for 30 years – Fordingbridge, a specialist design and build team in Arundel, West Sussex.
Hillier first worked with Fordingbridge in 1983, creating structures for its nurseries. At the start of the relationship, Fordingbridge primarily created growing tunnels for the propagation of Hillier's new plants. This has now progressed to developing and expanding retail across Hillier's garden centres including timber canopies that form extensive entrance areas to the centres and nurseries. The two have since worked together on multiple projects, including Hillier's 2015 and 2016 Chelsea gardens.
Fordingbridge has been working closely with the designer of the 'Hillier's Spring' show garden, Sarah Eberle, and there have been many factors to consider as Stephen Toone, Fordingbridge's managing director, explains: "Bringing Sarah's vision to life has not been easy, but we love a challenge and seeing it all come together makes it all really worthwhile! The spring is twelve metres long, and four metres high, so a big factor will be the transportation logistics and then installing it in the garden."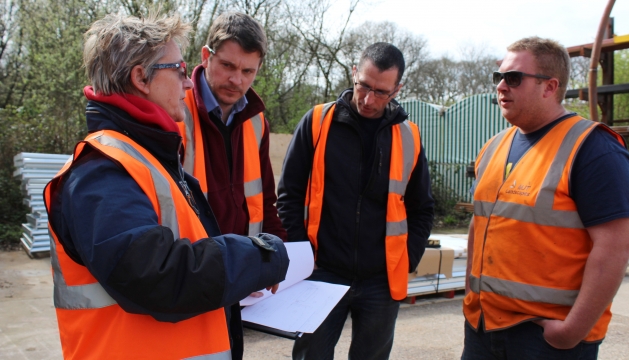 Designer Sarah Eberle talks construction plans with some of the build team
---
"We've had to calculate how many pieces to build it in; how many rotations of the spring are required; where each section will fit on the decking; how the spring will be fixed to the structure as we are unable to weld it on site; and how the spring will hold below ground. We've also had to look into up-lighting, as downlighting would not be dramatic enough considering the sheer height of the spring. All this whilst ensuring the vista through the spring of the rest of the garden is not lost or infringed upon!"