Every garden needs bulbs – they are a guarantee of spring colour, offering great value for money. Autumn is the prime season for bulb planting as bulbs are in top condition and the soil is really workable.
Hillier offers an extensive range of bulbs, from much-loved daffodils, tulips, hyacinths, crocuses and alliums to some unusual varieties, we can help you prepare for a garden bursting with colour come spring, as well as a few of the hardy summer-flowering bulbs that can be planted in autumn.
---
When to Plant Bulbs
The table below gives an approximate guide to the best months to plant some of the most-loved bulbs, along with their flowering time (this will typically vary depending on variety planted). If you are a little late with your bulbs, don't worry: if the soil is still workable they can still be planted!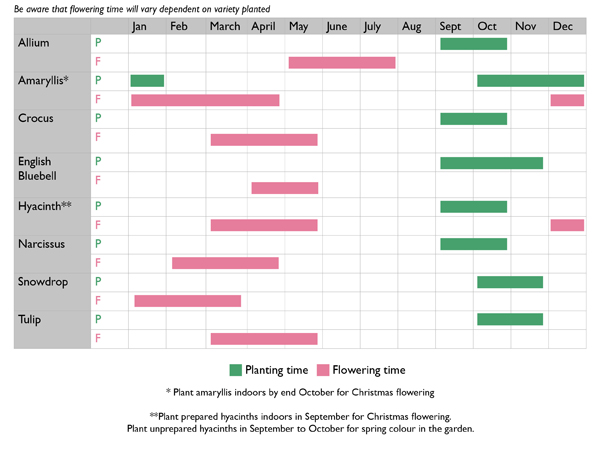 ---
Guide to the Most Popular Bulbs
Alongside new varieties, we have an extensive range of loose and pre-packed bulbs for you to select from. We highlight some of the most popular varieties in centres.
Narcissi (Daffodils)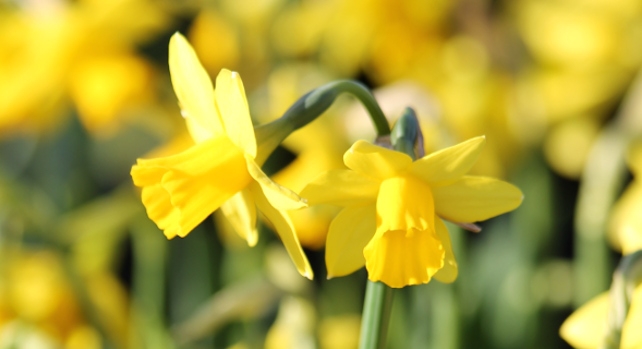 Image: Narcissi 'Tête-á-Tête'
Naricissi, more commonly known as daffodils, are some of the most popular flowers due to their unmatched beauty, with their trumpet-shaped structure set against a star-shaped background.
Our most popular botanical Narcissi include Tête-á-Tête and Minnow; however, we have a wide number of varieties to choose from. Look out for a number of new varieties in Centres this year including Narcissus 'Tamara' and 'Lotherio' (details above); the unusual-looking Narcissus 'Rip Van Winkle' and the delicate, predominantly white Narcissus 'Papillon Blanc'.
Planting Time: September to October
Flowering Time: January to April (dependent on variety)
---
Tulips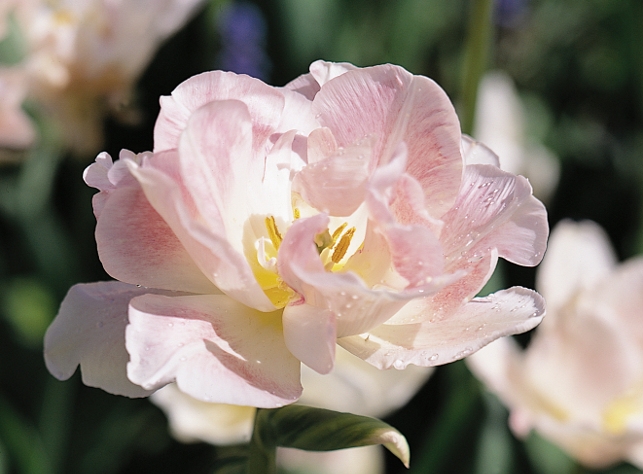 Image: Tulip 'Angelique'
Tulips are perhaps the most colourful and beautiful flowers with their lovely cup flowers. Hillier has over 25 different-coloured varieties. Tulip 'Red Riding Hood' is a classically beautiful choice, with elegant scarlet flowers. It is a variety of Greigii Tulip, all of which have distinctive variegated leaves.
Another real favourite with customers is Tulip 'Angelique'. It bears classic, feminine, soft pink flowers that look like peonies with full, slightly ruffled petals.
New varieties to look out for at Hillier Garden Centres in 2020 include Tulip 'Flaming Flag' (see above), Tulip 'Infiniti' with its light pink blooms and Tulip 'World Expression' with its showy two-tone petals.
Planting Time: October to November
Flowering Time: March to June (dependent on variety)
---
Alliums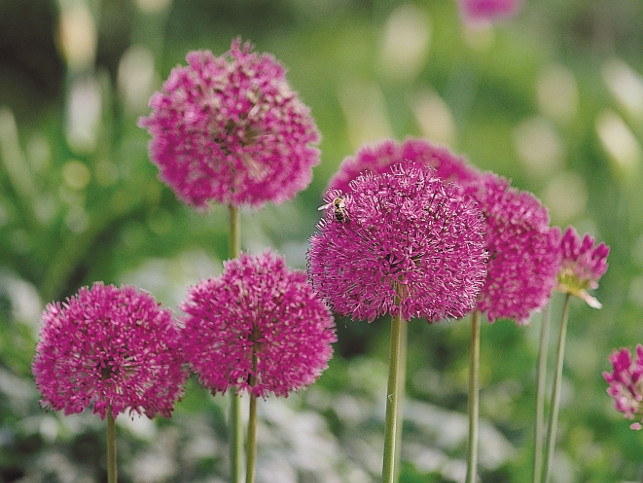 Image: Allium 'Purple Sensation'
Alliums, also known as ornamental onions, are enormously popular every year. They produce wonderfully showy flower heads of different sizes and can be in shades of blue, purple, white and even yellow. Alliums bring magic to mixed borders or containers during summer and can look particularly effective planted in swathes of the same variety.
One of the best-loved varieties, for good reason, is Allium 'Purple Sensation'. New to Hillier in 2020 is the dainty dwarf variety, Allium 'Eros', which produces delicate lilac flowers in early summer. If you enjoy a profusion of alliums, our new allium collection (see above for details) is ideal.
When dried, allium seed heads can be retained in the garden to give added interest. Their foliage should be treated as with other bulbs and left to die down naturally. As they begin to fade, feed the bulbs with a liberal sprinkling of Fish/Blood/Bone. This will help the bulbs create storage flowers for the following year.
Planting Time: September to October
Flowering Time: May to July (dependent on variety)
---
Prepared and Planted Hyacinths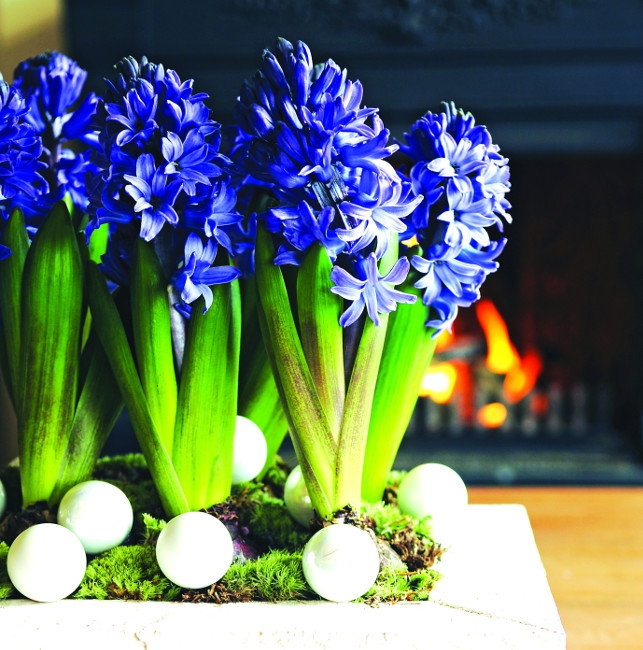 Image: Hyacinth 'Delft Blue'
In early autumn, Hyacinths are popular for two reasons. They are either purchased with the goal of having a beautiful flower at Christmas time or planted in the garden to flower in the spring.
If you want your Hyacinth to bring colour and scent to your home over Christmas, you need to purchase 'prepared' Hyacinths. Plant into pots or containers before the end of September to give them a chance of flowering for Christmas. Keep in a cool, dark room until their shoots are about 2cm tall. They should flower 10-12 weeks from potting. We have four varieties of prepared Hyacinth; Pink Pearl, Delft Blue, Jan Bos and White Pearl.
If you want your hyacinth to bring spring colour to your garden, then plant unprepared Hyacinth varieties in rows in your borders or in containers in September. You should enjoy the first blooms in March or April. We offer six unprepared Hyacinth varieties; Woodstock, Carnegie, Fondant, Rembrandt, Gipsy Queen and Purple Sensation.
Planting Time: September (prepared hyacinths); September to October (unprepared hyacinths)
Flowering Time: December (prepared hyacinths); March to May (unprepared hyacinths)
---
English Bluebell
English bluebells are easily distinguished from their Spanish counterparts by their gently drooping appearance, with the 'bells' themselves hanging from one side of the stem. Flowering from mid to late spring, these are classic woodland plants that will happily thrive and re-seed in shaded areas – a spot near a hedge or around a tree is also ideal.
Your English bluebell bulbs can be planted from September through to the start of November. Plant bulbs in a somewhat random pattern to create the natural appearance they assume when growing freely in woodlands.
Planting Time: September to November
Flowering Time: April to May
---
Galanthus (Snowdrops)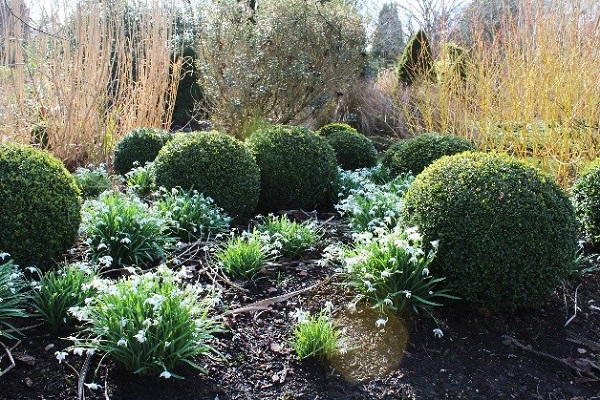 Galanthus grown together with clipped topiary balls at Sir Harold Hillier Gardens.
Galanthus – better known as snowdrops – are usually the first heralds of spring. In mild years, spotted as early as late December they emerge in beautiful drifts; dotted gems of white.
You may choose to plant your Galanthus bulbs to naturalise in your lawn; create a contrast between formal and informal by positioning near to clipped topiary or even grow in containers.
In the wild, galanthus are woodland plants. In your garden, do your best to imitate their natural habitat by positioning in light shade and well-drained soil.
You can find a range of galanthus bulbs at Hillier Garden Centres, including the giant, sweet-scented variety Galanthus woronowii and Galanthus Elwesii, which is one of the first to flower in late winter.
Planting Time: October to November
Flowering Time: January to March
---
Amaryllis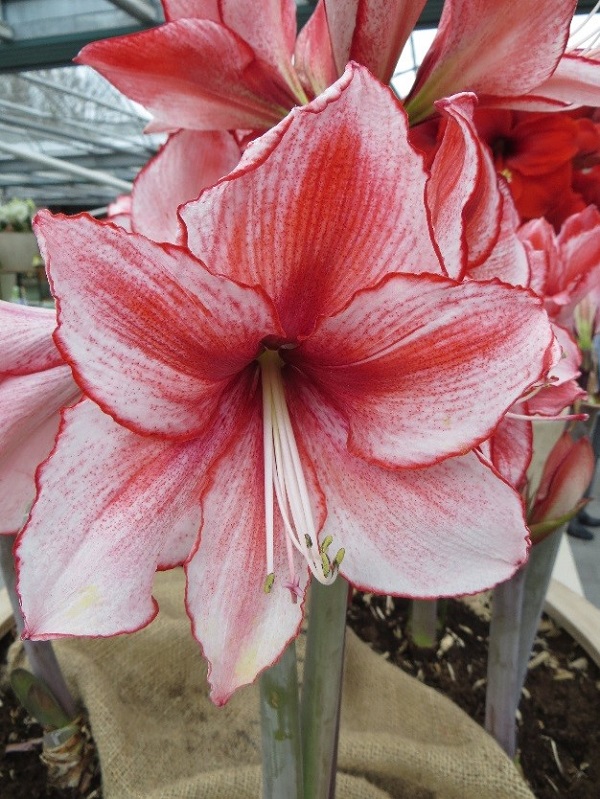 Amaryllis 'Charisma'
In late September, amaryllis (hippeastrum) bulbs arrive in our Garden Centres. One of the simplest of bulbs to grow, Amaryllis are kept indoors as a houseplant. They bloom between six and eight weeks after planting, so you will need to plant by the end of October if you would like it to be in flower for Christmas. Available in attractive presentation boxes, complete with pot and compost, amaryllis also make popular Christmas gifts. The recipient can simply pot up after the day and enjoying beautiful flower colour by the end of winter or very early spring.
In 2020, you can find a greatly expanded range of Amaryllis varieties from Hillier Garden Centres. These include Amaryllis 'Charisma', a stunning red-pink variety with the RHS Award of Garden Merit or the delicate white flowers of Amaryllis 'Picotee.'
Planting Time: October to January (plant by end October for Christmas flowering)
Flowering Time: December to January