Timely cleaning of your barbecue and rust removal are simple ways to ensure you get the best from it. The barbecue experts at Char-broil share their tips for maintaining your barbecue.

View our collection of barbecues
---
Tips for Cleaning Your Barbecue
After a barbecue, cleaning the grill may be the last thing you feel like doing. But, when barbecues are left dirty for days or even weeks this creates an off-putting chore to be done before you next use it. Cleaning a barbecue straight after use is quick and easy and 100% worthwhile.
If you have a gas barbecue, once the last piece of meat has been barbecued, simply turn the heat knob up to the maximum. At 350 degrees, even the stickiest remains burn away from the grate leaving only ash which can be easily wiped away with a damp cloth. This is similar to the way a self-cleaning oven works.
Charcoal barbecues require a little extra effort, although you can remind yourself that ultimately soap has been made from barbecue ash for millennia. Simply dip a damp sponge into the ash and clean the grate. The ash slurry cleans away any incrustations. Then, rinse the grate with water – preferably in the garden as the rinsed ash mixture acts as fertiliser.
If your barbecue is still not completely clean, you can always use oven cleaner. Spray the grate with the oven cleaner and leave it in a big plastic bag for several hours to take effect. Then wash off any stubborn residues with washing-up liquid and a sponge
Simple scrubbing with a specialist BBQ brush or steel sponge with water and washing up liquid is always an effective technique. If you rub a little oil onto the grate before starting the barbecuing process, you'll save yourself a lot of work because this makes it harder for any residues to stick to the grate. This also has the pleasant side effect of helping stop meat sticking to the grill, making it easier to turn.
---
Removing Rust from Barbecues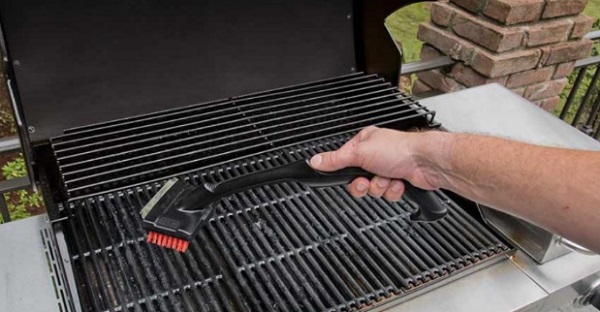 Rust on a grill is not optimal for getting the best cooking results, but luckily it's not difficult to clean a rusty grill grate. The best solution is to use ecologically compatible household products, which you may already have in your kitchen. And prevention is always the best method.
Maintaining your Barbecue: How to Prevent Rust
Grease your grates very lightly with oil ('season' them). Do this frequently, particularly when new. If rust occurs, it is an indication that the grates have not been seasoned enough or the seasoning has been burned off. In this case, clean your grates with a heavy brush like Char-Broil's specialist BBQ brush. Reapply oil and heat to re-season the grates.
For maintenance, burn off your grill once you finish cooking then allow the grill to cool and brush away any remaining residue with a nylon brush. The more you use your grates, the easier the maintenance will be. Store in a dry place. If you store your grates for an extended period of time, grease very lightly with oil, then wipe dry with a paper towel.
Maintaining your Barbecue: How to Clean Rust
1. Vinegar and baking powder
Baking powder can work wonders with rust. It makes an effective paste mixed with vinegar. Rub the paste onto the rust spots and leave to work for at least 30 minutes. Rinse off with warm water.
2. Lemon juice
Cut a good-sized lemon into halves. Heat the grill up to a high temperature. Once the grill is heated, dip the juicy end of the cut lemons in a plate of salt to add some abrasiveness and use the lemons to wipe the grill clean. Make sure to keep your hands safe from the heat.
3. Soap and water
Mix a little washing-up liquid and warm water in a bucket. Clean the grill with a soft cloth. Use a nylon BBQ brush to scrub off any tough rust spots on the grill grate. Avoid scouring or grinding products.
4. Specialist Rust Remover
If none of the other options work, use a specialist rust removing product that is suited for the purpose of removing rust from the grilling area.