Age Restricted Item
This product is restricted by age and will require confirmation on purchase, and ID on delivery to show that you are over 18.
Exceptional Item
Please note this is classed as an exceptional item due to its size and will incur a delivery surcharge at checkout.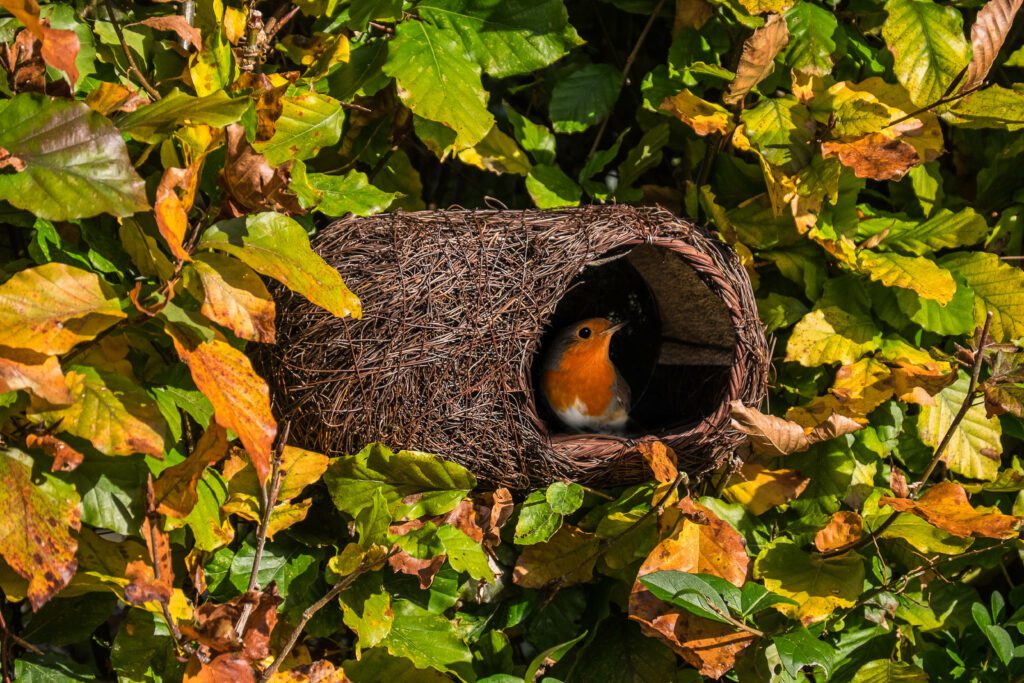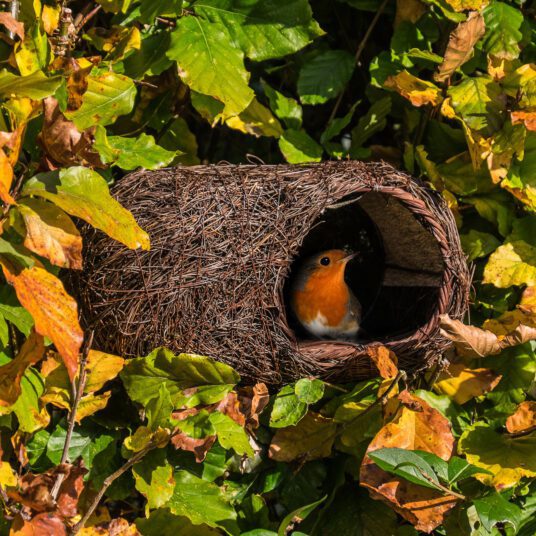 Brushwood Robin Nester
SKU: 00321015
To save products, log in to your Gardening Club account or create a free account.
Add to Basket
Could not add to basket, please try again.
Product Details
Brushwood Robin Nester was developed in conjunction with TV's naturalist and wildlife cameraman Simon King, using his many years of knowledge watching and photographing wildlife. The design principle is that robins prefer an open style nest box with easy access, but also like to be concealed from the prying eyes of predators. The entrance is open, but the nest space is both concealed behind the side wall and covered by the roof.
Robins love to nest in sheds with 24/7 access or in a porches or on shelves in outbuildings or similar. The nester is lightweight and be wired into a hedge or ivy or attached to a wall using the supplied spare loop of fixing wire. The base of the brushwood nester has a rattan landing platform with a low dividing wall separating the nesting or roosting space.
The Brushwood Robin Nester has previously won the Best New Product Design at GLEE in the Pet and Wildlife category. The nester is also suitable for other bird species such as wagtails and spotted flycatchers which prefer the same style of open-fronted nester.
Wild Birdcare & Wildlife
455
679505019253
Delivery Information
Standard Delivery

UK delivery shipped within 5 working days, Monday to Friday via APC.

£6.99 or Free on orders over £100

Small Item Delivery (Applies to small items such as packets of seeds).

UK delivery shipped within 5 working days, Monday to Friday. Delivered via Royal Mail or APC.

£2.99

Gift Cards

UK delivery shipped within 2 working days, Monday to Friday, sent via Royal Mail.

Free

Furniture & Barbecue delivery

We can deliver to addresses in Bedfordshire, Berkshire, Buckinghamshire, Dorset, Devon, East Sussex, Essex, Gloucestershire, Hampshire, Herefordshire, Hertfordshire, Kent, London (addresses within the congestion charge zone will incur a surcharge) Northamptonshire, Oxfordshire, Somerset, Surrey, Warwickshire, West Midlands, West Sussex and Wiltshire.

For any locations outside of this, we are still able to deliver, but please contact us at onlineshop@hillier.co.uk for a bespoke delivery estimate.

Delivery to these regions, within 7-14 working days, Monday to Friday. Delivered by Hillier.

£14.99 or Free on orders over £100 (Addresses outside of our regions and within the congestion charge zone will incur a surcharge please contact us to confirm)

Exceptional Item Surcharge

For over-sized items (such as heavy items over 10kg or large items over 1 metre) an additional surcharge will apply depending on the item and will be confirmed at checkout.

Confirmed at checkout.