Age Restricted Item
This product is restricted by age and will require confirmation on purchase, and ID on delivery to show that you are over 18.
Exceptional Item
Please note this is classed as an exceptional item due to its size and will incur a delivery surcharge at checkout.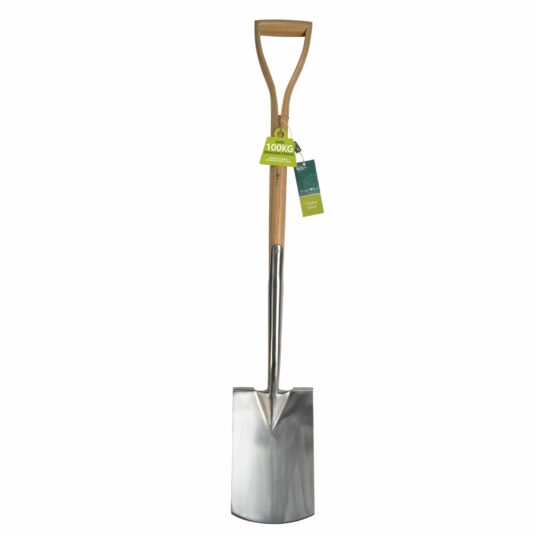 Exceptional Item
Burgon & Ball RHS Stainless Digging Spade
SKU: 00230395
To save products, log in to your Gardening Club account or create a free account.
Add to Basket
Could not add to basket, please try again.
Product Details
This super-tough garden spade has been tested to a breaking strain of 100kg - that's 82% stronger than the British standard. To save your back, it has a longer handle than most spades, crafted in FSC certified hardwood. The handle has a comfortable 'Y' grip, double riveted at the base for strength. An extra-long, double-riveted strapped socket introduces strength and an element of flex at this key joint.
This spade has a large blade for efficient digging, in mirror-polished stainless steel head for rust resistance and clean movement through the soil. Wide comfort treads at the top of the blade prevent any discomfort for feet, allowing you to really dig deep, in even the most challenging soil.
Our stainless steel digging spade is endorsed by the Royal Horticultural Society, perhaps the ultimate accolade in the gardening world. Like all our RHS-endorsed stainless steel tools, this spade is covered by our lifetime guarantee.
Handle: FSC© certified hardwood
Head: stainless steel
Head dimensions: 29cm long x 18cm wide
Overall length: 111cm
Weight: 2.01kg
Gardening
109
5019360008620
Delivery Information
Standard Delivery

UK delivery shipped within 5 working days, Monday to Friday via DPD.

£6.99 Free delivery on orders over £100

Small Item Delivery (Applies to small items such as packets of seeds).

UK delivery shipped within 5 working days, Monday to Friday. Delivered via Royal Mail, or DPD.

£2.99

Gift Cards

UK delivery shipped within 48 hours, Monday to Friday, sent via Royal Mail.

Free

Furniture & Barbecue delivery

We can deliver to addresses in Bedfordshire, Berkshire, Buckinghamshire, Cornwall, Dorset, Devon, East Sussex, Essex, Gloucestershire, Hampshire, Herefordshire, Hertfordshire, Kent, London (addresses within the congestion charge zone will incur a surcharge) Northamptonshire, Oxfordshire, Somerset, Surrey, Warwickshire, West Sussex and Wiltshire.

For any locations outside of this, we are still able to deliver, but please contact us at onlineshop@hillier.co.uk for a bespoke delivery estimate.

Delivery to these regions, within 7-14 working days, Monday to Friday. Delivered by Hillier.

£14.99 Free delivery on orders over £499 (Addresses within the congestion charge zone will incur a surcharge)

Exceptional Item Surcharge

For over-sized items (such as heavy items over 10kg or large items over 1 metre) an additional surcharge will apply depending on the item and will be confirmed at checkout.

Confirmed at checkout.