Age Restricted Item
This product is restricted by age and will require confirmation on purchase, and ID on delivery to show that you are over 18.
Exceptional Item
Please note this is classed as an exceptional item due to its size and will incur a delivery surcharge at checkout.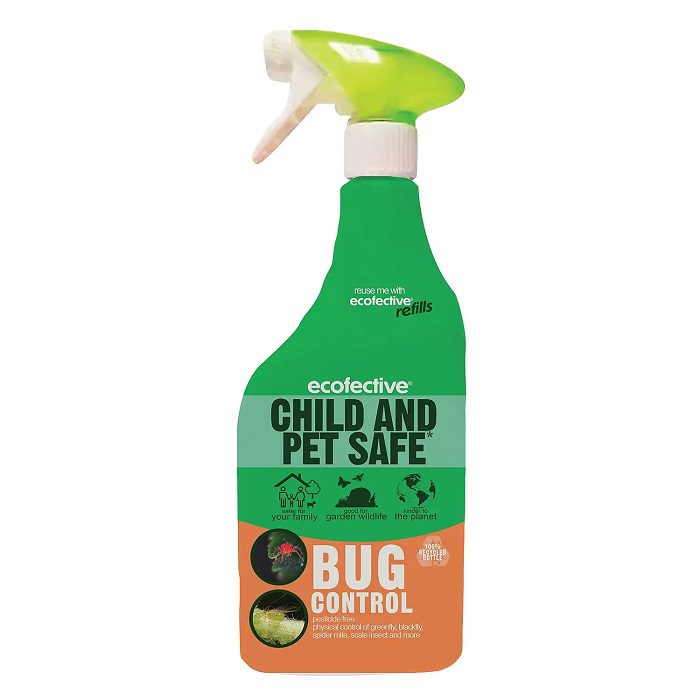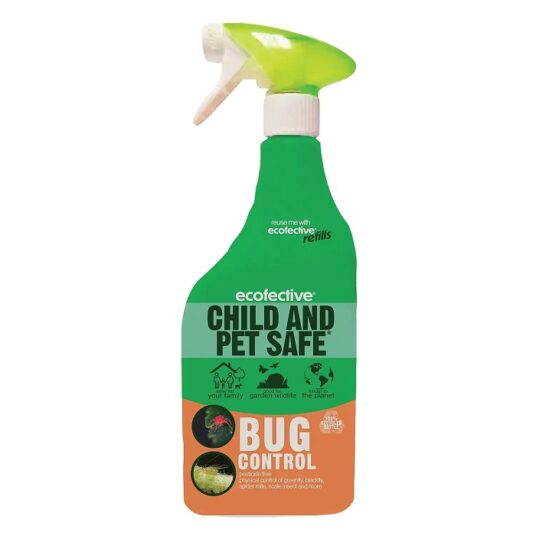 Ecofective Bug Control Ready To Use 1L
SKU: 00383339
To save products, log in to your Gardening Club account or create a free account.
Add to Basket
Could not add to basket, please try again.
Product Details
Ecofective Bug Control works by physical mode of action to encapsulate the bugs making them immobile which stops them from feeding. Results can be seen the same day, but for ongoing control, use the product every 5-7 days if pests are still around as more eggs hatch so they quickly increase in numbers again. Effective control for Greenflies, Red Spider Mites, Scale insects, and Psyllid. No harvest interval, wash well. Also controls powdery mildew by physically washing the foliage to remove active mildew spores. The formula also provides foliar nourishment to encourage healthy plant growth and promote abundant fruit, vegetables, and vibrant flowers. Proven to be highly effective, the same formulation is currently used by many professional growers and landscapers across the UK and Europe.
Physical control of greenflies, blackflies, spider mites, scale insects, and more
Controls powdery mildew and provides plants with nutrients
Use on edible and ornamental plants
Safe to use around children and pets
Bee friendly
Bottle made from 100% recycled materials and is recyclable
Delivery Information
Standard Delivery

UK delivery shipped within 5 working days, Monday to Friday via APC.

£6.99 or Free on orders over £100

Small Item Delivery (Applies to small items such as packets of seeds).

UK delivery shipped within 5 working days, Monday to Friday. Delivered via Royal Mail or APC.

£2.99

Gift Cards

UK delivery shipped within 2 working days, Monday to Friday, sent via Royal Mail.

Free

Furniture & Barbecue delivery

We can deliver to addresses in Bedfordshire, Berkshire, Buckinghamshire, Dorset, Devon, East Sussex, Essex, Gloucestershire, Hampshire, Herefordshire, Hertfordshire, Kent, London (addresses within the congestion charge zone will incur a surcharge) Northamptonshire, Oxfordshire, Somerset, Surrey, Warwickshire, West Midlands, West Sussex and Wiltshire.

For any locations outside of this, we are still able to deliver, but please contact us at onlineshop@hillier.co.uk for a bespoke delivery estimate.

Delivery to these regions, within 7-14 working days, Monday to Friday. Delivered by Hillier.

£14.99 or Free on orders over £100 (Addresses outside of our regions and within the congestion charge zone will incur a surcharge please contact us to confirm)

Exceptional Item Surcharge

For over-sized items (such as heavy items over 10kg or large items over 1 metre) an additional surcharge will apply depending on the item and will be confirmed at checkout.

Confirmed at checkout.