May 2021
Visitors to the new BBC Gardeners' World Spring Fair at Beaulieu in Hampshire, which takes place on 28th to 30th May, will experience a stunning four-part garden display when they make a stop at the all-new Hillier Experience. Details of the exhibit, which takes visitors from dawn to dusk, have now been unveiled.
The stunning garden feature will take people on a journey, showcasing how a garden and its plants can evoke the changing mood from dawn to dusk. The Hillier design team has created four garden areas within the floral display separated by raised sleeper beds and a pergola in the centre. The first of the four garden areas eases visitors into the experience with a morning garden brimming with fragrant herbs and an abundance of vegetables, awakening the senses with bright greens and yellows bursting through. Then the afternoon garden brings home memories of days whiled away in the sunshine, picnicking and having afternoon tea surrounded by fragrant plants, herbaceous borders and pastel tones. The final two areas of the garden take visitors from evening through to night-time. The evening display offers rich sunset tones and rustic orange shades with twinkling lights and amazing scents drifting across the floral display. Finally, in the night garden, there will be dark foliage complemented by pots of colour, creating a relaxing ambience.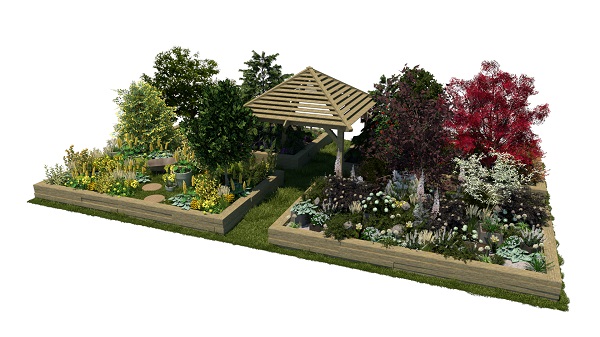 Artist's impression of the garden. Final design may differ.  
---
Hillier will also unveil a new plant introduction at the show, Cercis x canadensis 'Eternal Flame.' This is a beautiful new variety of Cercis with deep red glossy leaves which turn gradually through orange to yellow shades. It has a graduation of coloured leaves on each stem, with mature plants displaying pink flowers along the stems before the foliage. It can grow up to four metres as a tree or can be kept pruned as a multi-stemmed shrub. It can also be grown in large patio containers, so is incredibly versatile. Visitors can admire it up close as part of the Hillier Experience and it will be available to buy from the Hillier retail area at the Fair.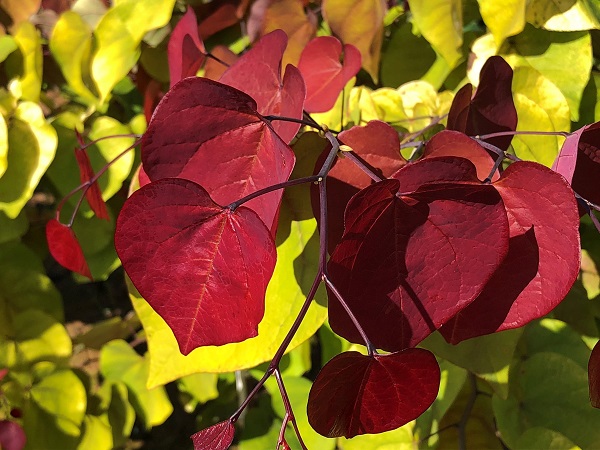 Cercis x canadensis 'Eternal Flame,' a new plant introduction from Hillier Nurseries
---
As well as showcasing garden inspiration, Hillier will also be sharing knowledge at the show. Hillier experts will be stationed around the Hillier Experience to give one-to-one advice on all aspects of gardening and to answer any questions. Charles Carr, Head of Wholesale Nurseries at Hillier, will also join the BBC Gardeners' World Magazine editors on the What To Do Now Stage for a series of talks throughout the show. He will be discussing this year's new plant as well as looking back at some other Hillier plant introduction released in recent years.
Finally, the retail section of the Hillier Experience will allow inspiration to become reality, with a selection of top-quality plants grown by Hillier on their nurseries in Hampshire available to purchase.
Hillier is headline partner at the new BBC Gardeners' World Spring Fair, an event that will offer a host of inspiration to experienced and new gardeners alike. "We are excited to be headline partner and to now be able to reveal more details about our Hillier Experience display," comments Chris Francis, Wholesale and Retail Director of Hillier. "We have created many exhibits over the years, but this is a new show and something different for Hillier. We are looking forward to meeting many gardeners over the weekend, showcasing our Hillier Experience display, and sharing our expert advice so they can get even more enjoyment from their own gardens."
The BBC Gardeners' World Spring Fair will take place in the beautiful open grounds of Beaulieu in Hampshire, home of the National Motor Museum and the ancestral Montagu home Palace House, from Friday 28th May to Sunday 30th May 2021.
---
Find out more and book tickets at www.bbcgardenersworldfair.com
---