A concept image of the planned reflective materials to be used in the creation of the new Maggie's Centre Southampton
---
Hillier is proud to be supporting charity partner Maggie's as they create a brand-new Maggie's Centre in Southampton, adjacent to the hospital. Fitting with the Maggie's ethos, the centre will have cutting edge architectural design and beautifully landscaped surrounding gardens. Hillier is providing more than 100 British-grown trees from the company's nurseries in Hampshire at no profit to the company. Long-running friends of Hillier, MJT Landscapes and Hillier Landscapes, will support with hard and soft landscaping, also at no profit. Together, this will create a major saving for the charity, allowing them to direct more money into the day-to-day running of the Centre.
Maggie's is a national cancer support charity with 26 centres across the UK and abroad. Built in the grounds of NHS hospitals, these centres provide free practical, emotional and social support to anyone with any type of cancer – and to their family and friends too. Their new centre in Southampton will be the first Maggie's centre in the South of England.
The Centre is being created in partnership between award-wining architects AL_A, University Hospital Southampton NHS Foundation Trust and Sarah Price, one of the country's most sought-after garden designers. The design is intended to create an oasis in the grounds of the hospital's suburban campus. Almost three quarters of the 1,470m2 site is being given over to four distinct gardens that are inspired by the ecology of the nearby New Forest. The intention is for the garden to look as if it has always been there, providing seclusion from the outside world. Reflective materials and surfaces in the design further the sensation of a building vanishing into the woodlands.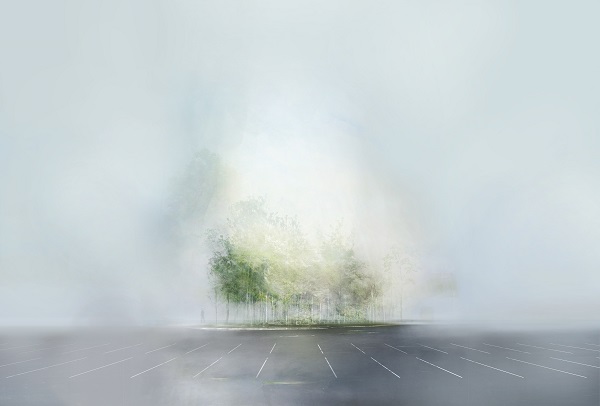 A concept image demonstrates the idea of the Centre vanishing into its surroundings

---
Maggie's is the official charity partner of Hillier in 2019-20. Having viewed plans for the new Centre, Hillier saw how they could use their horticultural expertise to offer support towards it through the supply of trees. In keeping with Sarah Price's design ethos, the tree selection includes species that will create a natural, woodland look and feel; offer a colour palette that blends with the striking architectural design and provide year-round interest. Following a number of visits to Hillier Trees field and container tree nurseries in Hampshire, individual container and root-ball trees have been selected. These include birch, elder, multi-stems and fruit trees, many at semi-mature sizes to create instant impact. They are now marked for Maggie's, ready to be lifted or called off for delivery when planting begins in early spring.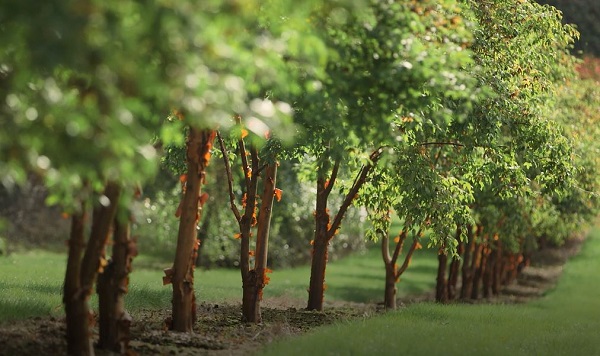 Trees growing on Hillier Field Nursery at Andlers Ash, near Liss, Hampshire
---
Hillier also contacted a number of long-running friends and partners to get even more support for Maggie's and is now co-ordinated the team response. MJT Landscapes, who have contributed to a number of gold-medal winning Hillier exhibits at RHS Chelsea Flower Show, will be responsible for the hard landscaping element of the build, which includes creation of planting bunds requiring nearly 1,500 tons of sub and top soil. Hillier Landscapes, whose origins go back as far as Hillier to 1864, is offering invaluable support with the planting of all trees, shrubs and perennials, together with associated landscape works.
"MJT Landscapes are thrilled to be working with the Hillier Team on the project for Maggie's at Southampton," says Mark Tomlinson, Director of MJT Landscapes. "We are looking forward to starting this interesting project and hope the finished garden will bring comfort to those who visit."
"Hillier Landscapes are very pleased to be involved with the Maggie's Centre garden in Southampton — Maggie's is also our chosen company charity for 2020," comments Andy Penn, Contracts Manager at Hillier Landscapes. "We look forward to working on planting elements and landscape works and seeing the finished garden."
Ground was broken on the site exactly a year ago, 4th February 2019 and the Centre is hoped to be open by late autumn 2020.
"Maggie's are delighted to be working closely with Hillier to realise Sarah Price's landscape at University Hospital Southampton," says Siobhan Wyatt, Property Projects Lead at Maggie's. "Our New Forest oasis will be a haven for all centre visitors while they receive support from our staff."
"We are delighted to be able to offer support to our charity partner Maggie's in the creation of this incredible new Centre in Southampton," comments George Hillier, Director of Property at Hillier Nurseries. "We know what therapeutic benefits gardens can provide and the designs for this are really special. We look forward to seeing it all take shape."
---
Notes for Editors
About Hillier:
"To inspire the creation of green living spaces for now and the future"
Hillier is the most successful exhibitor in the history of the RHS Chelsea Flower Show, having been awarded 74 consecutive gold medals.
The company was founded in 1864 by Edwin Hillier and remains a family-run nursery with the fifth generation now actively involved in the family business as it continues to grow. The company employs over 700 staff across its wholesale nursery, amenity trees and 17 Garden Centres and grows over one million plants a year. It is the largest tree grower in the UK.
Over the years, Hillier has been responsible for numerous plant introductions, many of which have become essentials in British gardens and it continues with the tradition of innovation and the introduction of new garden plants in the present day.
About Hillier Trees:
Hillier trees is recognised as the UK's premier tree grower, supplying the most comprehensive selection of quality, British-grown trees all year round from either our field or container nurseries.
About Maggie's:
• Maggie's offers free practical and emotional support for all people living with cancer, and their family and friends. Built in the grounds of specialist NHS cancer hospitals, Maggie's Centres are warm and welcoming places, with qualified professionals on hand to offer a programme of support that has been shown to improve physical and emotional wellbeing.
• Great architecture is vital to the care Maggie's offers; and to achieve that Maggie's works with great architects like the late Zaha Hadid, Richard Rogers and Norman Foster, whose expertise and experience deliver the calm, uplifting environments that are so important to the people who visit and work in the Centres.
• The first Maggie's Centre opened in Edinburgh in 1996. There are now 26 Centres across the UK and abroad, with more planned for the future.
• Maggie's relies on voluntary donations to support and grow its network of Centres and to develop its unique, high quality programme of support. The charity's aim is to make the biggest difference possible to people living with cancer and their family and friends.
• Maggie's President is HRH The Duchess of Cornwall.
• For further information about Maggie's please go to www.maggiescentres.org
About MJT Landscapes:
MJT Landscapes was formed in 2004, working primarily on small domestic projects and local garden maintenance. Since then MJT Landscapes has transformed into a successful business built on its good reputation, not only within its hometown of Reading but also within the wider, national Garden Centre sector. The business has continued to expand throughout the years and is now able to offer a comprehensive, award winning hard landscaping service to both private and commercial clients.
About Hillier Landscapes:
Hillier Landscapes is a long-established design and build landscape company offering a complete service blending award winning garden design, horticultural consultancy and high-quality landscaping and maintenance services for both the private residential and commercial sector operating through the South, South East of England and the Channel Islands.