The successes and achievements of Hillier people, plus support and efforts of leading industry suppliers, were celebrated at the annual Hillier Garden Centre Awards, held on Sunday 24th November 2019. With the company achieving a record-breaking year for the third year running there was a jubilant atmosphere, but also the opportunity to reflect on some of the most important issues facing the industry.
In the last year, five new garden centres have been added to the Hillier Garden Centres family – Cheddar, Dorking, Lechlade, Marlow and Three Legged Cross. A warm welcome was offered to all. "It is a great pleasure to see our top suppliers, head office, nursery and garden centres teams joining together to celebrate. In particular, a warm welcome to newcomers to our business," said Chris Francis, Director of Hillier Nurseries and Garden Centres, during opening speeches: "I am here to announce another record year for the business and record levels of profitability, all of which has gone back into the business to continue its growth. We are fortunate to be in a position to ensure we have a strong and secure, growing business for many years to come."
On a more sober note, Francis shared his view that the most important issue facing the industry is the impact businesses have on the sustainability of the planet. "We cannot ignore the facts that must drive us all to take action," he urged. "Our customers continually tell us it is one of the most important factors in their lives." He announced that Hillier was working on an environmental impact audit, evaluating every element of the company's operation in order to develop an action plan and achieve a positive impact on its carbon footprint as quickly as possible
A Return to Chelsea
Francis paid tribute to Sarah Eberle, who has worked with Hillier on designs for RHS Chelsea Flower Show for the last four years. "Our thanks go to everyone who contributed this year, helping us win a 74th consecutive gold, from the Hillier team to our sponsor, Stihl. Over the last four years, Sarah Eberle has not only designed incredible gold medal-winning gardens but helped us establish a new team to deliver our Chelsea exhibit. She has done this so successfully, she has replaced herself, mentoring Lilly Gomm who will take on sole responsibility in 2020."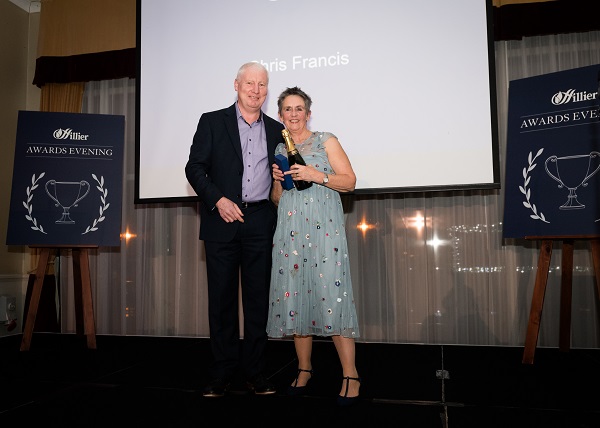 Designer Sarah Eberle receiving a special tribute award following her work with Hillier across four incredible gold medal-winning years at RHS Chelsea Flower Show
---
An Ambitious New Project
In 2018, Hillier completed a DIY SOS-style garden makeover charity project. Reminding guests of the joy it brought to the Burrell family, Francis urged everyone in the room to get ready for another big project in the planning. George Hillier, Director of Property and one of the fifth generation of Hillier family involved in the business, then announced project details along with how it would help the lives of many people at a difficult time.
A Horticultural Classic
The evening was compered by garden designer and TV presenter Joe Swift, who entertained guests with tales of his experiences at RHS Chelsea Flower Show and Gardener's World. He also shared his view that Hillier stood for "passion, experience and sheer class," producing his "most important gardening book" – a well-thumbed copy of the Hillier Manual of Trees and Shrubs. The book was given to him by Roy Lancaster and signed some 10 years earlier when the two hosted a talk at a Hillier Garden Centre. Swift also offered valuable horticultural advice around his most commonly asked question; how to get a wisteria to flower. "Move house," suggested Joe. "It will definitely flower the year after you leave."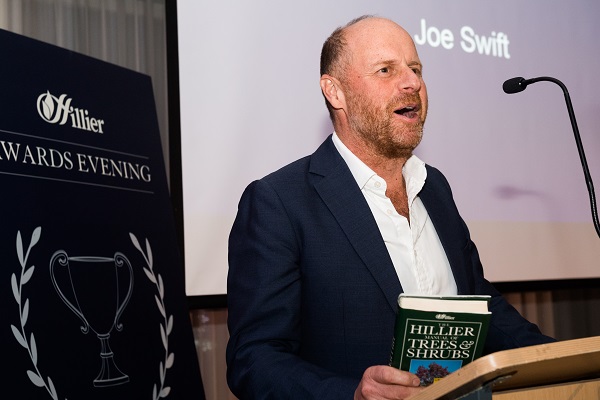 Joe Swift and his well-thumbed copy of the Hillier Manual of Trees and Shrubs
---
The Winners List 
Awards in 2019 went to:
Best Gardening Club Events 2019 – Botley
Marketing, Merchandising and Social Media Award 2019 – Liam Byrne (Hillier Garden Centre Sunningdale)
Gardening Club Champion 2019 – Eric Pleydell (Hillier Garden Centre Bath)
Horticultural Supplier of the Year 2019 – Meon Valley Nurseries
Plant Area of the Year 2019 – Sunningdale
Garden Shop Supplier of the Year 2019 – Decco Mill
Garden Shop of the Year 2019 – Hemel Hempstead
Home, Leisure and Outdoor Living Supplier of the Year 2019 – Woodlodge Products
Home and Leisure Shop of the Year 2019 – Horsham
Restaurant of the Year 2019 – Banbury
Hillier Nursery Employee of the Year 2019 – Slavek Dikta
Head Office Employee of the Year 2019 – Asha Lockyer
Garden Centre Department Manager of the Year 2019 – Kevin Ramsell (Hillier Garden Centre Botley)
Garden Centre Manager of the Year 2019 – Roy Whitehouse (Hillier Garden Centre Banbury)
Garden Centre of the Year 2019 – Botley
Garden Centre Employee of the Year 2019 – Joshna Desai (Hillier Garden Centre Chichester)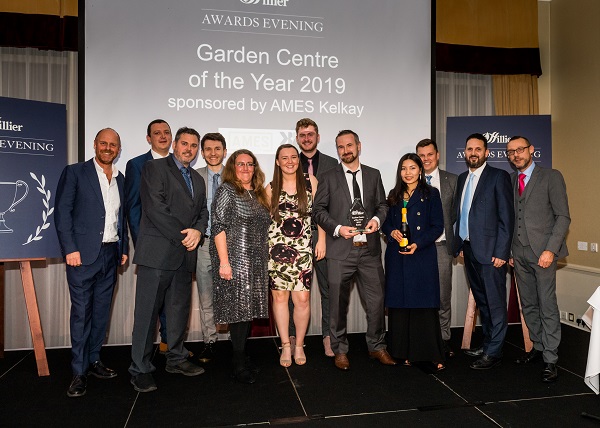 Winners of the Hillier Garden Centre of the Year – Botley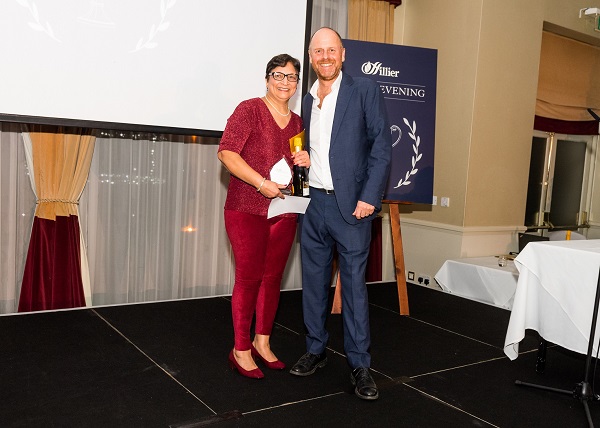 Winner of Hillier Garden Centre Employee of the Year – Joshna Desai