Robert Hillier, photographed by Michael Butters for the Winchester Portrait Exhibition 2017.
---
From a mail order plant business to a thriving grower and Garden Centre Group, much has progressed in the amazing 50 years Chairman Robert Hillier, OBE VMH, has worked at Hillier. He reflects on some of the major milestones and proudest moments of his career to date.
"I joined Hillier in 1967, at a time when my father, Sir Harold Hillier, was still very active in the business.
"Sir Harold was passionate about plant conservation and collecting. I remember hearing him say we grew 6,000 different plant species! – an enormous range and one that justified our claim to grow the biggest range of trees and shrubs in the world."
"At this time, Hillier was primarily a mail order business, with a very small element of wholesale and landscape. We distributed our plants to some 30 plus countries all around the world, packaged in boxes of straw and typically sent via train."
"When I started, the company had already grown to a good level. We employed around 200 staff, had 700 acres of land and a mail order list of some 15,000 people. But, it was a complex, disparate business. The ever-increasing cost of mail together with the large numbers of fantastic, but not necessarily commercially desirable, rare plants we grew, meant it was also not very profitable."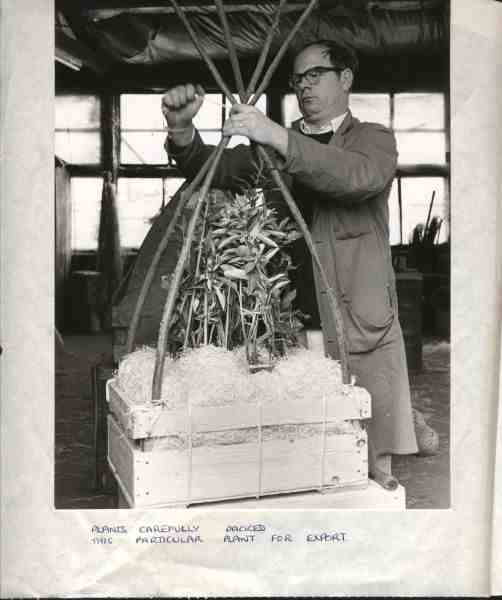 Mail order days: packing Hillier plants for export using 'benders'
---
From Office to Field
"Before starting at Hillier, I spent several years working at different nurseries, including across Europe. I also studied at Writtle College. But, that didn't stop my first role being 'assistant post opener' in our office, under the watchful supervision of Mr Gordon Sampson. We all need to work our way up!
"After a couple of years, our nurseries had an urgent need for a tractor driver and I made my move into the growing side. It was during this time that I started a real company focus on the Amenity and Wholesale side of our business, as we had the land to grow on. We became smarter with our master stock book of 3,000 different plants, focusing more on those that were actually selling – as well as continuing to offer some of the rare species."
The Mobile Gang
"The 1970's marked a landmark moment, as I became the first ever salesperson for Hillier. With a focus on selling to the local authority market, I was outside, loading lorries and driving up and down the country offering a selection of our bare-root trees. With some 700 different local authorities back then, I racked up a lot of miles!
"As our sales team grew, we became known by our colleagues as the 'mobile gang' (and some other less polite names). This period was really the beginning of our 'Amenity' team today, including our Trees and Cash & Carry business, which goes from strength to strength. It is also where my absolute love of trees came from."
---
"I am immensely proud of what we have achieved with the growth of our Garden Centre business"
---
Growth of a Garden Centre Business
"By the start of the 1980's, we were beginning to sell our plants to Garden Centres, but didn't have any of our own other than two plant collection points. At the same time, mail costs were becoming prohibitive, Royal Mail had restricted maximum size capacity and trees were banned from being taken on trains!
"This was the start of my focus on developing our Garden Centre group, something that continues to the present day. My first Garden Centre purchase was our Botley store in 1982. By the end of the 1990's we had acquired 14 Garden Centres across the South of England.
"We may have been later to the party than some with our retail business, but I am immensely proud of what we have achieved. We now have 12 Garden Centres, having divested two, and they continue to thrive and develop. Only this year we completed a major extension project at Eastbourne and there are more plans in the pipeline."
---
"I expect Hillier to enjoy more success in the decades to come. It has every chance with the incredible teams and commitment behind it."
---
50 Years from Now
"I hope and expect Hillier to enjoy more success over the decades to come. It has every chance with the incredible teams and commitment behind it.
"I am the 4th generation of Hillier and the 5th are very actively involved in the business. With 17 grandchildren, there's a good chance there will be more generations of Hillier to come! This means we can continue to be a thriving family business, offering many people a working environment where they too can grow and experience their own successes."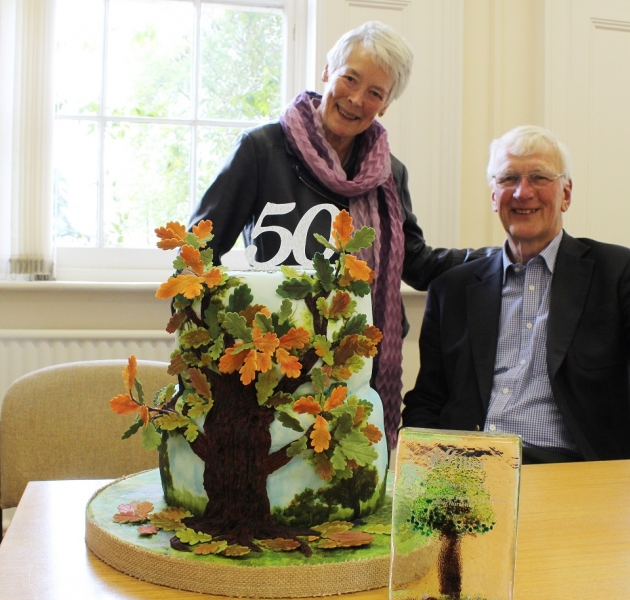 Robert Hillier, together with wife Jean, with a commemorative paperweight made from Isle of Wight glass and the celebratory cake created by Hillier team member Sueann
---
Proudest Achievements
> Being part of a company that has grown from a £500k business in 1967 that had a great name, but was not very profitable, to a prosperous business today of around £35million
> Growing the Amenity (trees) side of Hillier from a £100k business to the c. £4million business it is today. This department has been invaluable in carrying Hillier through some of the tough times in retail and grows absolutely top-quality trees
> Being awarded the contract for the supply of trees and plants for the London Olympic Parkland 2012 project. This was successfully delivered and remains fully open for the public to enjoy to this day
> Moving the Garden Centre / retail side of the business to a different level, with the help and support of many retail experts at Hillier over the years
> Being able to give a lot of people job opportunities and training through the continued success and growth of the company, with many going on to long careers at Hillier or finding work all over the world
---
My Top Three Plants
It is so hard to choose, but three plants come to mind that I have a particularly personal connection with.
Ceratostigma Willmottianum
I love the beautiful autumn bloom on this plant. It was a favourite of my father, Sir Harold Hillier, and it's a favourite of mine too.
Fagus sylvatica
I could easily pick three trees for this list, I think trees are magnificent. Beech trees I have a connection to – when I was given my Doctorate from Portsmouth University, the awarding Professor described me as like a Beech! There are also beautiful Beech-lined roads near me in Winchester, planted by my grandfather.
Cornus 'Porlock'
I love how this Dogwood variety offers four distinct seasons. You get spring flowers, turning to pink, followed by strawberry fruits in late summer and lovely autumn colour. A favourite all year round.