There are many benefits of planting in containers as opposed to in the ground. Quite simply, for those of us with limited beds and borders, container gardening means we can still achieve a living, thriving outdoor space, bringing colour to areas of concrete and stone.
Growing in containers requires some different considerations and care. Here are some tips on the what, where, when and how that will aid successful and inspiring container gardening.
View our collection of plants
---
Top Plants for Containers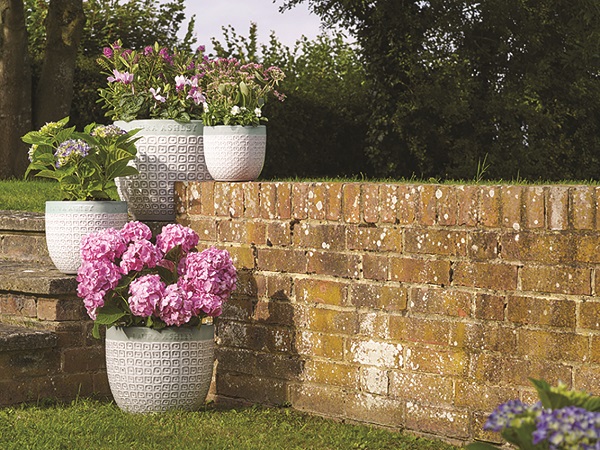 Potted hydrangeas
---
The traditional choice for container gardening is of course bedding plants. Quick to grow, in many colours and forms, they provide almost instant impact if you plant in late April or May. Choose an upright plant like a fuchsia or Cupressus 'Goldcrest' for the centrepiece and plant around with low-growing or trailing species like lobelia or calibrachoa (Million Bells).
Herbaceous perennials are a great choice, providing just as much colour and, if properly cared for, lasting year after year. But there's no reason not to take the next step – shrubs and even trees can all look great in containers so long as you pick a suitable one. Hydrangeas, compact roses, Acer palmatum varieties (Japanese maples), and viburnums are just some of the shrubs that happily grow in containers.
Remember that a container will restrict the growth of the roots, so ultimately restrict the size a shrub or tree will grow to.
Five Great Plants for Containers
1. Fuchsia
2. Cupressus 'Goldcrest'
3. Lobelia
4. Hydrangea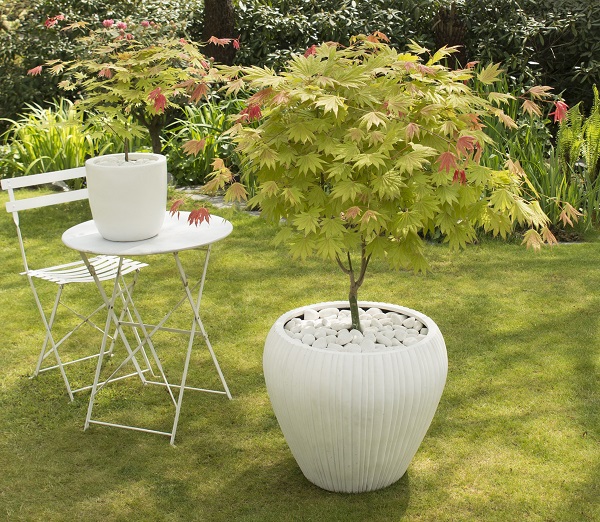 Acer palmatum 'Moonrise' in a container
---
Where to Position Containers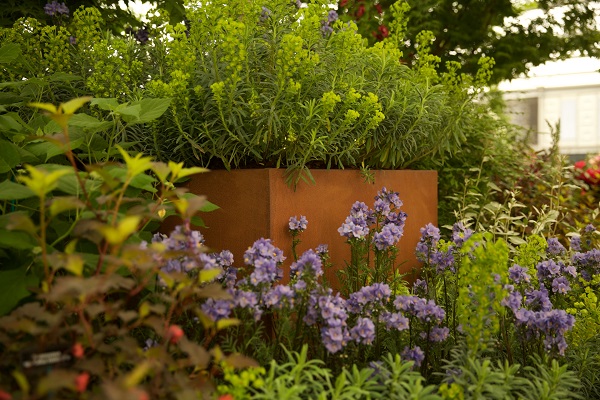 A striking corten steel container positioned in a colourful border within our 2018 RHS Chelsea Flower Show garden.
---
The most common place for containers is on a patio or other paved space, where it is particularly prominent. There are plenty of other places where containers can be positioned; try a pair of planted containers on either side of the front door, for example.
Planted containers can also make a fantastic feature within your flower beds, adding year-round interest even when your planting dies back in winter. With the wide variety of pots available, you could select pots to match the colour scheme of your planting, or choose an aged-looking container that will merge into your garden as if there for a thousand years! A single, large statement pot with a tree or large shrub can make a real impact in this way – underplant it carefully to blend the pot into the border.
If you want to create a real wow factor, group three or five complementary pots together. If you have a shady corner, try classic terracotta pots together with different ferns to bring life and movement. Don't be afraid to try a container tilted on its side to add quirky interest, or even broken containers artfully arranged – perfect for planting alpines.
Five Great Places for Containers
1. On your patio, as a specimen feature plant
2. As a matching pair to frame a door
3. Within your flower border, carefully underplanted
4. As an artistically arranged group, with complementary pot colours
5. Leading up the side of garden steps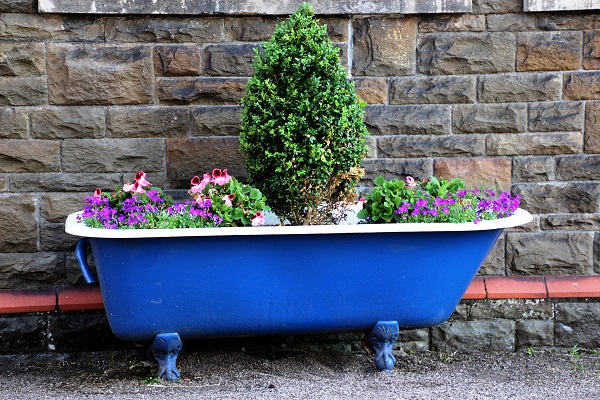 Almost anything can serve as a container, as long as it is clean and with sufficient drainage.
---
When to Plant Containers
Depending on your plant choices, you can plant containers any time of the year.
Late winter / spring
Early bedding such as primroses, polyanthus, pansies and violas combined with evergreens such as ivy and Cupressus 'Goldcrest' can give colour from February or even earlier in mild years.
Spring / summer
Traditional summer bedding takes over from May and will look good until the first frost at least.
Autumn
Ball chrysanthemums (or 'Garden Mums') provide flower power through the autumn along with cyclamen and a host of other autumn bedding plants, often giving colour with foliage and berry rather than flowers. Autumn heathers are great in pots too, carrying right through into the winter.
Spring bulbs are ideal for container planting. Plant these in the autumn and they will start to show their first signs of life in late winter before heralding the spring with a fanfare of colour. The earliest will be snowdrops and crocuses, followed by narcissi, alliums and then tulips in March and April. By planting multiple varieties in your containers, you can extend the flowering period.
---
Hillier Container Gardening Tips
Decent Container Drainage
Always put a decent layer of 'crocks' in the bottom of your containers to aid drainage. This could be broken bits of old pots, stones from your garden or horticultural gravel. Where drainage is poor, roots can become waterlogged, which can stop the plant from taking up nutrients well and can lead to disease. Raise pots and containers using bricks or pot feet to help drainage and deter slugs and snails. In the winter, a waterlogged pot can freeze, damaging the roots of your plants and potentially your pot too.
Feeding & Watering
Containers need to be well watered and the plants well fed. Even on a rainy day, check pots as they may still need watering. You can reduce watering in winter when plants are dormant. Incorporating some WaterGel in your potting compost will help retain moisture; it is great for hanging baskets. Use a liquid feed such as Miracle Gro once a week in the growing season and, for shrubs and perennials, refresh the top two or three inches of compost every year.
Lasagne Planting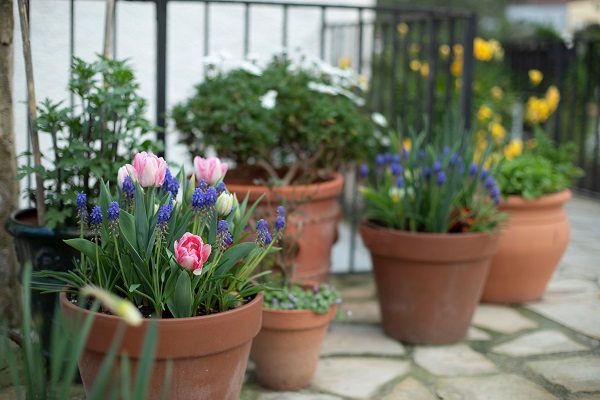 Spring bulbs using the lasagne planting technique
---
When planting bulbs, plant up in layers (sometimes called 'lasagne planting'). Which layer a bulb belongs in depends on its planting depth – always check the instructions on the packet and don't be afraid to plant more densely than suggested for a real hit of colour. Planting a few little autumn plants such as ivy, heuchera or ferns on top gives interest until the bulbs come up and they will push their way through no problem.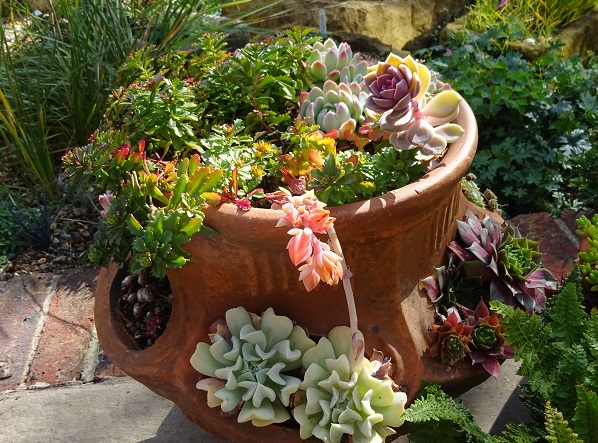 ---
Find a wide range of pots and containers plus quality seasonal plants at all Hillier Garden Centres.
---