Steve Harrison, Plant Area Manager at Hillier Garden Centre Newbury, is an expert in growing and caring for plants. But this year, a kindly neighbour has given him a piece of allotment and for the first time he is turning his hands to allotmenteering. He shares his efforts, triumphs and tribulations in a new 'allotment diaries' blog. Follow his progress.
---
No.1 New Beginnings | March 2021
"I'm feeling excited with some firsts – allotmenteering and blogging."
"I'm waiting for a half plot allotment of my own. In the meantime, a kind neighbour who had heard of my interest has offered me the use of some of her plot. She uses a 'no-dig' style of allotmenteering, which is gaining a large following.
"I was so excited to get going, that the first few days I spent at the plot in early March I was more or less camping out there! It was cold. Looking around at the rest of the plots it was so quiet. Just a few leeks, garlic and autumn-sown broad beans for company, all surrounded by numerous shaped bare veg beds."
The Pros and Cons of Raised Beds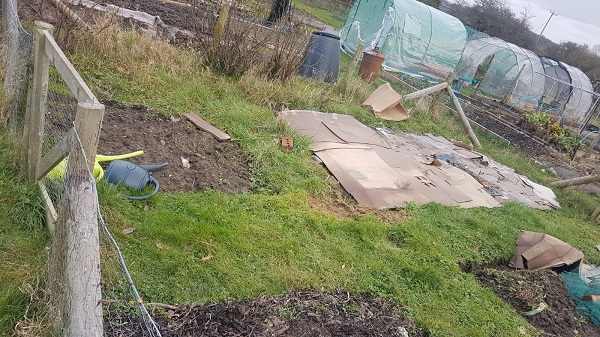 Preparation for new raised beds following a no-dig method
---
"My first step was to create half-raised beds, edging them with good old scaffolding-style planks. I say half because I only half filled them up with compost along with generous amounts of stable manure. I spent a number of days making these and there were quite a few fellow allotmenteers, or 'plotters' as I like to affectionately think of them, working away. There is also an air of quiet and tranquillity around – maybe it's the same at all allotments. As I was working, there was a song buzzing around in my head- Can You Dig It by the Mock Turtles – and the answer is almost certainly no you can't because it's a no-dig plot!"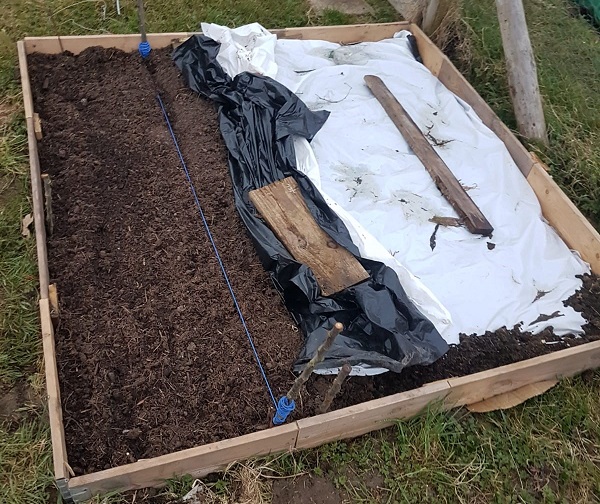 Creating new raised beds – before and after
---
"I caught up with a couple of the 'plotters' over the next few days to talk about the pros and cons of the raised beds I was making. The pro is that they are great to quickly warm up the soil, and are easy to look after but have a tendency to dry out in the summer leading to the crops being rather thirsty."
Carrots, Courgettes & Compost
"Once my first raised bed was edged, filled with compost and well raked in then I covered it with some old polythene to help warm up the soil and stop any more rain getting in – this will make it easier to work when the time comes to sow seeds etc.
"I'm aiming to grow a range of early salad crops in this bed, before a main planting of butternut squash and courgettes. These latter crops are rather nutrient-hungry, hence the generous amounts of stable manure. It's commonly advised not to plant carrots with soil recently enriched with stable manure. The plotters around have told me they have had good results with doing just that – besides, with the timescale of my cropping I'm aiming for small salad carrots like Chantenay which won't reach any great depth. I could be wrong … you will find out the consequences in future blogs!
"In an ideal world, polythene would cover the soil for a month or so, to properly warm up. As it's a new plot and I'm a bit impatient to get going, I've gone ahead and sown a few thin rows of rocket and carrots. Would you believe, a few weeks later there are already the first few early dark leaves of rocket poking their heads through the ground in straight lines. I know with nature, with almost no help, these things happen. But with my fair hands, I've raked the soil to a fine tilth, edged the drill lines with the back of a rake, thinly sown the seeds 'as it says on the back of the packet', gently covered the seeds with the rake, watered them in and labelled them. So it's great to see the results of this work already.
"The plotters are all starting to tend the soil and you hear all the hard work going into the plot behind the scene, as I furtively look around and listen to see what they are doing. I've noticed various seeds being planted in greenhouses, propagators and on window sills. Not wanting to be left out, I thought I'd start with my broad beans on the windowsill too.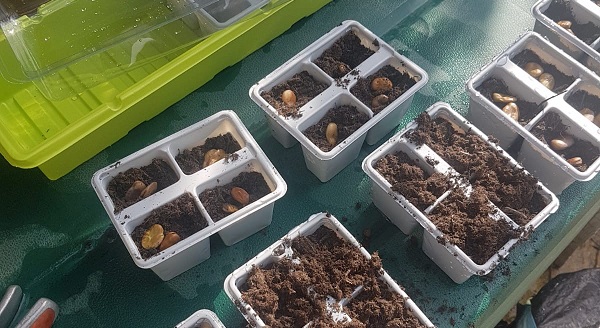 Broad beans planted into individual cell trays and positioned on a warm windowsill
---
"I'm off now to look up more info on how to 'no-dig' garden for the next month. Happy seed sowing!"
Steve from Hillier Garden Centre Newbury