Potatoes are one of the most popular vegetables grown in the UK and for good reason. The humble potato is a staple food and a valuable addition to so many meals. And, what could be more satisfying than heading to the bottom of your own garden, digging up your lovingly grown potatoes, washing them, popping them in a pan and having them for dinner?
If you are growing your own, one of the first things to decide is which variety you want to grow. Here we look at the differences between crops, from First Earlies to Main Crop, as well as offering some tempting recipes, inspired by our Hillier restaurants.
If you want advice on growing, read our article 'How to grow your own potatoes'.
---
Crop Types
Seed potatoes are available in a number of crop types: First Earlies, Second Earlies, Main Crop and we also separate out Salad varieties. The crop type you select, in combination with the specific variety, determines when you should plant, harvest and what sort of potato you will get – from small waxy new potatoes to large, floury ones.
---
First Earlies
Plant: February – April | Harvest: May – June
These are generally the best choice if you want smaller, new potatoes. They are the first to harvest and will be ready around 10-12 weeks from their planting date.
Varieties: 
Swift


Swift is the earliest harvesting variety of all, producing good yields. The smooth, cream-skinned oval tubers have waxy-textured white flesh that gives a sweet taste.
Pentland Javelin


This high-yielding variety produces smooth, cream-skinned oval tubers with a firm, waxy-textured cream flesh that gives a mild flavour.
Rocket

An extremely early-yielding variety. It produces smooth, white-skinned, round uniformed tubers with a firm, waxy textured white flesh. This variety is ideal for Salads.
Casablanca

The first early variety Casablanca is best enjoyed boiled, to capture the summer new potato flavour.
---
Second Earlies
Plant: March – May | Harvest: July – August
These are also typically smaller, new potato varieties – but ones that can be planted a little later than the first earlies. They are ready to harvest 12-13 weeks after planting.
Key Varieties: 
Maris Peer


This variety produces uniformly cream-skinned oval tubers with a firm, creamy flesh, giving the potatoes a deliciously rich flavour. It is ideal for salads and is a variety that can happily be grown in containers.
Wilja


Wilja is a high-yielding variety, producing rough yellow-skinned long oval tubers, with a waxy but floury-textured light yellow flesh.
---
Main Crop
Plant: March – April | Harvest: July – October
Main Crop varieties usually produce larger potatoes. These big potatoes, several of which are real household names, are often great for baking and roasting. The downside of Main Crop potatoes is that they take up more space in the garden.
Key Varieties: 
Desiree

Desiree is a high-yielding and early bulking variety that is very versatile, delicious boiled, steamed, mashed or roasted. It produces long, red-skinned tubers with a creamy, light-yellow, floury flesh that has a distinctive flavour.
King Edward


This potato variety produces numerous tubers per plant. The oval tubers are long, smooth and cream-skinned with red eyes. The floury, cream flesh gives rise to a strong, aromatic flavour.
Maris Piper


A high yielding, good all-rounder that is also suitable for storage. It produces cream skinned oval tubers with a floury, textured cream flesh and has a mild flavour.
Picasso

A great-tasting variety with good disease resistance. Delicious boiled, roasted, mashed or baked.
Cara

A maincrop variety that is especially delicious as a baked potato.
---
Salad
Plant: March – May | Harvest: July – September
Salad varieties tend to have firm, waxy flesh and delicious flavours. This makes them the perfect choice for a potato salad or other dish where the simple whole potato is the star.
Key Variety
Charlotte

This top-rated variety produces uniform, long, smooth, cream-skinned tubers. It has waxy, fresh-tasting cream flesh that holds its shape well when cooked. This classic salad potato has the RHS Award of Garden Merit.
---
Good Varieties for Beginners
We often get asked which varieties are good for beginners to try. We recommend choosing some of the more reliable earlies, such as the first early Pentland Javelin and second early Charlotte. By planting them together, the first will be ready after 2.5 months and the second 1 month later. Some other varieties often praised for being easy to grow or high-yielding are Desiree, Kestrel and Lady Christl.
---
Recipe Inspiration
If you are still struggling to make a choice, browse through our potato recipe selection. Inspired by the development team at our Hillier restaurants, we've picked some of the perfect ways to use some of our seed potato varieties
First Early | Pentland Javelin
A high-yielding variety. A good potato for a variety of uses, including roasting, as chips and as a jacket potato.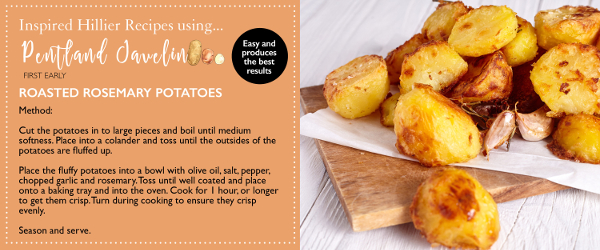 First Early | Swift
Swift by name and swift by harvest; this is the earliest harvesting variety of all. A versatile variety for boiling, as a salad potato, for roasting and more.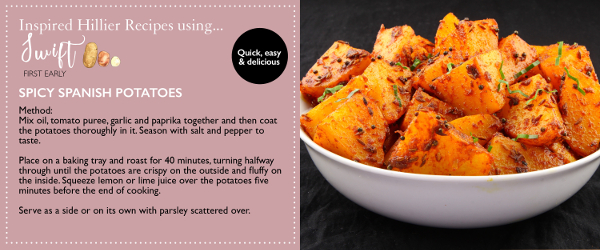 Second Early | Maris Peer
A popular, high-yielding, good all-rounder potato variety. Use as a jacket potato, for mash, boiled, steamed, in salads and more.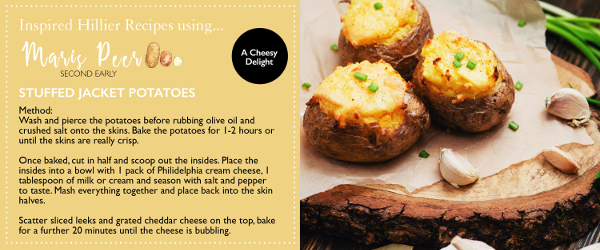 Second Early | Wilja
A versatile and great-tasting potato – said to really taste of 'potato'. Produces a decent sized (but not always huge) yield. Holds its shape well when boiled. Good to boil, mash, roast or bake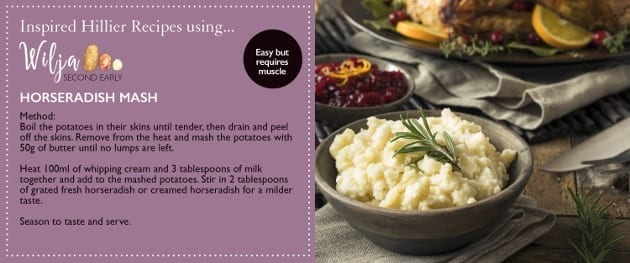 Did You Know? Another Dutch origin potato, which means the correct pronunciation of the name is technically 'Wil-ya'
Main Crop | Desiree
Instantly recognisable with their red skin and yellow flesh, Desiree are extremely popular potatoes. They have a firm, creamy flesh and are extremely versatile, although not good as a salad potato. They can be grown as a normal Main Crop variety, or, you can choose to keep them in the ground longer and get larger potatoes as a result. Good to mash, chip, roast or bake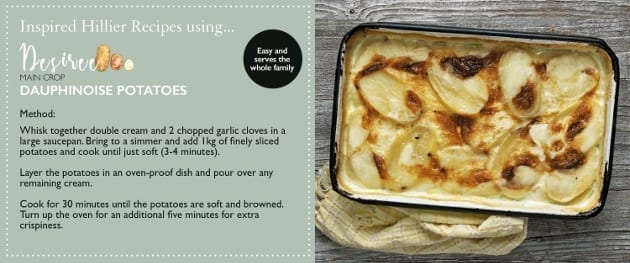 Did You Know? Despite the French-sounding name, this potato originated in the Netherlands in 1962
Main Crop | Maris Piper 
Perhaps the most famous variety of all, you can find Maris Piper in any supermarket with its floury texture and creamy-white flesh. This arguably makes it less attractive to grow yourself, but it is a fantastic all-rounder for recipes and stores well. Good to boil, chip, roast or bake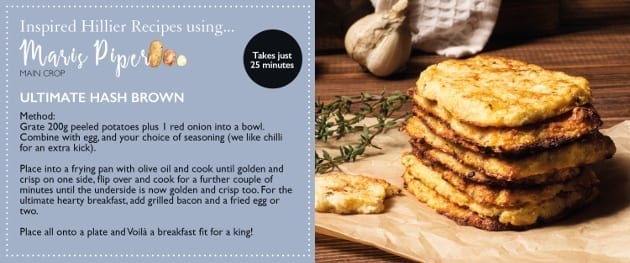 Did You Know? Maris Piper potatoes were named after Maris Lane. This was the address in Cambridge, UK where the Plant Breeding Institute it originated from was based. Piper was a word chosen at random, as it began with 'p', for potato. The Maris Peer variety originated from the same location with the same reasons behind the name.
Salad | Charlotte
The best known of all the salad potatoes is Charlotte – so much so, that many recipes specifically suggest using them. They are slightly waxy with yellow flesh and hold their shape fantastically when boiled. They taste wonderful eaten both hot and cold. In terms of planting time, it fits with the 'second earlies'. Good to boil, roast or use in salads
Did You Know? The French-origin Charlotte may sound like it has a long history, but was in fact introduced in 1981 for the early salad market
Salad | Pink Fir Apple 
Pink Fir Apple is an old, French variety with a fantastic flavour and texture. It's a distinctive looking variety, long and knobbled with pink skin. The taste is deliciously nutty, making it fantastic as a salad potato and also for boiling in a range of recipes. In terms of planting time, this is a late harvesting 'main crop', which also stores well. Good to boil or use in salads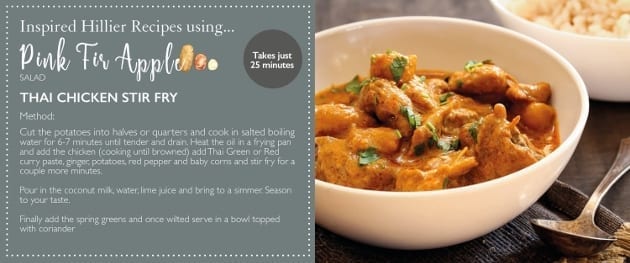 Did You Know? Introduced to the UK from France in 1850, Pink Fir Apple is one of the oldest varieties still in commercial production.
---
Find a range of seed potatoes available at Hillier Garden Centres from January
---