The loss of bee populations in the UK has, unfortunately, been well documented. A 2019 survey of records going back to the 1980's found that about 33 per cent of the 353 species studied had declined.
While some of the most common pollinating species seem to be faring better in terms of population stability, wild bees and rarer species in particular are struggling – bad news for those who care about wildlife and biodiversity.
As gardeners, we can all do our bit to ensure our gardens are attractive to bees. Our friends at Westland offer some valuable expert advice here.
---
The Best Plants for Bees
There is a huge choice of brilliant flower varieties when it comes to choosing plants that are most loved by bees:
Best for a large variety of bees: shallow blossom plants, including daisies, zinnias and asters. Blue, yellow and most of all purple plants are thought to be the most appealing. Erysimum 'Bowles's Mauve', for example, is a fantastic, vivid purple, long-flowering plant.

Best for long-tongued bee varieties: plants in the mint family; nepeta, salvia, oregano, mint and lavender along with flowers with hidden nectar such as larkspur and snapdragons
Bees are at their most active from spring into early autumn. Plant a mixture of flowers that offer a source of food throughout the seasons.
Spring Plants for Bees
Bluebells, hellebores, myosotis (forget-me-nots), crocuses, muscari (grape hyacinth), mahonia japonica and rhododendrons are all excellent spring plants for bees.
Summer Plants for Bees
Alcea (hollyhock), antirrhinum (snapdragon), aquilegia, aster, delphinium, digitalis (foxgloves), fuchsia, geraniums, heather and lavender are just some of the many good summer plants for bees.
Autumn Plants for Bees
Late-flowering nectar plants that are great for bees include abelia, Anemone Sylvestris, dahlias, salvias, sedum and Verbena bonariensis
Winter Plants for Bees
With increasingly milder winters, it is getting more usual to see the odd bee out and about, so do think about suitable winter plants too. Winter flowering clematis, Erica carnea (winter heather), Hedera helix (common ivy) Lonicera fragrantissima (winter honeysuckle) and mahonia are all great examples.
---
Creating a Bee Habitat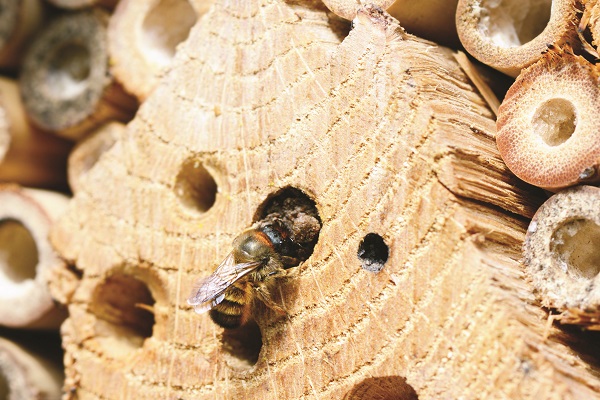 Growing bee-friendly plants all year round is one way to support bee populations. Another is to create a home for bees in your garden. There are many ways you could do this:
Install a Bee Box
Adding a ready-made bee box into your garden is an incredibly simple way to create a home for bees in your garden. A bee box can offer great nesting opportunities for solitary bees.
Create a Deadwood Habitat
Pile a number of logs or wooden posts horizontally in a sunny spot in the garden. Drills holes of differing depths into the wood to create a nesting spot for the bees, ranging from 2-3mm across to attract smaller species up to 8-10mm.
Add a Pond
Bees need water as well as nectar for survival. If you have some space, a pond is a safe source of drinking water for bees, along with the other wildlife it attracts and supports.
---
Your Bee Toolkit
Bee-friendly plants (see above)

Bee-friendly seed mixes, e.g. Nature's Haven Wildflower Seed

Bee habitats: Bee Bar / Bee Nester / Bee Skep / Bee House / Bee Tube (find a range of bee habitats in the wildlife sections of all Hillier Garden Centres)