A well-planned herbaceous border can provide constant blooms from March to October and beyond. The trick is to plant a range of perennials from early to later flowering that burst in turn, like a well-orchestrated symphony.
When it comes to planting your herbaceous borders, a bit of planning can make all the difference. When we plant in spring, we are planting for immediate effect and also with an eye on the future. By planting a range of herbaceous perennials, you can enjoy blooms all the way to October or beyond, frosts permitting.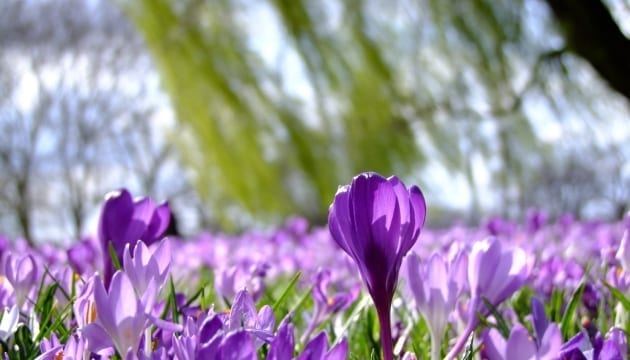 Image: A vibrant sea of Crocus, signalling the start of spring
---
First Flowers of Spring
Early spring flowers, such as Crocus, Daffodils and Hyacinths, are often planted in borders as bulbs in the autumn. If you missed this, or want to add more life, you can find container-grown versions in early spring to get you going straight away. Spring-flowering Hellebores are another favourite. Helleborus 'Madame Lemonnier' has glossy deep-green foliage and nodding, dusky-pink flowers which really stand out, bringing much needed early spring colour.
The massed purple blooms of Campanula 'Catharina' show themselves in April and Peonies and Lupins start to push through the soil, ready to burst into flower in May. Aquilegia – also known as 'Granny's Bonnet' – are another great choice, with a long flowering period and attractive seed heads that still look good when the flower is over.
Image: the bright summer colours of Rudbeckia 'Little Goldstar'
---
Summer Colour
As we move into June, the colour really starts to get going. The frothy white, pink and red of Astilbe, soft blue and purple of Nepeta and Veronica, striking yellow and orange of Coreopsis, Geum and Gaillardia.
By now, later flowering perennials are well on their way. Salvia, Delphinium and Achillea appear in July and later Rudbeckia, Gaura and Echinacea will come into their own, with many flowering well into the autumn. Rudbeckia 'Little Goldstar' is a fantastic plant – really floriferous with bright yellow, daisy-like flowers, attractive foliage and a tight compact habit.
Finally, in August and September, the border is dominated by Asters, Sedum and late flowering Anemones.
---
Favourite Plants by Flowering Month
With so many fantastic herbaceous perennial plants available, your selection is a question of personal taste, with a mind to choosing blooms with different flowering times. Some of our favourites, by month they typically first flower, are:
March Crocus, Daffodils, Hyacinths, spring-flowering Helleborus
April Campanula, Peonies
May Aquilegia, Lupins
June Astilbe, Nepeta, Veronica, Coreopsis, Geum, Gaillardia
July Salvia, Delphinium, Achillea, Rudbeckia, Gaura, Echinacea
August Asters, Sedum, late-flowering Anemones.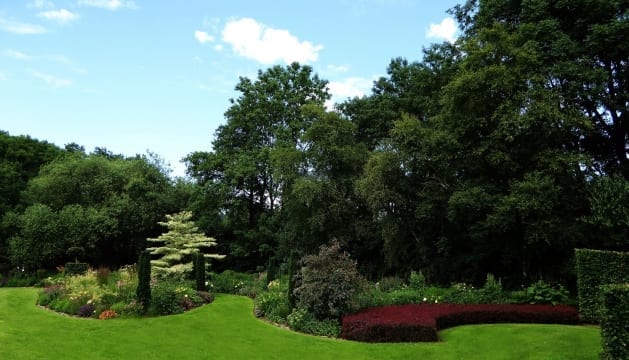 Image: Ornamental garden borders showing variety in height plus clever use of topiary spikes
---
Planting for Structure
A herbaceous border can easily end up one-dimensional. All of these lovely flowers need some structure to show them off at their best.
Position tall plants, such as Verbena bonariensis, Crocosmia 'Lucifer', Delphinium and Foxgloves at the back of your beds, place mid-height varieties such as Lychnis 'Jenny', Sidalcea 'Elsie Heugh' and Peonies in front of them and the low growers such as Geranium, Erigeron 'Kew Profusion' and Dianthus at the front of the border. You do need a decent sized border to fit this range of plants in – at least four or five feet of space.
Plant supports are very useful for any taller perennials, and also for those with heavy flowers that tend to bend the stems over – such as Paeonies. Plant supports can be practical and designed to blend into the garden background or more decorative such as Poppy Head stakes or Shepherd's Crooks.
Another way to bring height and structure to the border is with obelisks for climbers such as Clematis or annuals such as Sweet Peas.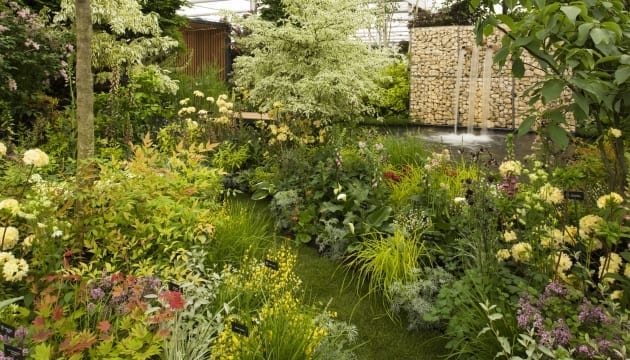 Image: Bright informal borders as part of Hillier's gold-medal winning Chelsea Flower Show 2016 garden
---
Some perennial plants offer amazing structural foliage as well as flower colour. Acanthus spinosus, also known as 'Bear's Breeches', has large, deeply-divided, spiny leaves. Ligularia 'Desdemona' boasts clumps of rounded dark green leaves, red-purple on the underside. Cynara cardunculus, the cardoon, has tall stems with striking silver-grey thistle-like foliage.
Shrubs within a herbaceous border can also provide great structure, as well as year-round interest when perennials lie dormant. Roses and Lavender are classic choices, but a juxtaposition of formal and informal can work superbly.
Try clipped topiary balls or pyramids, perhaps in containers placed in the border, as the backdrop for your less formal herbaceous planting. A great topiary plant is Ilex crenata 'Dark Green'. It is an alternative to traditional Box, which sadly suffers from box blight. It is easy to clip into shape, with dense, glossy, dark green foliage. You may think topiary needs a lot of maintenance, but if you plant ready-clipped shapes it just needs a once or twice-yearly trim with a pair of shears.