The English Rose is undoubtedly one of our most iconic garden plants. They are also incredibly versatile plants that suit a wide range of design styles and planting schemes, from small spaces to expansive gardens. Whether you opt for traditional cottage charm or a more contemporary setting, a rose garden can provide a great intimate and sensory space to sit, relax and spend time.
With inspiration from the experts at world-famous breeder, David Austin Roses, we look at how to design your own rose garden, considering the right varieties for your garden setting and looking at perfect companion plants to mix together in beds and borders.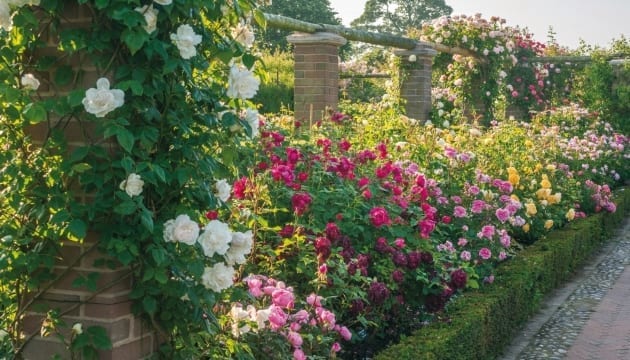 The Long Garden at David Austin Roses. Demonstrating that simplicity is often the key and the spectacular results of planting just a few varieties of English Roses together.
---
Creating a Rose Garden
When creating your rose garden, it is important to select roses that suit your space and preferred style – including combinations that you like.
Will you be planting in containers or into borders?
Your selection will want to take account of rose type (climbers, ramblers, standards and shrub roses), your preferred colour palette, sun or shade exposure where planting and you may also want to consider your preferred scent (see below for a guide to rose scents).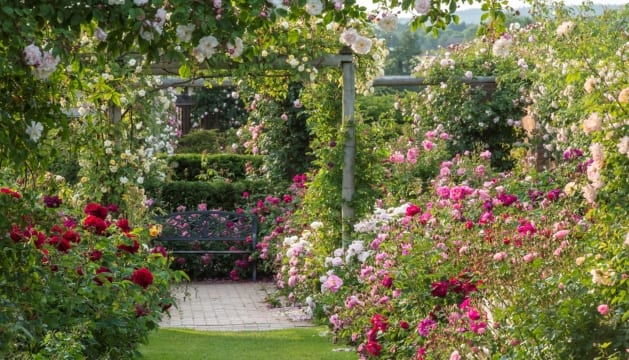 The Long Garden at David Austin Roses. The bench, with roses to the side and ramblers above, creates a peaceful focal point within the garden.
---
Climbers and ramblers
English Roses often make the very best climbing roses. They are vigorous, relatively easy to manage and can flower all the way to the base of the plant. They often produce multiple stems, making it easier to fan them against a wall, trellis or fence.
Rosa 'The Generous Gardener' is a particularly good climber for North-facing walls. It flowers from March through to September and produces large red rosehips. Rosa 'Bathsheba', introduced in 2016, is also an excellent climber that can grow to 10ft and will provide repeat flowering. Rosa 'The Pilgrim' is a great example of a versatile rose that can be trained to spiral around a pillar, grown on a north-facing wall or equally trained against an obelisk in the border.
Both climbers and ramblers can be used to create show-stopping displays. The key is picking the right variety for your space. Ramblers typically offer smaller flowers than climbers, exhibit a more 'scrambling' habit, grow higher and tend to only flower once a season. A notable exception is Rosa 'Phyllis Bide' that repeat flowers and, as a result, does not grow too tall, making it useful for small spaces. Rosa 'Malvern Hills' is also a repeat-flowering variety but will grow to 15ft, easily covering an arch or doorway.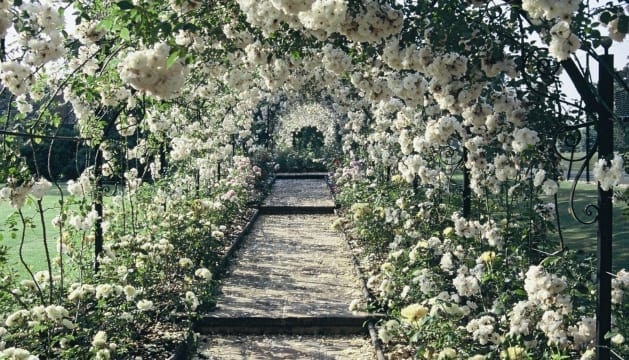 Rosa Adelaide d'Orleans grown over arches.
---
The creamy pink-white Rosa 'Adelaide d'Orleans' is an ideal variety for arches, growing to 20ft, but does not repeat flower.
Standard Roses in the Lion Garden at David Austin Roses Garden
---
Standard Roses
Standard roses create a formal focal point in borders, or can equally be used as an alternative to bay trees either side of a door. Standard roses repeat flower through summer, providing long-lasting scent to the garden.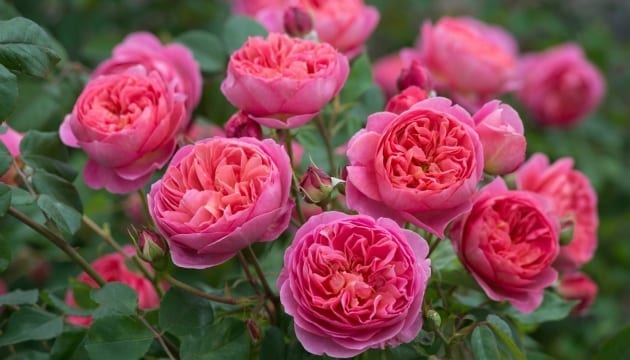 The myrrh-scented Rosa 'Boscabel', a striking shrub rose.
---
Shrub Roses
Shrub roses have natural growth and are ideal in traditional rose borders or in combination with other plants in mixed borders. Select more compact varieties for rose beds, or train taller varieties against a fence or post. English roses as shrubs often do very well in partially shady spots.
Rosa 'Boscabel' is a show-stopping, medium-sized variety with salmon-pink blooms. A David Austin Roses favourite shrub is Rosa 'Olivia Rose Austin', with soft pink rosettes and a fruity fragrance and foliage that frames the flowers. For a dramatic appearance, Rosa 'Munstead Wood' offers dark crimson blooms and a strong Old Rose fragrance, forming a bushy broad shrub.
The apricot blooms of Rosa 'Grace' grown in a pot
---
Roses for Pots and Containers
Rose gardens can be created through planting in large pots and containers just as readily as by border planting. This is particularly helpful if you have a small garden, or for balconies or to frame a door.
When planting roses in pots and containers, it is best to only plant one rose per pot and allow it to fill the space over time. Most varieties of English Rose can be grown in a container, even climbers.
Roses fare best with planted in large containers that leave room to grow – we recommend a 40-litre pot size, which is the size of a half barrel. They will need extra feeding and watering and a compost mix with added John Innes for them to thrive.
A standard rose in a container, which is tall and elegant with blooms at the top, will require a good quality stake otherwise it is likely to blow over in the wind and snap.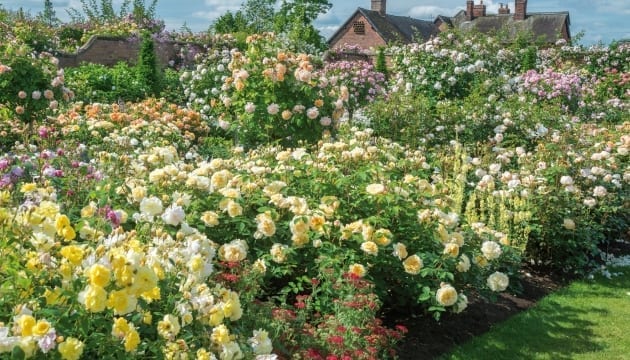 The Lion Garden at David Austin Roses, Shropshire. Filled with English Roses – shrubs, climbers and standards – planted with companion, herbaceous plants to create a tapestry of colour and texture.
---
Companion Planting
There are many options for plants that mix fantastically with Roses, adding both colour and texture to your garden.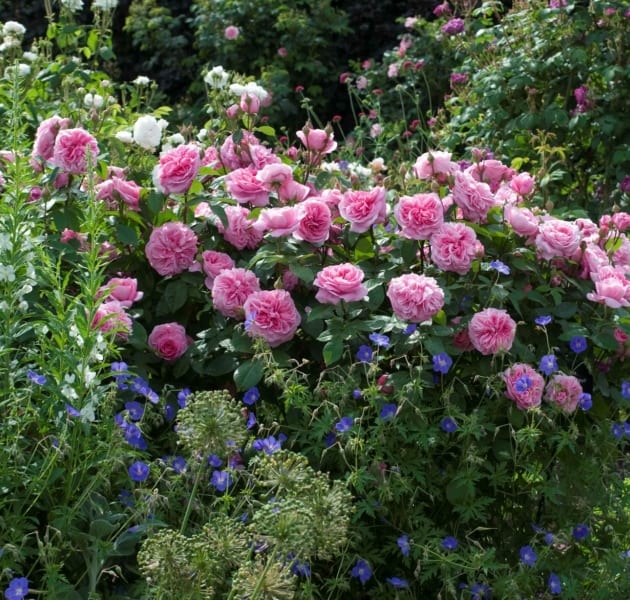 Rosa 'Gertrude Jekyll' with the brilliant blue of Geranium 'Brookside'.
---
A classic colour combination for rose planting is pink and blue. Blue Geranium varieties, Lavender, Nepeta or Salvias all complement bright pink rose varieties beautifully.
Softer blue plants, like Campanula, also create a lovely softening effect when planted with vibrant yellow roses, like Rosa 'Golden Celebration'.
If your preference is for pastel shades, choose a variety like Rosa 'The Mayflower' and pair with a soft blue Penstemon.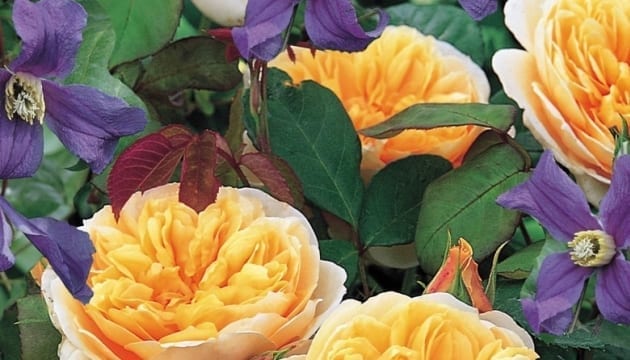 Climbing Rose varieties together with summer-flowering Clematis
---
If you are planting Climbing Rose varieties, intertwine with summer-flowering Clematis for complementary flashes of colour and form.
Ornamental grasses, such as the soft green-blue of Festuca glauca 'Blaufuchs' or the striking black of Ophiopogon Nigrescens, also lend a dramatic effect to borders when combined with roses.
---
Rose Scents
English roses offer the gardener an array of fragrances, often combining fruity, floral, musky or spicy notes. Warm, humid weather often intensifies the fragrance, but a flower can also smell different in the morning, at midday and in the evening. Also, individuals have slightly different perceptions of fragrance – what is rich to one person may hardly be perceived by another.
David Austin Roses classifies rose scents into five distinct groups:
Myrrh – An aromatic liquorice warmth of sweet anise. The scent is now almost exclusively confined to the English Roses, but can also be found in Lilac and hawthorn. A delightful example is Rosa 'Wollerton Old Hall'.
Fruity – Giving off hints of apple, pear, raspberry, strawberry and apricot. Delicious fruity examples are Rosa 'Lady Emma Hamilton' and Rosa 'Jubilee Celebration'.
Musk – The source of this scent in a rose is the stamens. A lovely Musk rose is Rosa 'The Generous Gardener'.
Old Rose – This is a truly classic rose scent, found in varieties such as Rosa 'Gertrude Jekyll', Rosa 'Munstead Wood' and Rosa 'Harlow Carr'.
Tea Rose – Often compared to opening a packet of fresh China Tea, softer notes begin to appear after a few days. Yellow and apricot rose varieties often exhibit the best tea scent, such as Rosa 'Port Sunlight', Rosa 'Golden Celebration' and Rosa 'Princess Alexandra of Kent'.
---
Caring for English Roses
Once your rose garden is in place, there are a few simple rose care rules that can make all the difference to the success of your plants.
1. Prune for the first time between the 2nd week of January and Valentines Day. Don't wait until spring as you will waste all the hardy growth. Prune by one third.
2. Also give your roses a feed during this time period
3. Deadhead after the first flowering and by Midsummer's Day (end June), otherwise rosehips will form and you won't see a second flush of flowers.
4. Make sure you have fed again to stimulate the second flowering.