Char-Broil barbecues are available now from Hillier Garden Centres, offering a wide range of flexible and innovative grills to make barbecue cooking simple, fun and delicious. 
---

The more time we spend at home, the more we're looking at ways to bring variety and flavour into our mealtimes. Life can be complicated enough, but – thanks to Char-Broil – barbecuing doesn't have to be! Char-Broil's cleverly-designed range of BBQ grills makes it easier than ever to integrate the juicy flavour and taste of BBQ into your weekly menu plans.
Barbecue Innovators
Char-Broil started revolutionising the world of barbecuing back in the 1940's when it introduced the first charcoal grill onto the US market. Since then the brand has pursued one goal: developing appliances that are as unique, innovative and simple today as they were then.
Almost 60 years after introducing the first charcoal grill, Char-Broil debuted another innovation every bit as exciting: the TRU-Infrared™ Cooking System. This system – found in the Big Easy, Kettleman and All-Star models – delivers even heat distribution, juicier food, higher temperatures and zero flare-ups for restaurant-quality results every time.
A Grill To Suit You
Char-Broil offers barbecue grills to suit every type of barbecue; from professional grills to hybrid grills to smokers. Char-Broil also offers a comprehensive range of barbecue accessories, including top-quality cooking and cleaning utensils and storage solutions.
---
Key Char-Broil Barbecue Models
The great range of Char-Broil barbecues at Hillier Garden Centres includes these popular models.
Char-Broil Big Easy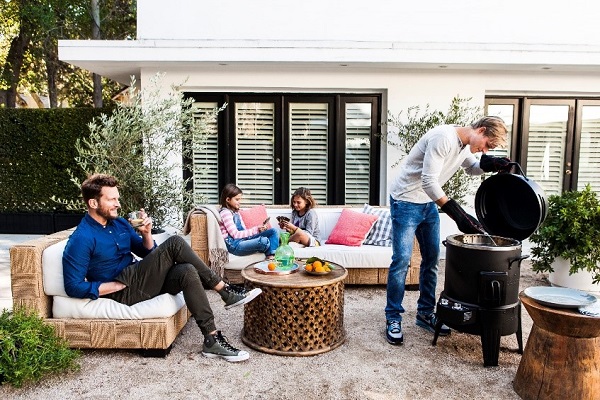 Key Benefits:
Smoker, roaster and grill all in one
Char-Broil TRU-Infrared cooking technology
A perfect all-round barbecue
Capacity to cook large roast joints of meat
Meat thermometer included
The Char-Broil Big Easy® combines a smoker, roaster, and grill all in one space-saving package. Equipped with TRU-Infrared™ cooking technology, The Big Easy radiates heat that helps lock in juices.
The Big Easy is a perfect all-rounder for barbecue beginners or experts, and is as easy to use as its name promises. For big meals with family and friends, it has the capacity to cook up to 11kg of poultry and vegetables. Choose to roast joints of meat in the basket inserts, or hang spare ribs on four integrated stainless steel hooks and roast until they are crisp and juicy. For smaller parties, the unique grill on top allows for juicy steaks, king prawns and vegetables to be classically seared to perfection.
The Big Easy also comes with a pull-out smoker box which, if filled with woodchips, creates a rustic smoked aroma with varying degrees of intensity.
A meat thermometer supplied with the product indicates when the meat has reached the perfect temperature. And thanks to the TRU-Infrared cooking system, the Big Easy offers juicer results, even heat distribution, precise cooking control and fast cooking times.
---
Char-Broil Kettleman™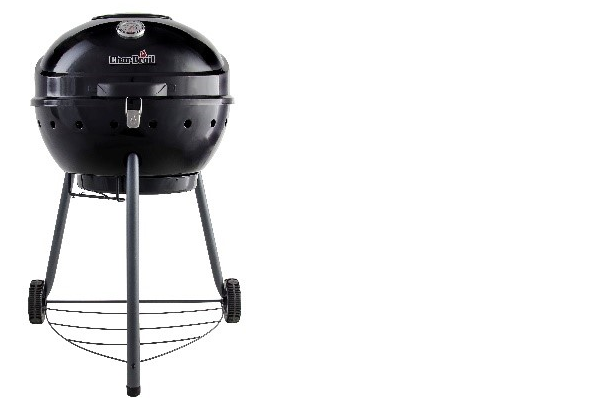 Key Benefits:
Efficient charcoal barbecue
Char-Broil TRU-Infrared cooking technology
Porcelain no-fall-through grill for cooking even small items
Temperature control via super-size vents and lid-mounted thermometer
Barbecue as creatively as you like
2,323cm² cooking area
The Kettleman allows for flexible control of air circulation to your cooking via supersize vents and the lid-mounted thermometer helps your monitor exactly what's happening inside, allowing you to adjust the vents to the optimum temperature.
Not just a kettle barbecue; the Kettleman™ from Char-Broil incorporates the innovative, patented TRU-Infrared technology to the grill ensuring juicier results and even distribution of heat without messy flare-ups – all this while using just two handfuls of charcoal.
The porcelain no-fall-through grill also means cooking smaller items, such as prawns or asparagus, is much simpler without risk of them falling through. And, with 2,323cm² you have a great deal of space to play with!
---
Char-Broil Performance 3500 Charcoal BBQ

Key Benefits:
Charcoal barbecue
Lid-mounted temperature gauge
Vents open and close to control the grill temperature
Warming rack to keep cooked food warm, toast bread or use as an indirect cooking surface
Side shelf for barbecue tools / as an extra workspace
Clean out door for easy cleaning
Big wheels for easy movement around your patio
The Char-Broil Performance 3500 makes the most of traditional charcoal barbecuing while introducing several innovative features to ensure you have the best outdoor dining experience.
The unique cooking system ensures that your grill operates really efficiently with minimal wasted energy, and is designed to improve performance while guaranteeing the highest quality food. You'll find that your charcoal burns more efficiently and the temperature is far easier to control, this naturally leads to much more accurate cooking times and tastier results.
A temperature gauge is fitted to the hood and the fire pan is lifted or lowered externally to achieve different height settings. When grilling at a high temperature for some time, there's a side valve that introduces maximum airflow.
Food preparation is helped by two shelves and, with a removable charcoal tray, every surface is designed to be easily cleaned. For storage, the BBQ is fitted with wheels and can be quickly moved out of the way until required again.