Steve Harrison, Plant Area Manager at Hillier Garden Centre Newbury, is an expert in growing and caring for plants. But this year, a kindly neighbour has given him a piece of allotment and for the first time he is turning his hands to allotmenteering. In the third installment, Steve battles with continued inclement weather, hungry slugs and the demands of the busy season.
---
No.3 Slugs & Showers | May 2021
"You don't need me to say it's been a strange old month, gardening-wise. It started cold, with lots of natural irrigation. My plants were all planted out and nothing grew, seemingly not even a leaf.
"This led to a few weeks of neglect in the plot as there was nothing to do and no incentive to put fresh plants out – I would have needed to immediately cover them and I was busy carefully covering bedding plants and vegetable packs at work, I felt I'd had my fill!
"I did attempt planting out a pack of lettuce around the beds, but only a few survived. A couple in the raised beds fell foul to a slug party – I found three of them tucking in with great relish to one of the remaining ones. I think the rocket nearby was the starter of the banquet, as that took a chomping as well, with the carrots as a side order I presume!"
"At least my first sowing of broad beans is growing well and even started to flower – my first stages of crop success!"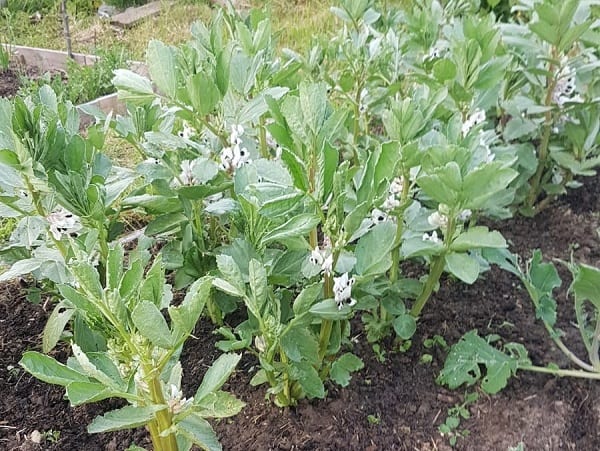 Broad beans in flower
---
Progress Under Cover
"I was excited to see the progress of the fleece tunnel, with the plants lovely and cosy under the blanket of white, along with the added protection from the birds. This is proving a great growing environment to really push the plants along.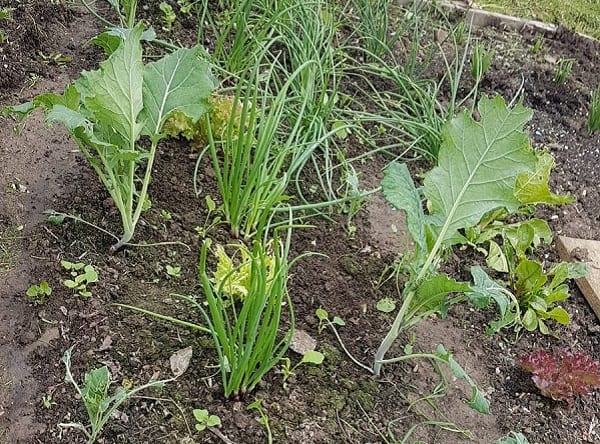 A feast for slugs pt 2
---
"My joy quickly turned to horror when I lifted one end of the tunnel to see slug party two. More lettuce had been eaten to well beyond recovery and the purple sprouting broccoli was eaten to the bare veins of the stems almost all the way up the stems. The only plants that have flourished were the red-stemmed spring onions which did show a positive benefit of the fleece."
"I initially took the little 'greenhouses' off the celery. But, cautious about them being eaten, I've put them back on and will deal with just showing steady progress and keep up the watering."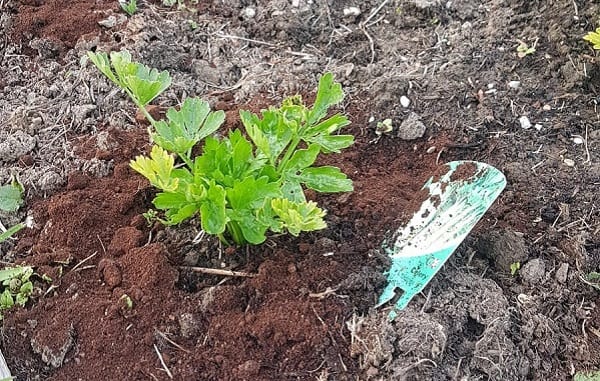 Celery showing good signs of growth before being put back under their greenhouses, complete with protective covering of coffee grounds to deter slugs
---
Almost Has Beans
"At the start of the season, I had carefully noted the ideal sowing times for the seeds I collected, bought and swapped with friends. Somehow, though, I almost missed planting the French beans – both green and purple pods.
"In order to fill up my propagator, alongside the beans I added butternut squash and some spare purple Sprouting broccoli as a reserve crop.
"I followed the packet instructions to the letter – they are there for a reason! – and soon the French beans started to show great promise. I found when planting two types of seeds in the same tray that one was much further ahead than the squash, which was reluctant to show any seed leaves at all for ages and the broccoli well went leggy and weedy looking. So much for the reserve crop!"
"In later spring, it really does all start to happen. Work is busy, with new customers and fresh plants arriving by the trolley daily, the garden needs TLC and now the allotment is starting to show signs of growth. Unfortunately, this meant I managed to neglect my beans. I placed them outside on a warm day (one of the few in the month!) and was rewarded by the local birds stripping the leaves bare on the green, but leaving a few scraps on the purple. I quickly brought them inside to grow on again and they dried out, then suffered from over-watering! Yes, it happens to all of us.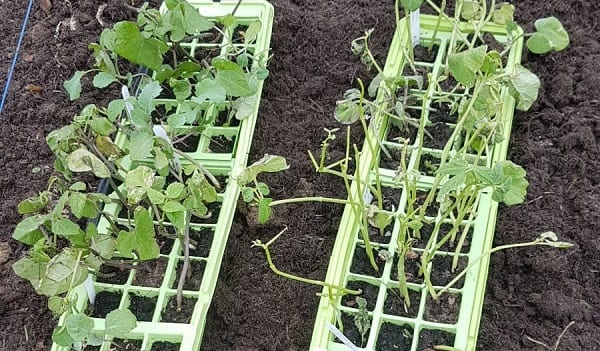 French beans a little worse for wear
---
"So, anyway, back outside the beans went to take their chances with nature and the slugs – planted into wet, cloggy soil from a month of rain. The beans were planted as fast as my trowel would go, as the light was fading, I just had this small opportunity to get them in. I put a tunnel cover over them and crossed my fingers."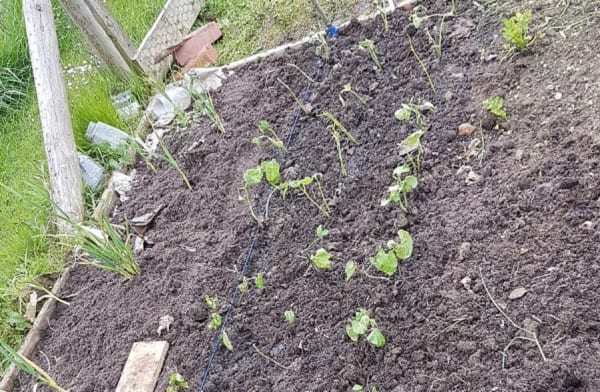 French beans planted outside for nature to care for
---
Signs of Growth
"In the last week or so, things have really started to grow. I've re-potted the squash and they are looking so much better for the extra compost and nutrients. Slugs are still partying on the plot – so I've filled some buried yogurt pots with cider as a deterrent. The birds enjoy the cidered slugs as a morning treat before trying to take chunks out of the broccoli.
"Ending on a positive – I have noticed with no-dig gardening there really are fewer weeds growing compared to other plots around.
"Looking forward to warmer weather and lots of growing to be done."
Steve from Hillier Garden Centre Newbury