Project: Blind Veterans Garden at RHS Hampton Court Flower Show
Client: Fisher Tomlin & Bowyer (Garden Designers)
Requirement: 10 x semi-mature trees – varieties with the ability to appeal to the senses
Date: Summer 2016 – summer 2017
Project Manager: James Hillier
---
For RHS Hampton Court Palace Show 2017, Blind Veterans UK created a show garden; 'It's All About Community'. Blind Veterans UK is a national charity set up to support those who have served in the Armed Forces, or who have undertaken National Service, and are now living with significant sight loss.
The circular garden, designed by Andrew Fisher Tomlin, was intended to be a celebration of the vibrancy and activities of the beneficiaries, volunteers and staff at Blind Veterans UK. It was also designed specifically with the enjoyment by those who are visually impaired in mind.
Alongside woven sculptures and a wide range of perennials, trees were to play a large part in the garden.
Andrew Fisher Tomlin approached us about supplying the trees needed to meet the design ambitions.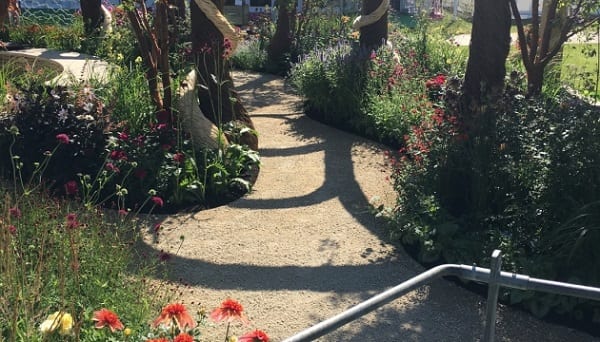 ---
The key tree varieties selected for this project were:
Acer davidii (Snake-bark Maple)
Chosen for its attractive textured green and white bark.
Chosen for its unique, polished red-brown bark.
Malus domestica (Apple Bramley's Seedling) – bush-shaped
Spindle pruned for easy picking height.
Liquidambar styraciflua – parasol-shaped
Chosen for its textured bark.
Pyrus 'Doyenné du Comice' (Pear) – bush-shaped
Spindle pruned for easy picking height.
---
Production
We supplied 10 semi-mature trees for the show garden, all of which were selected for their appeal to the senses. This 'sense' element came either through their interesting bark texture or, in the case of the apple and pear trees, the potential for delicious-tasting fruit.
We were able to offer container stock for some of the trees. For the others, we lifted them from our field nursery while dormant and nurtured as coir-wrapped rootballs. We ensured the specific trees were clearly tagged, so their progress could be monitored. The designer, Andrew Fisher Tomlin, tagged them on our nursery during summer / autumn 2016 and visited twice more to keep a record of their growth.
---
Delivery
The build schedule for the show was short, so it was essential that our deliveries were scheduled to link in with the contractor's progress on site at RHS Hampton Court.
After the show, the plan was for the show garden to be permanently planted at the Blind Veteran Society Centre in Brighton. We arranged for all the trees to be returned to our container nursery to 'recover' from the show, ready for delivery and replanting in their final home in winter 2017.
---
Horticultural Skills
Particular care and attention was given to ensure that the newly lifted root-ball trees did not suffer from shock.
---
Project Summary
This was an extremely rewarding project to be part of, with an uplifting concept. We were delighted that the garden won both a gold medal and the Award for 'Best Construction' at the show – a real testament to Andrew Fisher Tomlin and the team at Blind Veterans UK.
We were also pleased to receive positive feedback from show visitors on the apple trees in particular, which they thought looked as if they had been growing in the garden for years.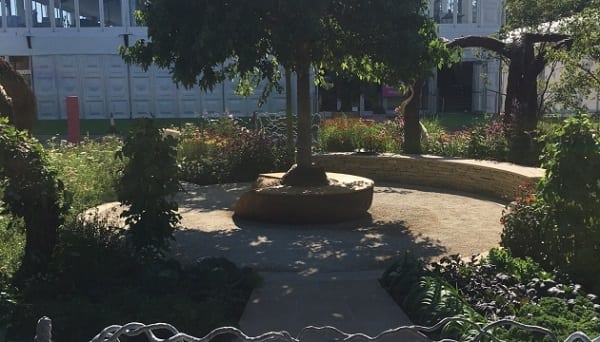 ---
"We work with Hillier Nurseries on time critical projects such as these because they are able to give us a flexibility with the supply of large trees that we can't always get elsewhere. Great trees and great service!"
Andrew Fisher Tomlin, Garden Designer
---
Our Value
Growers of our own trees on our field and container nurseries in Hampshire, to a very high-quality standard
An extensive range of trees, allowing us to supply the required varieties
Flexibility to work on projects with very time sensitive delivery requirements