Hillier History
Hillier was founded in 1864 by Edwin Hillier and remains a family run nursery with the fifth generation now actively involved in the business. Hillier employs 500 people across its wholesale nursery, trees and garden centre divisions and is based in Ampfield in Hampshire. Hillier has been involved in the RHS Chelsea Flower Show from the early days and is the most successful exhibitor in the show's history with a record 74 consecutive RHS Chelsea Gold Medals.
To find out more about the Hillier History, read Our Story in our company pages.


Discover More About Hillier Trees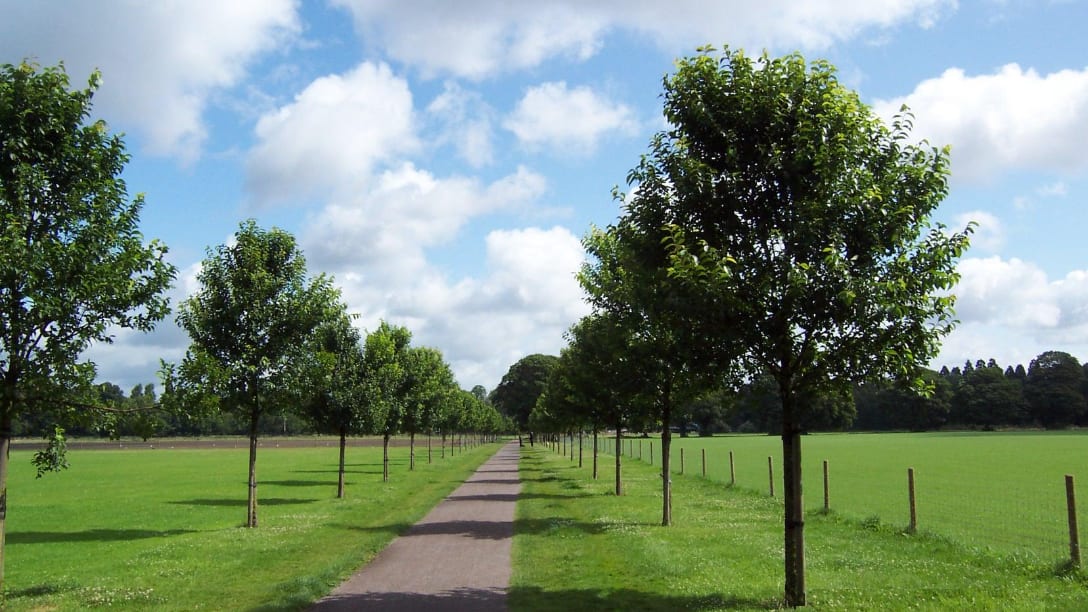 Field and Container Grown Trees
Hillier offers both container and field-grown trees. This means whether you are a Landscape Architect, Tree Officer, Contractor or Garden Designer we can offer an unbeatable wide range of top-quality British trees all year round for immediate or long-term projects.


Our Field Grown Trees
We grow around 750,000 trees at any one time across 600 acres of fields in the beautiful Hampshire countryside – row after row of Europe's finest quality trees.
At the open ground nursery at Andlers Ash Farm, Liss, we stock our award-winning semi-mature trees. Here, you can find the largest choice of semi-mature trees in the UK.
When you pay a visit, not only will you find an extensive range of tree stock but also a source of inspiration and ideas. There are fields of multi-stems, including specimen trees and shrubs and 'designer' trees including cube-headed, pleached, parasol and architectural shaped trees in a variety of forms. We also offer instant hedging and archways, single specimens for focal points and courtyards and an extensive selection of impact trees for larger projects.
Our field-grown trees range in size from 10-12cm to our 'super' semi-mature trees, which are over 80cm in girth. Producing this volume and quality of requires professionalism throughout our production and we are renowned for the clean uniformity of our crops at every size.


Hillier Semi-mature trees
Hillier Nurseries is the largest grower of semi-mature trees in the United Kingdom. In 2010 the quantity and success of our semi-mature production was recognised by the International Grower of the Year, AIPH Golden Rose Award. Over the last 10 years we have been proud to supply a broad range of prestigious products in conjunction with major Landscape Practices. In these times of heighten environmental consciousness, the issue of 'tree miles' has become a real factor for Landscape Architects and clients alike who want to source their trees from the UK. It is therefore with great excitement that we are able to promote our super-sized semi-mature trees.


Hillier 'super' semi-mature trees
Our super-semis have been many years in planning and production. Following the success of our semi-mature trees, we were increasingly asked for ever bigger trees. Each year for the last few years, a selection of our semi-mature trees were kept on the nursery, root pruned, transplanted on larger spacing and regularly head pruned. The super-semis range consists of the most frequently used landscape trees at sizes ranging from 40cm to 80cm girth.
Why use semi and super-semi mature trees?
Greater impact and physical presence
Gives shade and maturity from day one
Greater resistance to vandalism
Value for money in terms of the time and maturity of the tree
Gives texture to a design – instant screening or structure
More realistic replacement for 'lost' existing mature trees
NB Care is required to ensure correct planting and maintenance – particularly adequate irrigation for three years.


Our Container Grown Trees
We complement our field grown trees with our container tree nursery in Ampfield, Hampshire. Broadmead Tree Nursery, developed by Hillier in the 1990's, helped pioneer the container tree revolution, which contains to gain in popularity. We have initiated many new developments in container technology, embracing advancements and listening to our customers' feedback.
The benefit of growing trees in containers is that it becomes possible to find and plant quality British trees all year round.
At the site today, we produce around 25,000 container trees per year across 75 acres of land. The size and range reflects our field-grown trees, between 10cm and 80cm. These trees are first grown to saleable size in the fields, then lifted as bare-root or root-balls and potted into appropriate containers to root through for a minimum of one growing season.
Container-grown trees can be planted all year round, thus extending the planting season beyond that of open-ground stock.


Spring-Ring or Air Pots
Hillier Nurseries was one of the first tree nurseries to trial this Australian invention and now all of our semi-mature container trees benefit from this system. We refer to the pots by their original name 'Spring-Rings' and one great advantage is that they are 100% recycled on the nursery. At the time of despatch the Spring-Rings are removed and the root-ball protected by hessian and handled at the nursery and on-site by mechanical means.
The walls of the pot are cuspidate like eggboxes. This prevents spiralling and instead guides the roots to the end of each 'cusp'. Each 'cusp' is open-ended which effectively prunes the root, as roots cannot grow in air alone. This act of pruning actively encourages new root growth further back, in the same way as pruning a shrub makes it bushy. This continuous process ensures a very quick development of a radial fibrous root system, with all the roots pointing outwards, poised to colonise its surrounds once planted.
This system ensures the best possible chance for quick establishment of the trees when they are planted on site, which is reassuring when dealing with high-value trees.


Hillier-handles
Trees that are between 10-12cm and 16-18cm are potted into Hillier-handles, either 40, 80 or 150 litre. The strong handles allow for easy manoeuvrability around sites between two people.
The interweave has been specially designed to allow air and light to penetrate evenly around the container, encouraging fibrous rooting throughout, even at the base of the container. Water is also able to pass through the interwoven material for even drainage, this eliminates the need for water holes which can become blocked causing water-logging.
The ability of the material to 'breath' and allowing water to penetrate means all species root through well with no spiralling, thus giving the tree the best possible start.
The advantages of Hillier-handles are:
Ability to plant out of season
Strong handles for easy manoeuvring
Peat-free compost
Interwoven material gives air for increased fibrous roots and light for vertical roots with no spiralling
Black pots absorb warmth, helping trees to root through quickly
Hillier quality trees
Contract Growing
Hillier Nurseries offers a service to containerise stock for specific projects when needed by our customers.
A major benefit of contract growing is that it allows trees to be planted out of season (i.e. April to October) and can help ensure stock has the best possible chance of establishment.
Plants of all sizes can be containerised in pots to suit the constraints of the site. We have run many major contract growing projects, including for Olympic Park, London; Commonwealth Games, Glasgow; Rose Bowl, Hampshire Cricket Club; Bullring Shopping Centre, Birmingham.


Environment
Hillier has always been a pioneer within horticulture, pursuing policies that have proved both commercially and environmentally beneficial.
Find out more about our award-winning approach on our company Environment page.


Our People
Our Sales Team work at Hillier Head Office in Ampfield, Hampshire. We pride ourselves in being a hardworking, knowledgeable and inspirational team who can meet the needs of projects of any size and scale, helping you to achieve the trees and plants you need with a guarantee of quality and great service.