January 2022 – After more than 40 years of working for Hillier Nurseries, Hossein Arshadi has retired from his position as board member and Hillier Trees Amenity Director.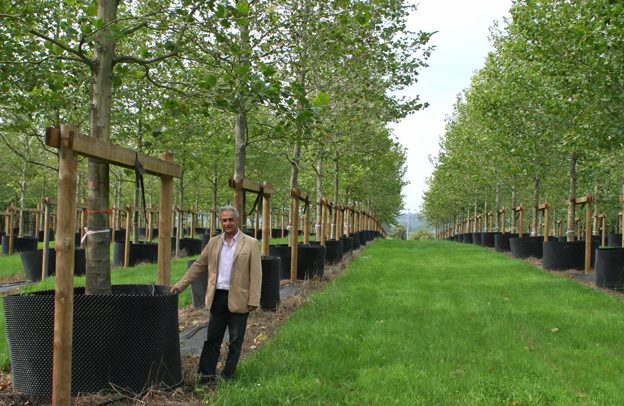 Hossein made significant contributions to the industry throughout his career and played a pivotal role in establishing Hillier as the largest tree nursery in the UK. He was responsible for the development of the Hillier tree nursery sites. The first was Andlers Ash Farm in Liss in 1984, a tree field production unit that, thanks to Hossein's work, now boasts the largest choice of semi-mature trees in the UK. Then, in 1989, he established Broadmead Tree Nursery in Hampshire, the company's container tree nursery that helped pioneer the container tree revolution. During this time, he led the initiation of many new developments in container technology, embracing enhancements and listening to customers' feedback.
As a champion of biosecurity, Hossein worked tirelessly to further industry advancements while leading Hillier's position of expertise in the field, as part of this he helped Hillier to secure the sole UK licence to grow and sell Resista Elms.
Hossein led Hillier in winning an array of accolades including the International Grower of the Year in 2010, and Grower Awards for Hillier's Semi Mature Trees, Ulmus New Horizon, and the StreetWise range which took over 20 years to refine and is now recognised in the horticultural industry as some of the best selections on the market.
Other notable projects and highlights in Hossein's extensive career include securing the contract for Hillier Trees for the 2021 Olympic Games and the Olympic Park contract, followed by the post-games transformation phase with the creation of the Queen Elizabeth Olympic Park; and overseeing the landscape transformation of the BskyB headquarters.
Robert Hillier, Chairman of Hillier Nurseries commented: "Hoss made a phenomenal contribution to both Hillier Trees and the industry, working on some hugely notable projects and helping to further Hillier's position as one of the most profitable and successful UK nurseries. His work has significantly contributed to our reputation and expertise. We wish him all the best for his retirement!"
Hillier Trees is now led by Adam Dunnett who joined the Hillier board of directors in 2019.