As all those in the business of tree specifying know, one of the most important factors when choosing trees for any project is that the species is suitable to its environment. This is particularly true in urban situations — available space is often limited, soil quality may be poor and pollution takes an impact.
It was in Cleveland, Ohio, in the 1940s that urban tree manager Edward Scanlon remarked that "what we know in this field is the trees that shouldn't be planted – and all of them are on the streets of Cleveland." In particular, he note Cleveland's trees – red maples, sycamores, pink oaks – were too large for the locations they were planted in. As a result, he went on to cultivate a range of 'Tailored Trees', which can be seen growing in cities all over the world to this day.
To find the trees best suited to the urban environment, Edward Scanlon planted over a hundred different species and cultivars and monitored their success over a 10-year period. Those that were most successful were grown on specifically for urban use; his 'Tailored Trees'. Hillier Trees continues this historical work, cultivating a number of these today. These trees remain excellent choices for modern urban landscapes.
---
Acer x freemanii 'Armstrong'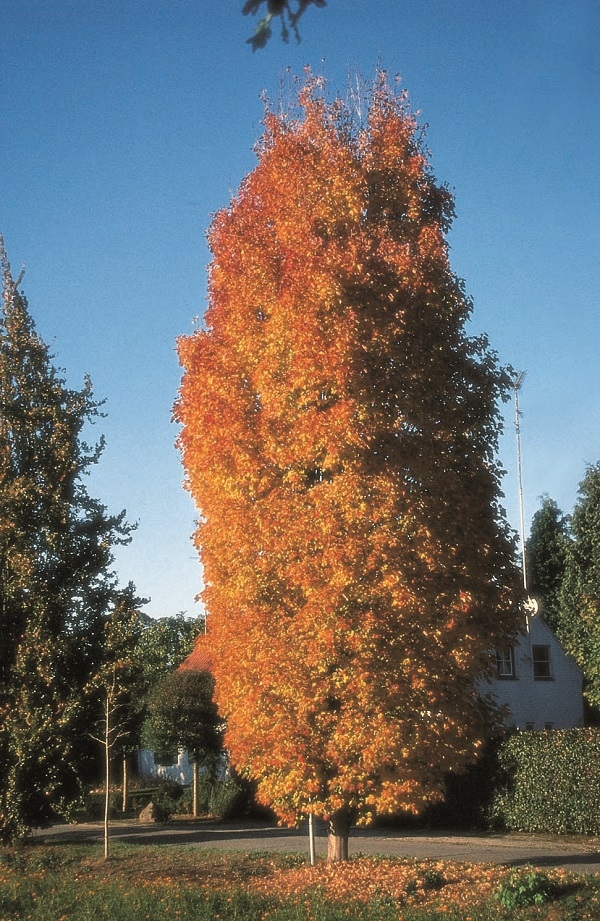 Acer x freemanii 'Armstrong' is a cultivar of Acer x freemanii developed by Edward Scanlon with a more narrow, columnar canopy. The unusually upright tree can reach 15-20 metres in height, but retains a slim 3 metre width, making it ideal for urban locations and roadside planting where space is at a premium.
This tree presents emerald green leaves with a silver-blue underside in the summer, followed by stunning autumn leaf colour in deep butter yellow flushed with candy apple hues. It is a female cultivar, so produces red winged seeds in the early spring.
This robust tree tolerates most soil types, including chalk, but offers its best colour on neutral to acidic soils. It is also frost and wind resistant. As it matures, this tree may spread a little at its bottom, forming a slight egg shape, but it is simple to prune back and reform.
---
Pyrus calleryana 'Chanticleer'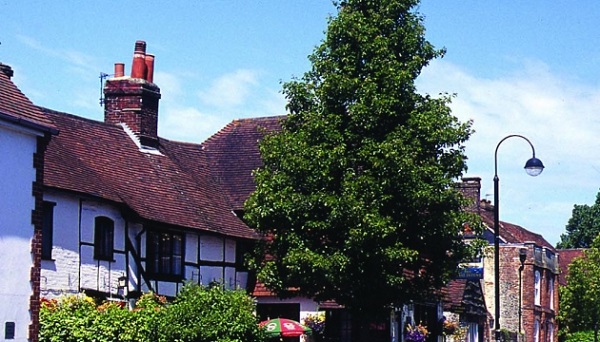 A row of Pyrus calleryana 'Chanticleer' in Westminster, London
---
Edward Scanlon developed Pyrus calleryana 'Chanticleer' in the 1950s. It has gone on to be named as the perfect street tree and is one of the most planted varieties in urban locations across Europe and America. This is a tree that establishes well in all soil types and tolerates harsh urban conditions and pollution.
P. 'Chanticleer' exhibits a slim, upright canopy. It is one of the earliest trees to take on colour in spring, with emerald green leaves, and one of the last to drop them in autumn. Its autumnal colour of burning candy-apple reds and fiery shades of orange is among the best of all the ornamental pears. In late spring, an elegant mass of white flowers open, offering a much-needed source of nutrition for wildlife such as bees in the urban environment.
This is an ideal tree for almost all inner-city applications.
---
Tilia cordata 'Rancho'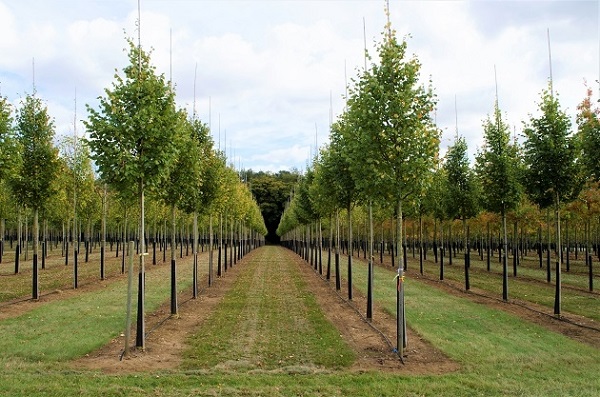 This small cultivar of lime tree, selected by Edward Scanlon in the 1960s, is proven to succeed in urban locations, particular in avenue and boulevard planting.
T. 'Rancho' is tidy-looking tree with neat ascending branches and a uniform, upward-slanting pyramidal canopy. The heart-shaped leaves are vibrant green, turning to a wonderful golden display in autumn. An attractive addition of creamy white flowers appears in July.
This is an extremely hardy tree that will establish in all soil types, including clay. It is tolerant of drought periods and prospers in challenging urban locations.