Prunus 'Tai-Haku'
"Great White Cherry"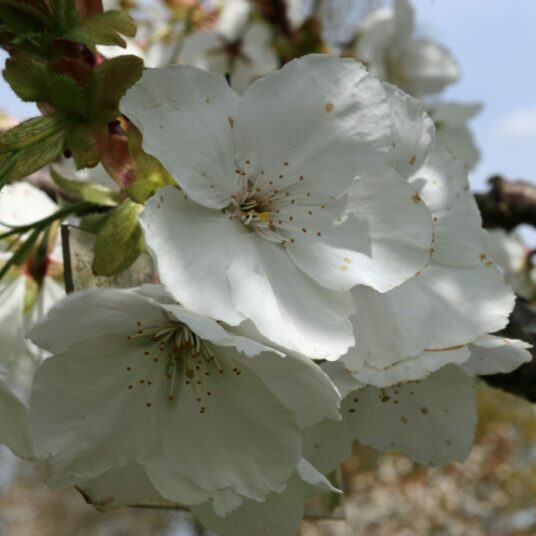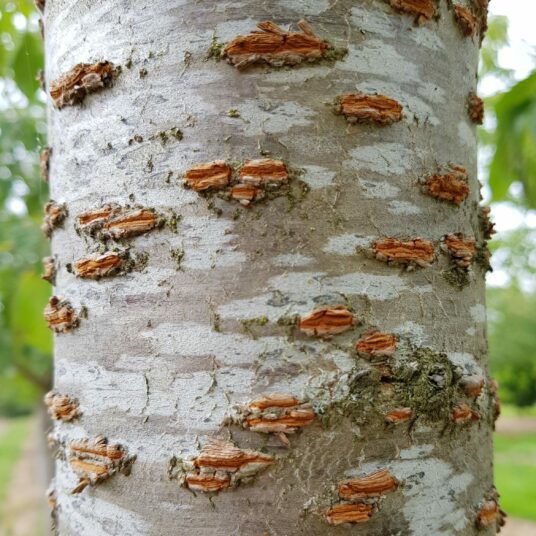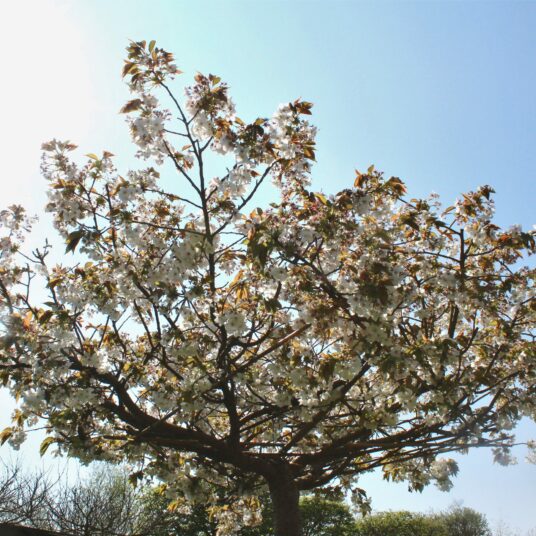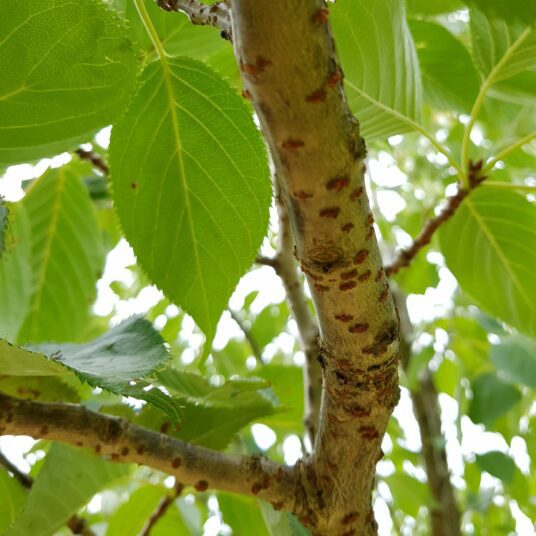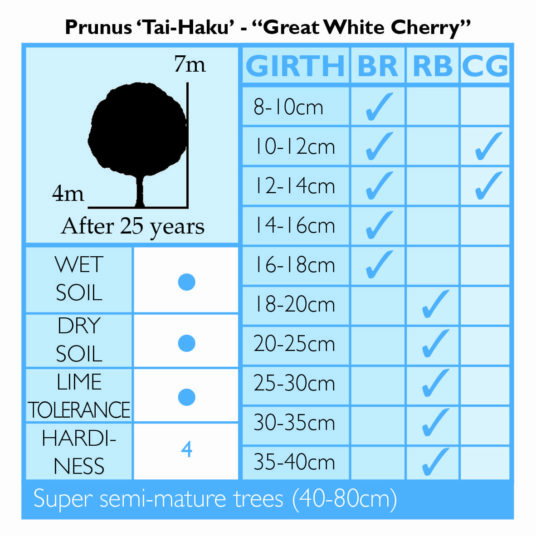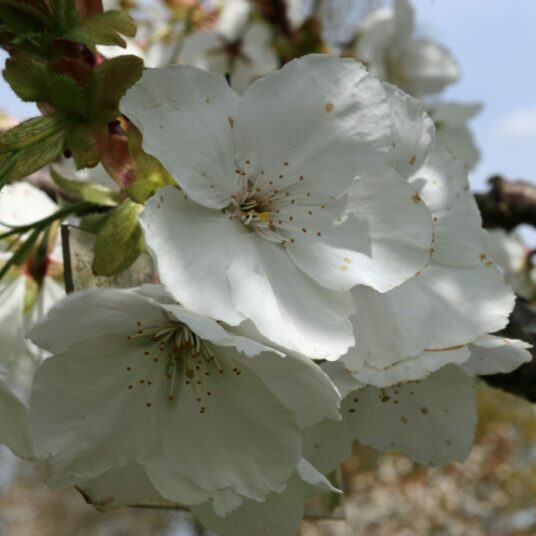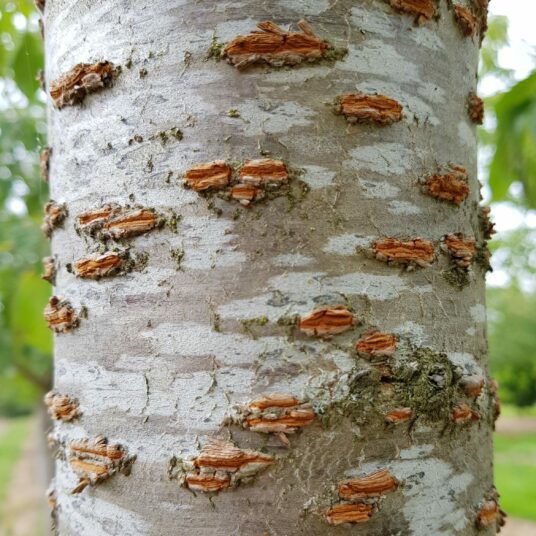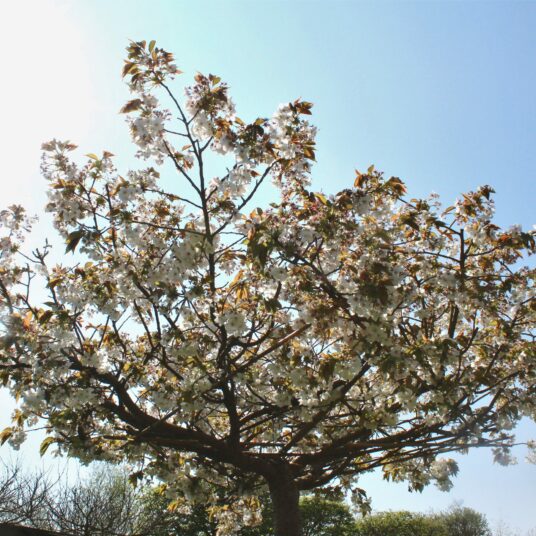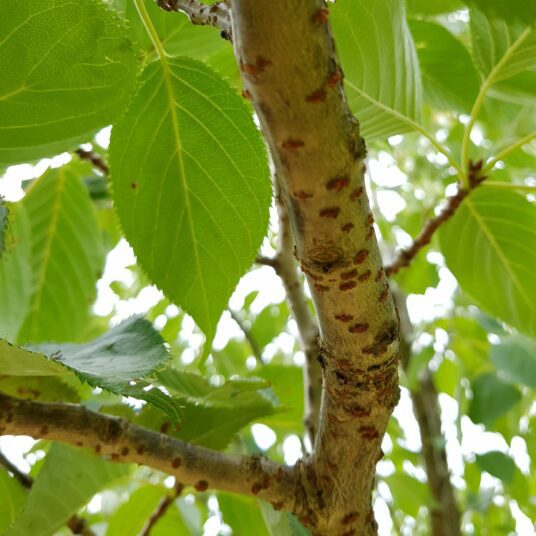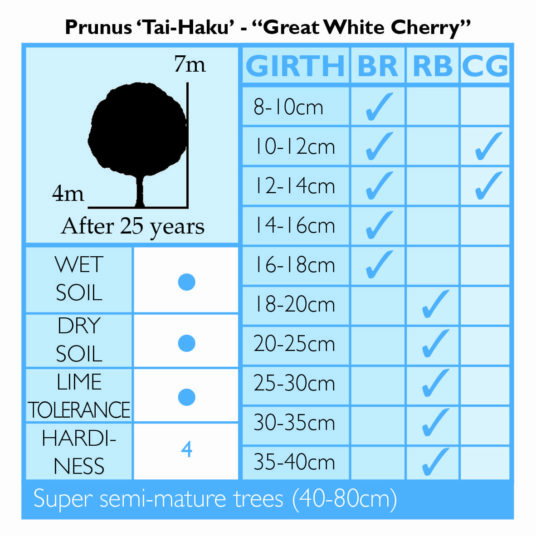 Prunus 'Tai-Haku'
"Great White Cherry"
Enquire
Tree Information
The Prunus 'Tai-Haku' is used in old Japanese art or movies because its majestic blossom creates beautiful scenes of ancient Japan. This ancient tree is well known in historical drawings and age-old artworks of Japan. Unfortunately, it died out and went extinct, and its beauty was thought lost and only to be remembered in pictures. By a chance encounter, a specimen was found to be growing in a hobbyist's garden within Sussex, England in the early 1920s. This prized discovery was cultivated without any interference or meddling, allowing the commercial supply of this lost tree once more. All Tai-Hakus the world over, including all of Japan stem from this one single tree discovered in Sussex.
As if cultivated from the Garden of Eden, the brilliant white blossom is so pure, it almost has a blue icy undertone. It has no tinges of pink or shades of purple. Just perfect white flowers with a straight, unwrinkled edge. They are single flowers which enhance the graceful beauty, being elegantly larger than all other Prunus blossom. Unlike some trees, the flowers will grow from an early age, so they can be enjoyed straight away.
To accentuate the purity of the flower even more, they open at the same time as the coppery green leaves unfold, providing the perfect contrast to their simple allure. The leaves develop orange shades of gold for the autumn months.
The canopy is wide-reaching, growing out further than it is in height. This dazzling shape appears like an ancient crown gently hovering above the landscape.
A tree that will enlighten any location. It is ideal for larger public open spaces and green verges within new housing developments for the public to enjoy. Often designed within estates and stately homes. It creates the grandest of entrances to business parks and prominent hotels.
| | |
| --- | --- |
| Size | 6m high x 6m wide after 25 years. |
| Environment | Suitable for most soil types, but requires free draining soil as does not tolerate water logging. This works wonderfully as a specimen tree within a space that encourages its lateral growth. Perfect for the finest of public open spaces. |
| Canopy | This medium sized tree will grow out as it matures, reaching out further than it grows in height. Its majestic form resembles a white crown sitting upon the landscape. |
| Flowers | Single flowers which are the most graceful of all cherries. They are brilliant white without a single hue of pink, purple or yellow. They are elegantly larger then other cherries, where the petals have no crinkles or blemishes. Stunningly beautiful. |
Commercial Trees Enquiry
Please note this is for trade only.