Malus 'John Downie'
"Flowering Crab / Crab Apple"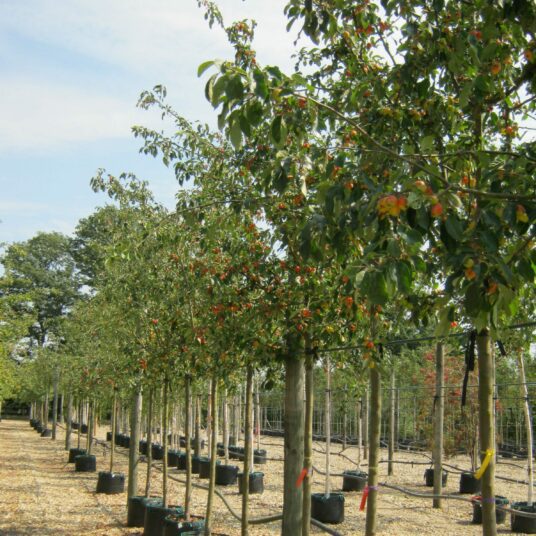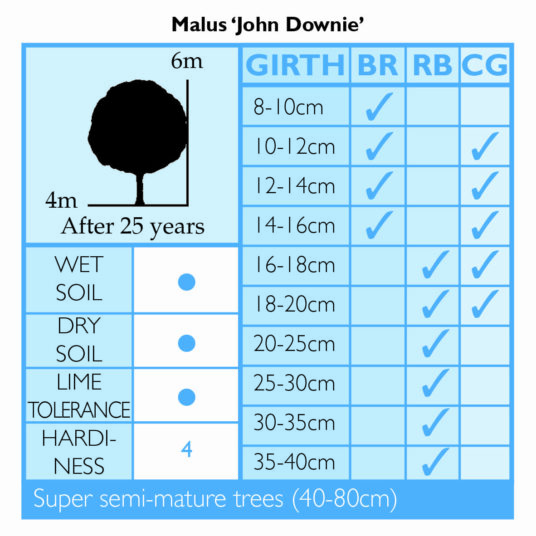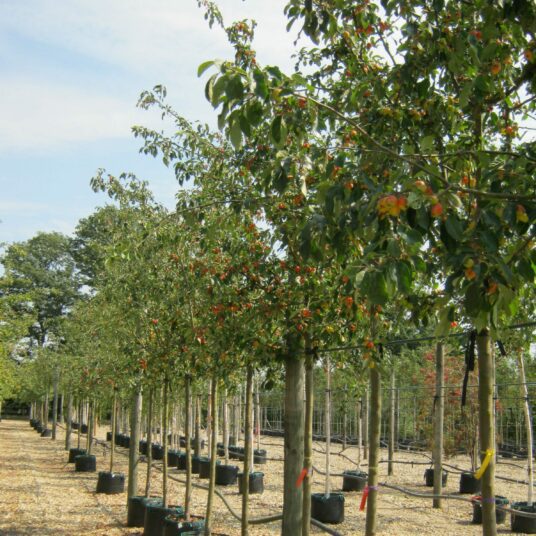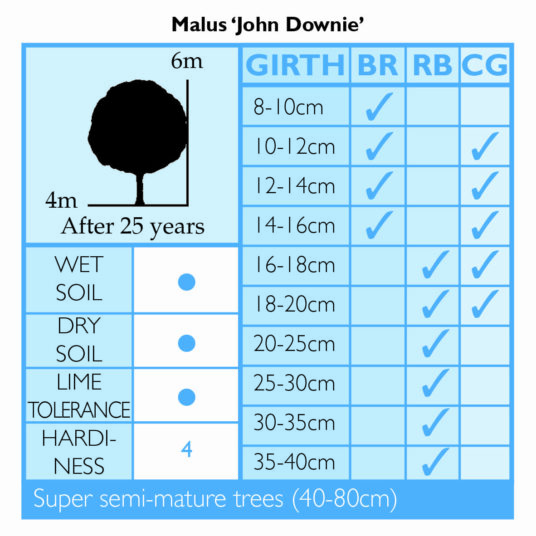 Malus 'John Downie'
"Flowering Crab / Crab Apple"
Enquire
Tree Information
Raised by Edward Holmes at Whittington, England during the 1870s. Edward enjoyed the flavoursome taste of the fruit, leading to its commercial supply. He named the tree after his good friend and fellow nurseryman John Downie in his honour.
This charming Malus is perhaps one of the most popular due to its fruit. At the end of Spring, this Malus produces beautiful white flowers that envelope the entire canopy. These are tinged with wonderful shades of water-washed pink and subtle lilac from the still opening buds. They are popular for bees, encouraging pollination of other Apple trees and plants in the area.
The summer foliage is a pleasant glossy green, which mellows into buttery yellow as the summer fades. During the late summer, the John Downie provides an abundance of large fruit brushed with the colours of rich marmalade and vibrant red. These apples are very flavoursome and have higher levels of the starch Pectin, making them firm and crunchy. This Pectin is also what gels sugar, making jams and jellies without the need for animal gelatine.
The wonderful crab apples remain on the branches long into the winter, ready to be picked and pulped into fresh apple sauce or desserts for the Christmas table. Ideal for parks and new housing developments for families to enjoy picking the fruits and their seasonal features.
| | |
| --- | --- |
| Size | 6m high x 4m wide after 25 years. |
| Environment | Adaptable to all well drained soils, including clay, loam and sand. Once established it is drought tolerant and will succeed in a range of pH levels. A hardy tree that is ideal for parks, hotel grounds and empty POSs where families will enjoy picking the fruit. |
| Flowers | Glorious white flowers with subtle hues of pink open in late Spring which cover the entire canopy. These contrast with the fresh green leaves and provide a stunning May display. |
| Fruit | Large oval apples develop along the branches and remain throughout the autumn and winter. They are known as the most flavoursome crab apple, with similar appearance to the Lady Alice. |
Commercial Trees Enquiry
Please note this is for trade only.