Malus 'Golden Hornet'
"Flowering Crab / Crab Apple"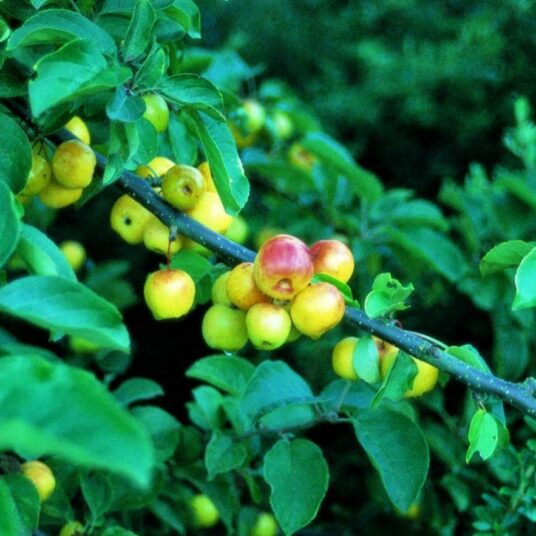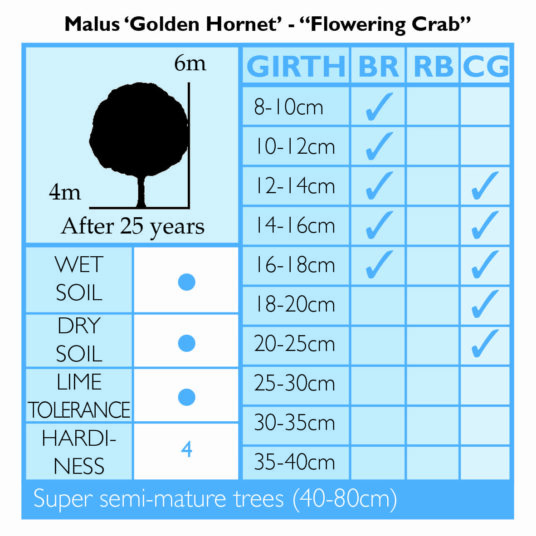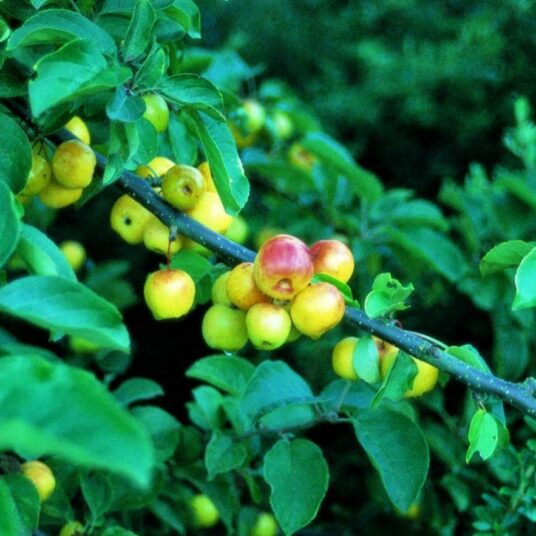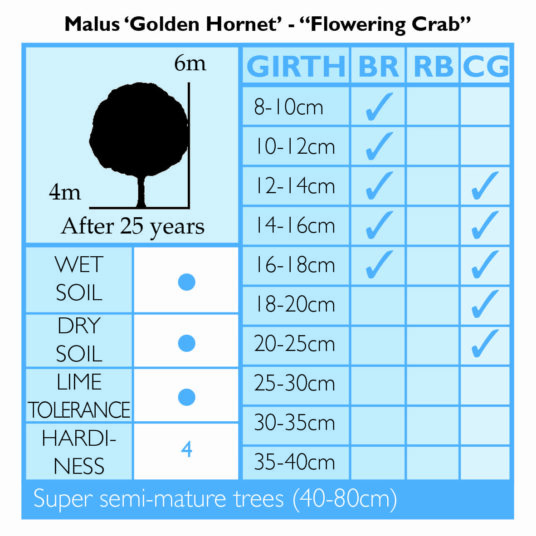 Malus 'Golden Hornet'
"Flowering Crab / Crab Apple"
Enquire
Tree Information
This charming Malus provides beautiful displays of seasonal colour. As springtime matures at the end of April, the Golden hornet erupts with brilliant white flowers that envelop the entire canopy. These are tinged with wonderful shades of water-washed pink and subtle lilac.
The summer foliage is a pleasant glossy green, which mellows into buttery yellow as the summer fades. During the late summer, the Golden Hornet earns its name and provides an abundance of fruit brushed with the colours of rich marmalade and golden orange. They are so profuse they weigh the branches down, arching with golden apples. Wildlife does not favour the colour, so the apples last on the tree long into the winter, ready to be picked and pulped into fresh apple sauce or desserts for the Christmas table. A striking winter feature is to see the warming yellow apples covered in an icy hard frost.
A charming little tree that is quite compact in habit. It is the desired choice for colour introduction within schemes and projects. Try as a single specimen within staggered planting of Betula Jacquemontii. The rich golden apples will contrast perfectly against the stark white bark of the surrounding Betula, providing a Narnia fantasy feel to the winter landscape.
| | |
| --- | --- |
| Size | 6m high x 4m wide after 25 years. |
| Environment | Adaptable to all well drained soils, including clay, loam and sand. Once established it is drought tolerant and will succeed in a range of pH levels. A hardy tree that is ideal for introducing golden colour to landscapes. |
| Flowers | Glorious white flowers with subtle hues of pink open in late Spring which cover the entire canopy. These contrast with the fresh green leaves and provide a stunning May display. |
| Fruit | An abundance of golden yellow fruit dominates the canopy throughout the autumn and winter. There are so many, the weight causes the branches to droop like golden vibrant arches. |
Commercial Trees Enquiry
Please note this is for trade only.