Liriodendron tulipifera 'Fastigiatum'
"Tulip Tree"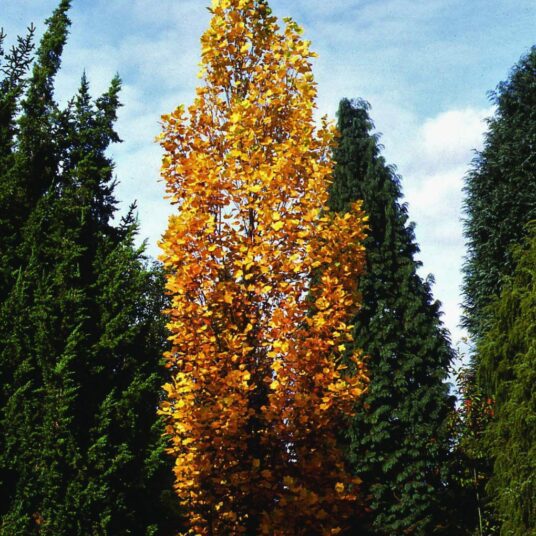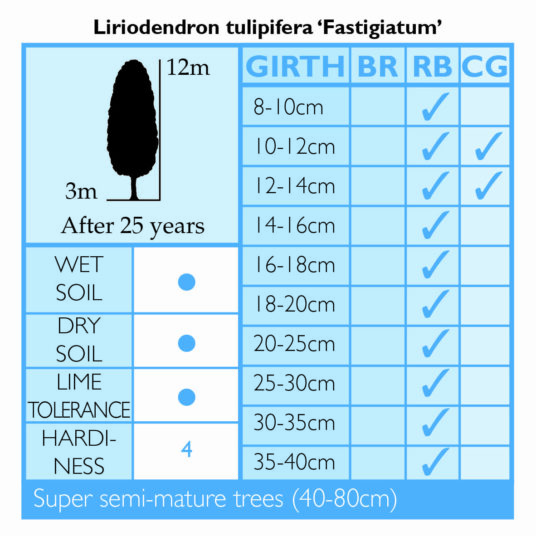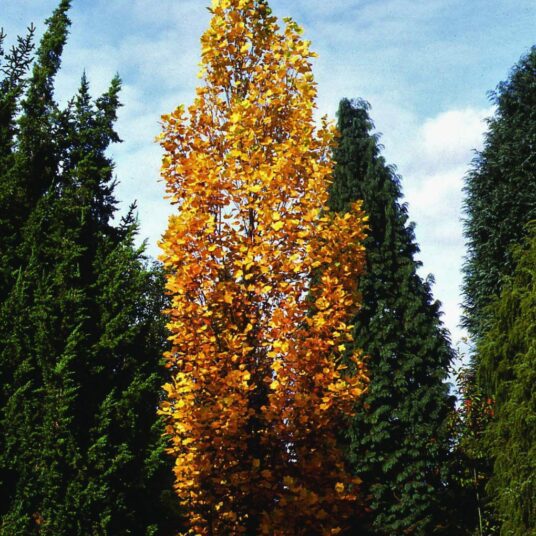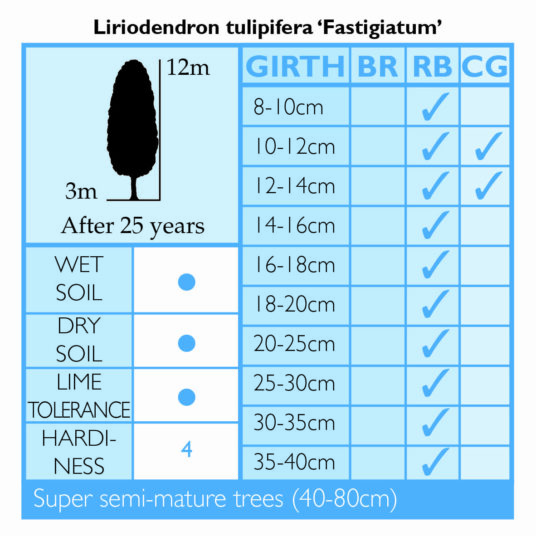 Liriodendron tulipifera 'Fastigiatum'
"Tulip Tree"
Enquire
Tree Information
An upright form cultivated so its beauty can also be enjoyed in tight smaller locations.
It has the same fantastic leaf shape which is an unusual violin shape and broader than most people's hands. They are flat-edged and blunt where the tip of the leaf would be. In spring they open fresh shades of apple green. As October comes around, the leaves melt into fantastic liquid golds and buttery yellows that rival the Acer and Ginkgo.
This cultivar is not as vigorous as the species and will remain in a tight narrow form. It also produces less of the famous tulip-shaped flowers than the species, choosing to showcase the wonderful shape and colour of the leaf.
Its tap root is deep rooted, so will require deep fertile soil. Its narrow form and beautiful features allow its use in new housing developments where space is a premium. It is ideal for highly visible public open spaces and looks majestic when line planted in entrepreneurial business parks.
| | |
| --- | --- |
| Size | 10m high x 3m wide after 25 years. |
| Environment | Suitable for any good soil structure that is deep and well drained. It prefers deep loam that will not dry out. They do not favour well in heavy clay soils. Ideal for smaller locations, public open spaces and housing developments. |
| Canopy | A tight columnar form of the Tulip tree. Its branches remain upright throughout maturity that are parallel to its trunk. As it develops it becomes a narrow pyramidal form like a teardrop, but remain compact throughout. |
| Flowers | Beautiful solitary flowers are formed in June and July. They are lemon green with blushes of red and orange. These large flowers are very similar to a tulip, hence the name. These are not produced until the tree matures to 20 years of age. Hillier's Super Semi mature trees will provide these flowers instantly on the first season after planting. |
Commercial Trees Enquiry
Please note this is for trade only.