Liriodendron tulipifera 'Aureomarginata'
"Tulip Tree"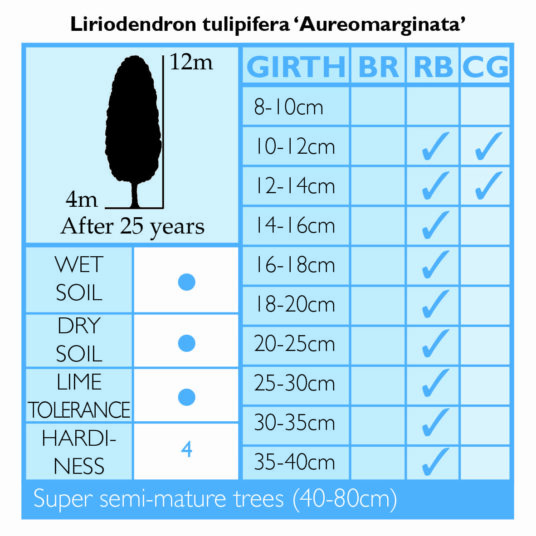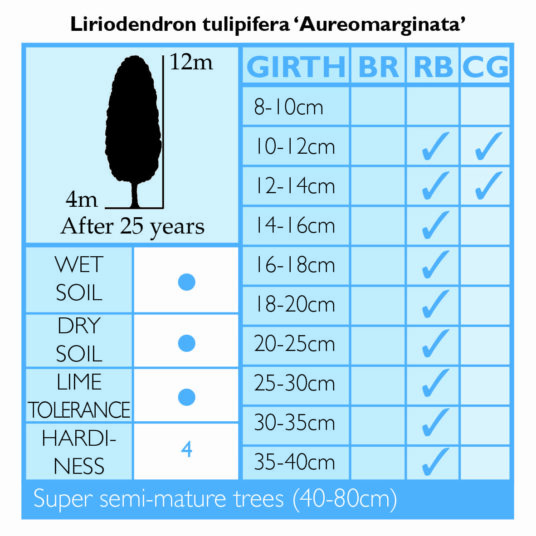 Liriodendron tulipifera 'Aureomarginata'
"Tulip Tree"
Enquire
Tree Information
As if the Tulip tree wasn't unique and beautiful enough, mother nature added a little something extra. Introduced from France in the 1900s, every leaf's fresh colour of apple green is surrounded by a margin of deep buttery yellow. This highlights the unique violin shape of the leaf within its canopy even more and looks sublime.
During the early summer months of June and July, the tree will continually grow its renowned and much-loved tulip-shaped flowers. These are stunningly beautiful, with a water-wash lemon-green which is lightly brushed with subtle strokes of red. They develop randomly around the canopy during the 8-10 weeks, but will only grow once the tree has matured past its teenage years. For instant impact on the landscape, try Hillier grown Super Semi Mature Liriodendron tulipifera, which will flower the following summer after planting.
As October comes around, the blade of the leaf becomes like its buttery yellow margin, melting into liquid golds that rival the Acer and Ginkgo.
This cultivar is not as vigorous as the species and will remain a little shorter. Ideal for Parklands, elegant stately grounds and avenue planting. It will provide joy to generations, lasting more than 200 years.
| | |
| --- | --- |
| Size | 7m high x 4m wide after 25 years. |
| Environment | Suitable for any good soil structure that is deep and well drained. It prefers deep loam that will not dry out. They do not favour well in heavy clay soils. Ideal for parklands and stately elegant grounds. It is less vigorous and will grow to a lesser height than the species. |
| Foliage | Variegated form where the apple green leaf has a defined buttery margin around its edge. 4 pointed which is squared where the tip would be. Come October they melt in butter popcorn yellow that rivals the Ginkgo ad Acer. |
| Flowers | Beautiful solitary flowers are formed in June and July. They are lemon green with blushes of red and orange. These large flowers are very similar to a tulip, hence the name. These are not produced until the tree matures to 20 years of age. Hillier's Super Semi mature trees will provide these flowers instantly on the first season after planting. |
Commercial Trees Enquiry
Please note this is for trade only.