Hippophae salicifolia 'Streetwise'
"Sea Buckthorn"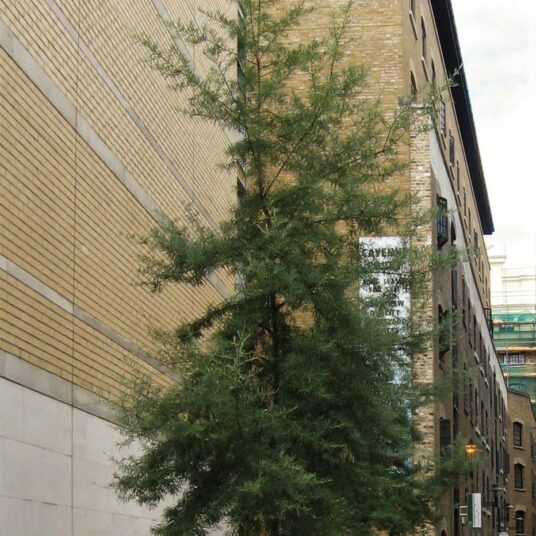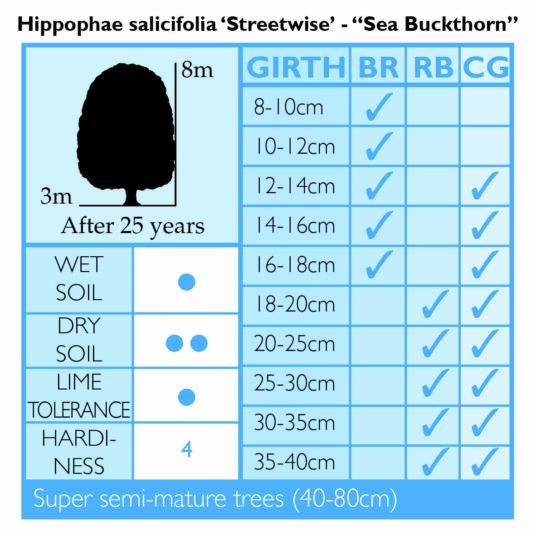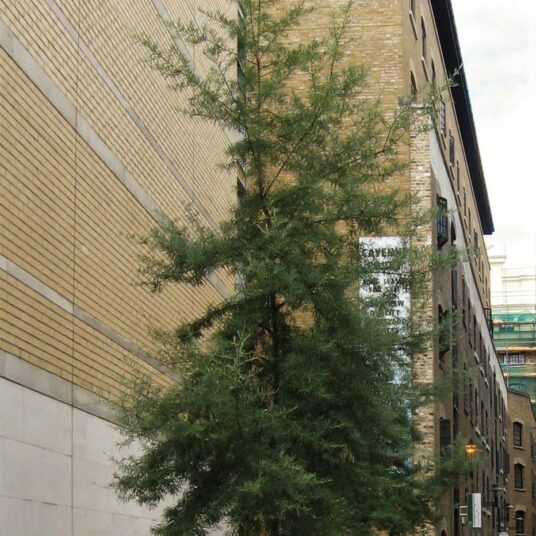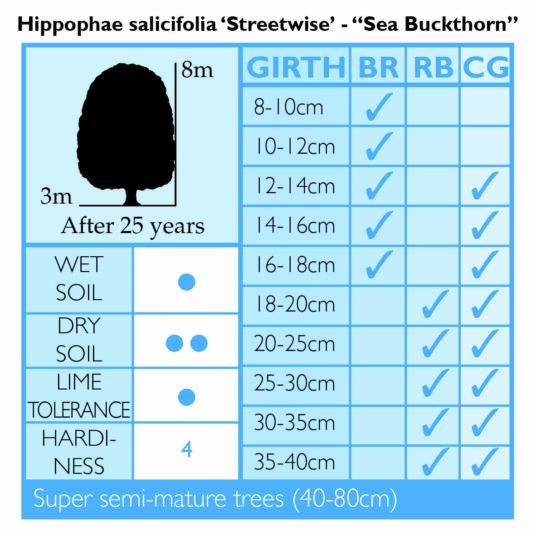 Hippophae salicifolia 'Streetwise'
"Sea Buckthorn"
Enquire
Tree Information
A Hillier cultivation and part of our Streetwise selection created by our Divisional Director Hossein Ashardi. Whilst touring the Hillier Gardens and Arboretum, an unusual Hippophae multistem shrub was discovered with curious upright branches. Its unique columnar form whilst being able to establish in the poorest of soils was the inspiration for a single sentence; 'that could work great as a street tree'. Propagated at Hillier nurseries for over 20 years, this standard tree with a central leader has joined our Streetwise selection.
An excellent tree for city applications. It tolerates all urban issues including pollution and salt spreading. It has been used in difficult locations throughout London with unparalleled success. Its branches are mainly ascending, with a few lateral for the canopy to remain open and light. It continues its columnar shape through maturity, not exceeding the narrow width of 4-5m. Its branches are also less thorny than the well-known Hippophae rhamnoides shrub.
The leaves as its name suggests, are long and willow-like. They open a fresh subtle green, with an almost white underside. Summer winds ruffle the canopy in a glorious, mesmerising fashion that catches the eye of everyone. The bright orange fruit develops in October, ready to support wildlife with winter nutrients. The berries are renowned as superfoods with amazing health benefits and are a favourite for humans and birds alike. Try line planting as an avenue in dull difficult areas, allowing the canopies to grow close to one another. The fluffy sway of summer leaves creates a calmness to any area for people to enjoy.
| | |
| --- | --- |
| Size | 8m high x 3m wide after 25 years. |
| Environment | From our Hillier Streetwise range, this vigorous tree is extremely tough establishing in the most impoverished of sites. It will succeed on the poorest of sandy, rubble debris soils which are low in nutrients and water retention capabilities. It is equally happy to establish in difficult clay structures. Perfect as a maritime tree for exposed costal winds. It thrives in full sun and tolerates reflected heat well, so ideal for inner city urban locations. Has been planted as street trees in London with phenomenal success. |
| Canopy | The crown is columnar with both lateral and ascending branches. This creates a narrow tree, but with an open canopy that appears light and airy. |
| Foliage | Long narrow leaves appear willow like, providing its name. The are a light delicate green with an almost white, silvery underside. With the gentlest of summer breezes, the leaves flutter in the open canopy like feathers gently ruffling. |
Commercial Trees Enquiry
Please note this is for trade only.