Castanea sativa 'Albomarginata'
"Sweet Chestnut"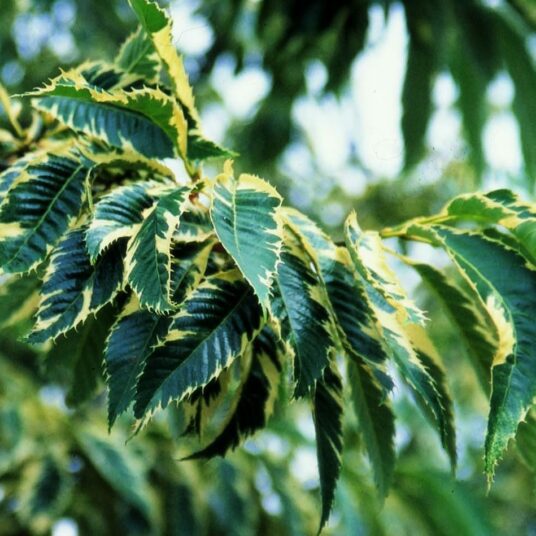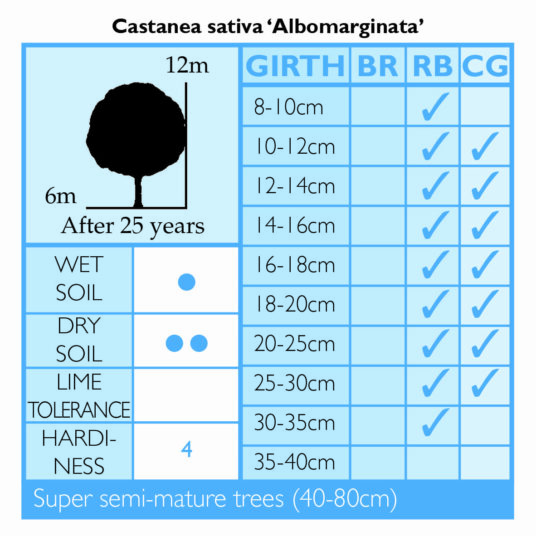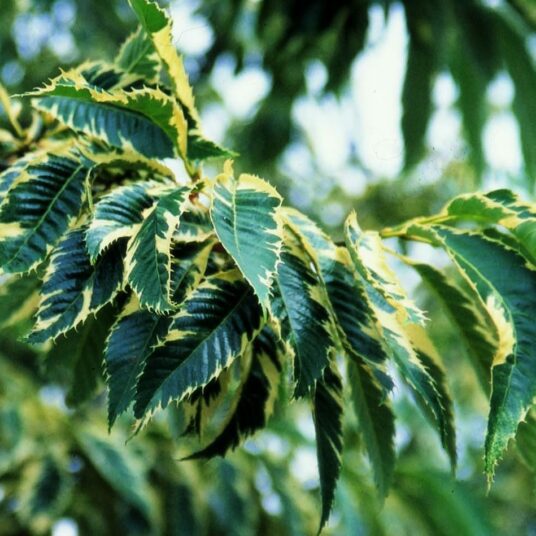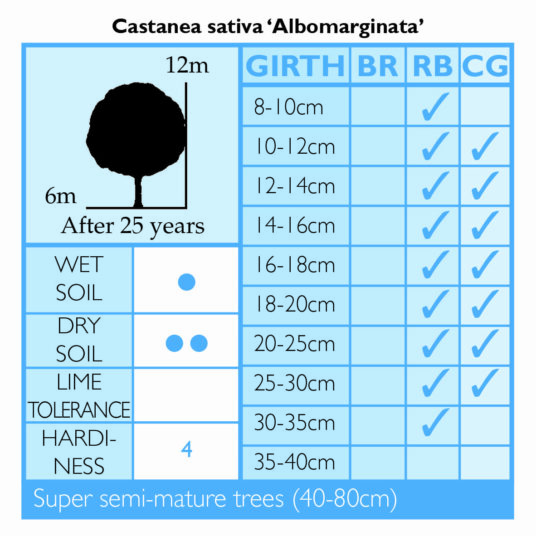 Castanea sativa 'Albomarginata'
"Sweet Chestnut"
Enquire
Tree Information
The Sweet Chestnut is a large, ornamental tree ideal for parklands or avenues. Its dense heavy trunk twists as it develops, creating deep fissures which spiral into the bark. Its shaggy canopy can grow very wide, and if space allows up to 25m. It is particularly strong-rooted, establishing a deep and far-reaching network of taper roots.
On the Albomarginata, the leaves are variegated, two-toned with glossy green and fantastic white serrated edges. In the autumn they melt in shades of butter yellow and golden bronze before they fall.
The famous sweet chestnuts also show white spikes against the light green jackets. In favourable locations, the chestnuts husks can become completely albino with appear delightful and very ornamental.
A Castanea grown from seed can take 20 years before it bears its edible chestnuts. Grafted cultivars will reduce this, showing sweet chestnuts on its branches as little as 3 years after planting. The Latin sativa means cultivated by humans.
A stunning tree whether planted as a specimen on its own or lining an avenue with unique leaves and albino features. A great alternative choice to Horse Chestnut with increases of leaf miner, leaf blotch and bleeding canker ever more present.
| | |
| --- | --- |
| Size | 12m high x 6m wide after 25 years |
| Environment | Not tolerant of lime conditions, it excels on light soils that drain freely. It is well suited for shade or open locations and doesn't become strained in dry spells. Will grow steadily in maritime positions. Its root system is deep and strongly widespread capitalising on its available space |
| Foliage | Typical of the species, but with variegated leaves that are glossy green and brilliantly white along the serrated edges |
Commercial Trees Enquiry
Please note this is for trade only.