Acer rubrum
"Red Maple"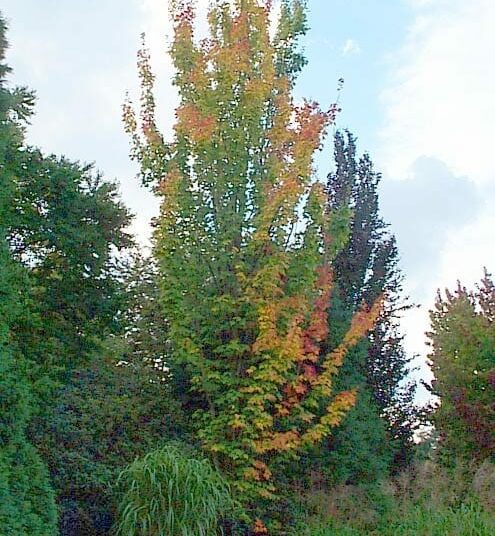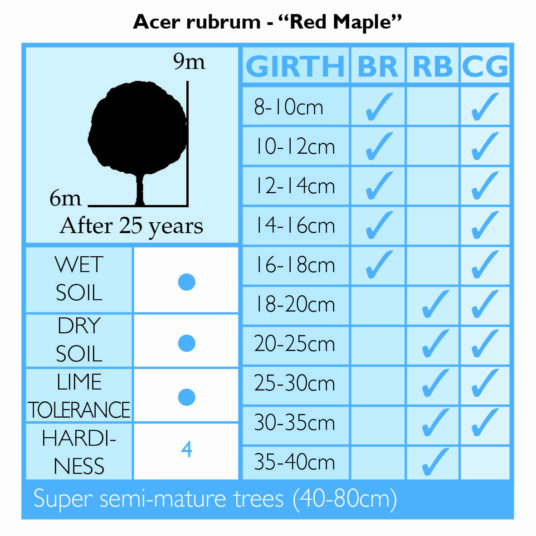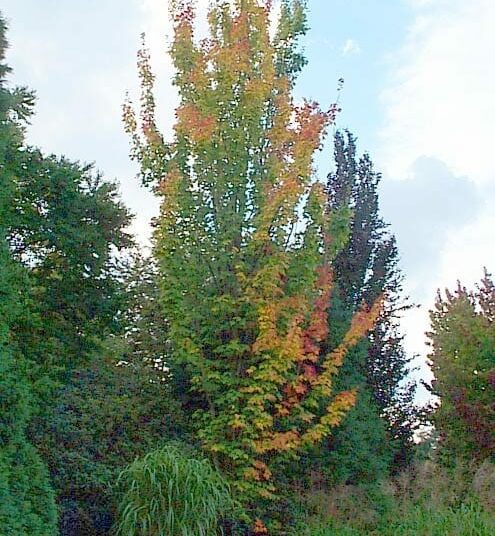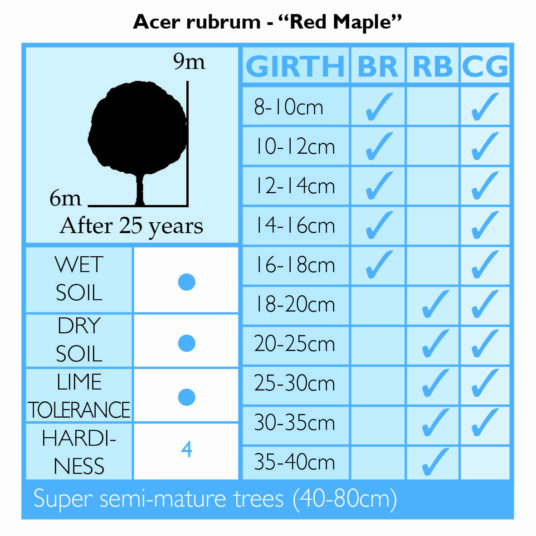 Acer rubrum
"Red Maple"
Enquire
Tree Information
Acer rubrum is a beautiful tree that provides shades of red consistently all year round.
In winter, the dominate buds are a feature in molten red on the silver-brown canopy. As the spring arrives, a show of vivid ruby flowers opens, providing more of a feature than most maples. The leaves then unfold in dark shades of green with a lagoon green-blue underside – a stunning contrast to the red flowers. These shimmer in the summer breeze and can become quite mesmerizing.
What is so charming about this acer is that it obtains its autumn colour very gradually during the summer. Its leaves change just one or two at a time at the beginning of August, becoming sherbet orange with tints of bronze. As the colour develops branch by branch within the canopy, the leaves bleed into brilliant crimson hues, which is the tree's most striking ornamental feature.
This is a tree that should not be used within horse paddocks or equestrian locations, as the leaves are highly toxic to them — especially when dead or wilted. There are many cultivars of red maple in production, each with specific benefits and features.
| | |
| --- | --- |
| Size | 9m high x 6m wide after 25 years |
| Environment | A hardy tree that is best in slightly acidic soils, as it does not truly develop its autumn colour on dry or lime soils. Will tolerate periods of excessive water but has poor resilience to coastal winds. |
| Foliage | Beautiful dark green leaves with an aqua green-blue underside. These develop into shades of orange sherbet and pumpkin throughout summer, gradually becoming vivid red with the autumn sun. |
| Flowers | This tree offers a display of red from flower and foliage in every season. Buds are molten red during the winter, flowers open ruby in the spring, it young twigs are burgundy red, which contrast slightly with the vivid red leaf stalks. |
Commercial Trees Enquiry
Please note this is for trade only.